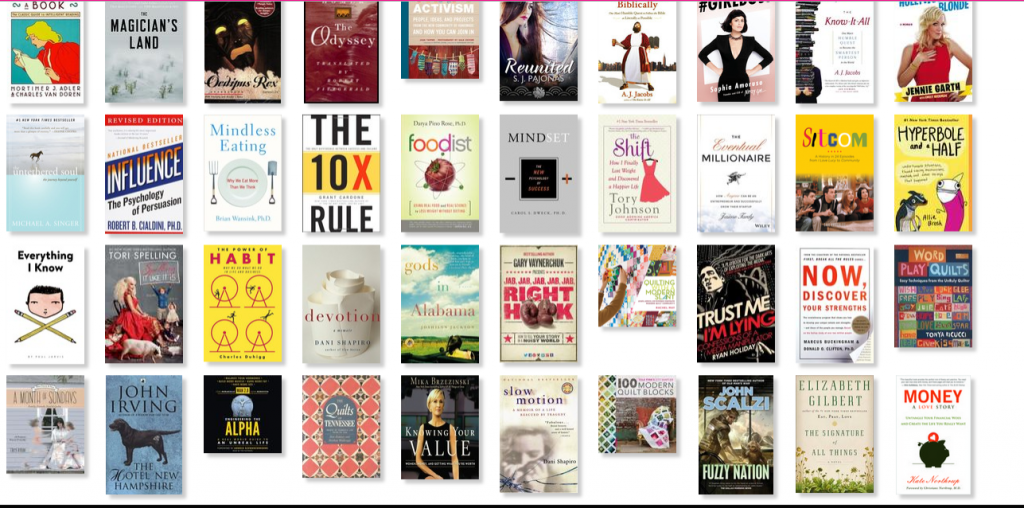 For the past two years I've been sharing my monthly reading lists and holding an informal "book club" in the comments each month. I absolutely love the suggestions you make, and I've found many new authors thanks to your ideas!
Each month I say a bit about the books and might mention if I really liked it, but if you were looking for books I wholeheartedly recommend, it's not so easy to find the best. (This is on purpose, as I can't tell how much I want to recommend a book until I've pondered it for a while after reading it.) So today I'd like to narrow down the 72 books I read in 2014 into my very favorites. These are the books I would wholeheartedly recommend that you pick up and read this year! I've split them into most-favorite (you should read them no matter who you are!), starting a craft business (especially useful if you're just getting started or want a refresher), and fiction, because we all need more fiction!
(Note: most of these books were published long before 2014, but I read them in 2014.)
My most-favorite
Starting a Craft Business
6. The Eventual Millionaire: How Anyone Can Be an Entrepreneur and Successfully Grow Their Startup, by Jamie Tardy – Despite the title, this book is less about being a millionaire and more about starting a business and growing, based on how millionaires have done it. I tend to avoid "get rich" books, and this book is far from it. Jamie has a great podcast with interesting interviews, and she's taken all she's learned and turned it into a great getting-started guide. I recommend this to anyone who doesn't know where to start.
7. $100 Start-up by Chris Guillebeau. As I hoped, this is going to the top of my to-recommend list for those where-to-start questions. This is for you if you're not sure how to get started and if you are seriously excited to start a business. Even though I'm 8 years past "start-up", I still learned stuff – I used the Launch Checklist while opening Pay Yourself (and had my biggest class launch ever!).
Want my all-time favorite small business books? I've collected all 28 of them in the Bibliography of this class. You only get it when you buy the bundle.
Fiction
I find reading fiction to be as important as any non-fiction, business-y, or educational reading I do. It improves my ear (and hopefully, pen) for great turns of phrase, interesting language usage, and metaphor. Plus, it's fun. And we need fun.
8.  Ready Player One, by Earnest Cline. SO GOOD. I devoured it.
9. Hotel New Hampshire, by John Irving. I went through an Irving spell several years ago and I don't know how I missed this one. A great novel, recommended by Kim.
10. The Magician's Land, by Lev Grossman. This is the last book in the three-book series, so you definitely need to start with the first!
11. The Odyssey, by Homer – I'm sure I read parts of this in High School, but as part of my Great Books Project I wanted to read the whole thing. I was completely shocked by how gripping and … modern it all felt, especially if you read any sci-fi. I wholeheartedly love it, recommend it, and can't believe it took me so long.
My favorite reading this year was inspired by my desire to read all those books I missed and developed into my Great Books Project. I shared the seeds of this idea back in July and then I really started reading in earnest in October.
What were your favorite books of 2014? What are you adding to your list?
Disclaimer-y Disclaimer!  Or course I'm biased when my friends write a book, but I don't mention things I don't like. Also, I'm an Amazon affiliate and I get a tiny percent when you buy a book through my links. Read the usual disclaimer here.