The  Starship  Program  is  now  retired!
(The Starship has been updated + extended to support you through the Pandemic.)
When you don't know what to do next.
When you've done everything you can think of in your creative business and it still isn't quite what you want.
When you've read the books, taken the classes, opened the shop, taken the pictures, written the descriptions.
When you are working hard and not seeing the results.
But you're not there yet. Not where you want to be and not certain how to get there. That not-knowing is a cold + lonely space.

You are SO ready to do what it takes, if you only knew what to do next.
You're ready to put in the work, if it gets you results.
The solution is not working harder or longer.
It is not taking another class about Instagram/Pinterest/TikTok.
It's not reading another blog post or book or listening to another podcast (shocking!)
It's not just posting more often or doing more shows.
Good news: You're not alone. And you don't have to do it all.
The solution is to focus on what matters. To build what matters in YOUR business. To get the support you need to get it done.
And more than that?
The solution is to become the Captain of your life.
To own your sparkle. To declare your genius. To believe in your worthiness.
(It's ok if that sounds scary, I'm here to help.)
After 10+ years of working with small businesses, I know for sure that there are just a few foundations of a solid, growing business. You don't have to a do a million things, you need to get these foundations in order. (And when you want to grow to the next level? You work on the same foundations! It's an upward spiral of improving the key areas of your business.) And I know that you need not just the knowledge, but also the community to make it happen.
The foundations of a thriving handmade business:
Mission and Map (know where you're going and have a plan of action for getting there)
Profitability and pricing (know that when you sell more, you'll make more money for your life)
Marketing and messaging (know who your best customer is and how to talk to her)
Time and energy (know how you work best, what kind of accountability you need, and keep your energy levels high)
Ready to build your foundations, with a supportive community? Click here.

 I was so discouraged. I was crushed. I thought more than once about closing Yarn Love just so I wouldn't have to deal with disappointing myself and my husband.

But I didn't. I found you.

I dug your book off my shelf and got started. I gave myself 6 months to turn things around. Along the way I purchased your Map Making guide to help me with a tidy, executable plan, because I can work a plan like nobody's business.

I'm 6 weeks into my first quarterly map.

I HAVE EXCEEDED MY INCOME GOAL!

In 6 weeks, I have made more than $5000 of profit. I have streamlined my business processes. I have spent half of every other day at the pool with my kids. (In other words, I'm rocking family life and having fun, too.)

So thank you, Tara. You were just what I needed. There aren't enough words in the English language to express my gratitude for your help and insights."

-Katie, of YarnLove

The Starship is a 90-day Program that guides you through building (and improving!) the foundations of your business AND a community of support.
The Program will begin the Monday after you join. The Foundations we'll cover:
Mission + Map:
In the first two weeks you will get crystal clear on where you right now and where you want to go.
You'll define your values + identify your support resources
You'll make a plan to get to the very next step.
We combine big picture planning, with practical do-this-next planning.
Profitability and Pricing
Next you'll dive into your numbers! Ahhh! Don't run away, I make this super simple!
I'll teach you:
Where to find your important numbers
Profit and break even math
How to troubleshoot any profit problems you have, so that you KNOW that if you sell more goods, you'll make more money.
I'll also teach you how to be sure your next projects are money-making (or life-enhancing!) before you say yes.
Marketing and Messaging
We'll complete the program by making all your time on social media and blogging and email EFFECTIVE. You'll learn:
Who your Right Person is
How to talk to her + learn from her (so you're improving all the time!)
The best tools for reaching your future customers
How exactly to use them
Lemme be clear: I am not teaching you business THEORY, I am guiding you through building the foundations in your OWN business. Each week will have worksheets and homework, so that you take what you learned and apply it to your own business.
If you do the homework, you will have a clear picture of how your business works and how you can grow, improve or change it up. You will end the program with a big list of things you could do in your business…AND you will learn how to prioritize (via Map Making) so you know what to do first to get you closest to your goal.
With the Program, you also get 3months  LIFETIME access to the Community, while you work through the Program.
What is The Community?
A  private, online space to ask me (and all the other Captains on board) your questions + get specific Do This Next steps or encouragement, exclusive to Captains and with very clear community guidelines, that keep the space friendly and warm.
First looks at my next projects –  Every new workbook, book or  class I create is free for Starship Captains.
First look at the weekly podcast (I stream the recording LIVE inside the Starship)
HUGE video library of past Coaching Calls. 

This doesn't come with a magic powder that makes everything instantly "better". But what it did do is make me sit down and look at my business from top to bottom, in all the little nooks and crannies that were neglected and full of dust bunnies, and clean it up. It made me examine why I'm charging the prices I am, what my goals are, what I am spending my work time doing and why. It made me see the systems that I *do* have in place and helped me put in new ones.
Each section of this course, as with all of Tara's classes, has been full of lightbulb moments whether I completed that section or not. I wouldn't want anyone but Tara holding my hand as I work through all of this stuff. It's been brilliant (and overwhelming, and tough, and totally worth it.)
– Joeli Kelly

What the Starship really does for you:
Answers your 3 am questions, so you're not up all night trying to figure out what to do. Your answers may come in the form of a class, a forum post by someone else, or the opportunity to ask in the forums and someone will be by to help you with it.
Know your own business – You will identify the numbers you need to track, do the math to get where you want to go, find your people, and clarify your marketing message. From here, you'll know what to do next. 
As one Captain put it, "You didn't just help me figure out my business, you helped me figure out my LIFE."
Gently holds you accountable. When you share your goals, your intentions and just your weekly plan, you give it power. When we know what you're doing, and ask you (sweetly, gently) how it's going, you rise to the occasion, and actually get stuff done.
Envelops you in the friendly warmth of coworkers without ever actually getting out of your pjs. Yep, everyone in this space is working on the same goal (a creative biz!) but in our own ways. So whenever you're feeling lonely or confuzzled, walk out to the water cooler and get some feedback or a cup of tea.
Connects you with resources. Whether it's the answer to a question or just the person who can help you spread the word, the Starship will be gently hooking you up into a support system that will biggify you in a million ways.
More than anything, the Starship takes you where you want to go, as you build a business that you love, that fills your life with enthusiasm and love (yep, that's possible).
Who's flying this thing?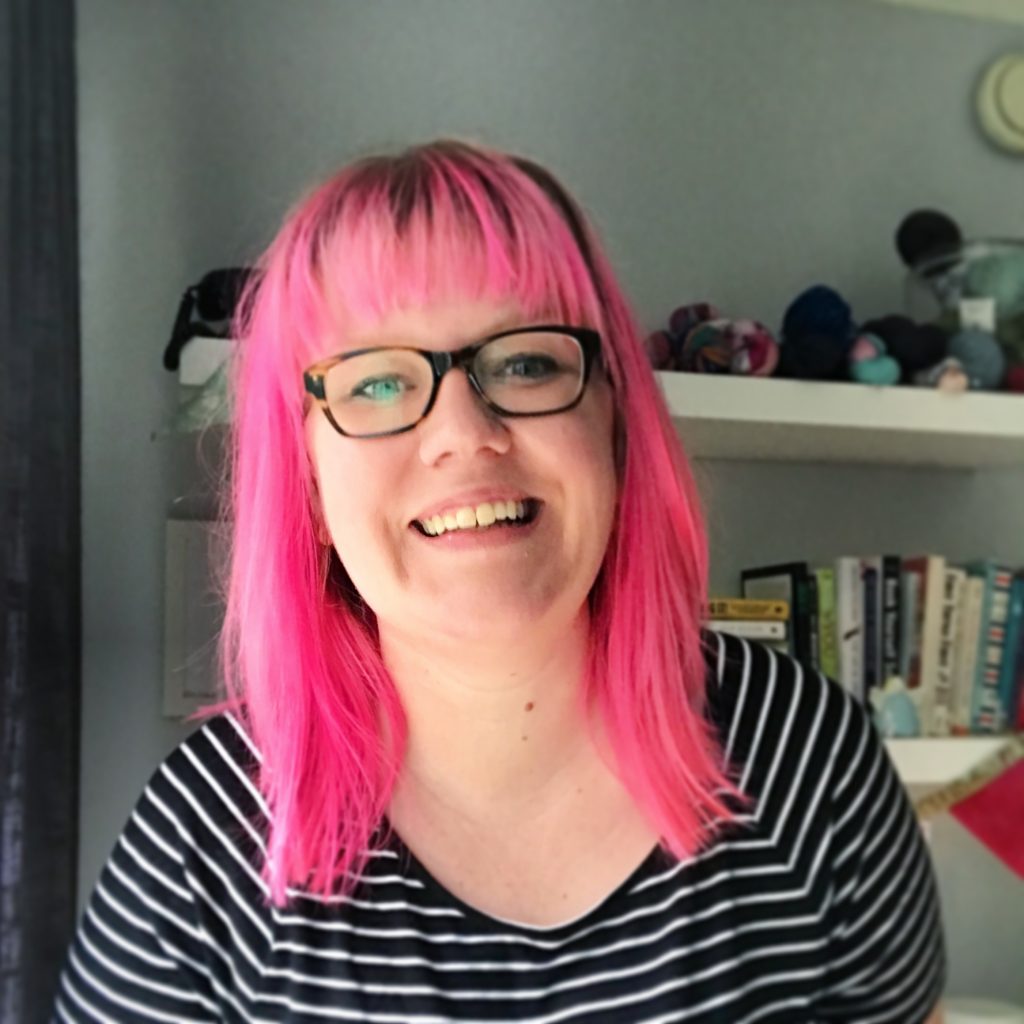 Hi. I'm Tara.
I've adventured through the space of a sustainable business.
For over 14 years, I've crafted a business (and life) that supports my family – and it all started with yarn.
First, I built my handmade yarn business, so I could quit my day job. But 2 months after quitting my day job (yay!) my husband lost his job (boo!). And our car exploded. And our house got broken into and everything of value was stolen. So: I built a business that supports my entire family. I read the books, the blogs, the experts. I experimented and tested and kept track of everything that worked (and didn't). I found a community to support me.
I started sharing what I learned with other makers. They taught me that knowledge isn't enough. We also need support and accountability. So I created a space that would give us that accountability, that support, and that empowered each of us to be our own Captain. That space is the Starship.
It took the combination of the learning + the community to make my business fly. I want you to have the same adventure, without those scary lost-in-the-darkness-of-space moments.
To support your adventure, I've combined everything you need: knowledge of the foundations of your business, map-making, a crew of smart captains,  and a space to ask your questions, 24/7.

Is the Starship for you?
You want to charge a fair price for your work. You want to actually get PAID for all of your hard work. You're a little fuzzy about how much you're going to need to do to hit your goals. Maybe your goals are a little fuzzy. What you do know is that you ARE READY to figure it out and get there. 
You want to sell to people who will LOVE your work. Don't be shy about it, you want an audience of people who are eager to buy your work. Who gush over it. You want to make your customers blissfully happy. But you're not quite sure how to communicate to them clearly, how to find them, and how to do it all while feeling like yourself and not feeling salesy.

You know you want more from your business, you want to build something that flies. 
And…wen you've learned business stuff in the past…you haven't always followed through (good news: you're not alone!)
You know you need support, encouragement, someone to hold you gently accountable. and just some answers to your questions. 

"Starship is a supportive network of like minded people who understood me and what I do…it was great to be a part of that community. And it felt like a safety net in a way. Like it was OK to change things up. It gave me confidence. It is probably odd to make this comparison but, it felt like when someone loves you you feel more secure in being yourself and trying new things?  I am taking with me a whole bunch of knowledge, tools, and connections from my time with Starship. And I would fully recommend it to others.

The Starship really validated me and what I want to do, and what I enjoy doing."

-Aubrey, A Daily Obsession

Tara and my fellow Starshippers are great at brainstorming ideas and finding a way past the maze of "shoulds" and "buts" to some great solutions to seemingly difficult problems.

-Amy Crook, artist

What you get
90 Day program, with weekly lessons guiding you through my most-popular classes
Over 30 worksheets, so that you apply the lessons to your own business
15+ video + audio lessons
24/7 community with other makers and artists
Starship-only BONUSES!
BONUS:
When you join NOW, you'll get:
IMMEDIATE Access to the Community (now and FOREVER)
YouTube for Handmade Business workshop: Is YouTube for you? What videos would work for you? Where to start? This workshop also has a Part 2 on OPTIMIZING your videos
Take a Break without Breaking Your Business: Learn how to step away from your business without it falling apart.
How to Livestream Workshop: Learn how to go LIVE and what tool is best for you and your goals.
Plan Your Year with Essential Oils: How to use my favorite emotional health tool in planning your business.
The Starship is closed, but you can find out what's coming next at TaraSwiger.com/list.

How does this work?
Click the button, complete payment and you are IN. You'll receive a Welcome email immediately, with instructions on signing into the online community, where you'll get immediate access to the Community where you can ask questions 24/7.
Your orientation will start the following morning.
The Program begins when you buy it! 
What if I change my mind? 
The Starship is a place of safety and commitment, where you can be sure your fellow members are as equally invested as you are. Before you buy, please read the above page carefully. If you have questions, email me. Don't buy until you're ready to do the work.
I begin to invest in your business from the moment you beam up and you have immediate access to the community.  If you decide that it's not for you after you've purchased, you can cancel your payment plan. 
After 24 hours (of your first log-in), there will be no refunds. Even if you decide you don't want to participate, you will still have access for a month  after each payment processes. If you're payment fails to process, you have 3 days to rectify it (you'll get several email alerts!) and then you'll lose access to the everything.
Why is it called the Starship? How did it start?

Got a question? Click to expand!
How will materials be delivered? 
All of the Starship materials are all delivered digitally. You'll receive your weekly lesson each Monday and an email each Wednesday with links to the recent discussions, information about new classes, and extras.
You'll have lifetime access to the class materials AND the Community (once you've completed your final payment). You can log in anytime to work through the program.
How much time will this take? 
It depends on you and how much you already know about your business! The earlier weeks will take more time (around 30 minutes per day), as you get clear about the direction you want your business to go. After Chart Your Stars and Map Making, most lessons will take about 1-2 hours per week. You can spend as much time as you like on the forums, but there's no requirement (and I encourage everyone to spend more time working on their biz than they do in the community!)
Will I fit in?
EVERYONE worries about this! (It's just part of being human!). This is what James said after just his first week aboard:
"I just wanted to say thank you. Thank you for being so clear and authentic in your marketing and free products that I was able to trust emailing you my questions. Thank you for being so thorough and open in your answers that I knew my heart was right to be drawn to the Starship. And thank you for helping me to feel so welcomed and invited and celebrated in your space in such a short time."

– James (yes! a dude!)


"This experience has solidified some things I already knew about myself- that I work better WITH other people, I need encouragement and support to move forward in my business, and the accountability really helps keep me on track. The people in this group are AWESOME, I have new friends AND new collaborators, and it's really a SMART group of women."
-Lisa Barnes, knitwear designer

After your first three months, you'll be sent the RESOURCE LIBRARY.
Check out the classes in the library (immediately + continuously accessible to Community members):
Chart Your Stars – Plan, dream, get real + get ideal on your next year in business. And then it bring it to the Starship + get use-it-now advice.
Map-Making Guide – 

Step by step plan to take you from where you ARE to where you WANT TO BE. Includes 6 worksheets and 3 colorful maps.

BRAND NEW – How to Take a Break (without Breaking your Biz) – A Guidebook to stepping back or scaling down your work, without closing your business.
Wrangle Your Time – Learn when you work best, and develop your own system for being as productive (and creative) as you can be.
Explore You

– This three week course helps you improve one area of your business through attention and exploration.

From Hi to Buy: Craft your Customer Path – 4 audio lessons, 12 written lessons, and 7 worksheets to identify + improve the path your customers take to you – including what and how to write your blog, email newsletter, and social media.
Automagical Email Series – Connect with your people in a regular, easy way with email sequneces/auto-responders. This e-course walks you through your options as you plan your first series, with 4 videos and a workbook.
How to Talk About Your Work – In this three-part class you'll find the right words to describe your work and who it's for.
Busting the Blog Myth: Creating a blog that gets you want you want – My collaboration with Diane of Craftypod.com, this workbook has 4 lessons and 6 worksheets to move your blog from eh to oh yeah!
Finding + Wooing your Right People – Your guide to finding buyers, keeping them happy, all while staying true to the you-ness that keeps them smitten.
Right People 201: Dig deep into who your Right People are and where you'll find them.
Pricing your Handmade Awesomeness – Stop stressing if the price is right. This class includes 3 mathematical equations to find your price AND talks about the harder, emotional stuff that goes into pricing.
Rock the Shop – Wanna sell to local boutiques? Two hours, 2 checklists and 3 worksheets until you can do it with ease.
Rock the Show – Stop stressing over the craft show and get your goodness on the road (fun + profitably!).
Holiday Sanity – 4 weeks of planning for your holidays in a no-stress, no-should way. Expect a Cookie Party. Yes.
"Just wanted to let you know that Starship had been a really good fit for the last pieces of what I was needing to make some business changes. I've always done lots of goals and planning, but it would fall apart and fade. The extra few layers the Chart Your Stars and Map Making really have made things click… metrics, progress/review has made a big difference."

– Jeannie
Got another question?
If you just want to chat about it first, email me: tara@taraswiger.com