When you don't know what to do next.
When you've done everything you can think of in your creative business and it still isn't quite what you want. When you've read the books, taken the classes, opened the shop, taken the pictures, written the descriptions.
But you're not there yet. Not where you want to be and not certain how to get there. That not-knowing is a cold + lonely space.
The solution is not simply another class, another book, another pro/con list.
The answer is in an adventure. An adventure in defining where you really want to go. An exploration into finding the path to your (dream) destination. A map built for you. You, with your own particular sparkle, skills and style.
And a friendly crew to help you get there. A crew that has done it before (crafted their ideal business, approached a shop, sold at a craft show, written a book – wherever your journey leads you, there's someone on our crew who has adventured into that space) and that will hold you (gently) accountable on the tiny things that fly you towards your dream destination.

I've been on that planet. I've adventured through the space of a sustainable business.
For over 10 years, I've crafted a business (and life) that supports me – and it all started with yarn.
First, I built my handmade yarn business, so I could quit my day job. But 2 months after quitting my day job (yay!) my husband lost his job (boo!). And our car exploded. And our house got broken into and everything of value was stolen. So: I built a business that supports my entire family. I read the books, the blogs, the experts. I experimented and tested and kept track of everything that worked (and didn't). I found a community to support me. To hold me accountable. To ask those late-night-panic questions.
It took the combination of the learning + the community to make my business fly. I want you to have the same adventure, without those scary lost-in-the-darkness-of-space moments.
To support your adventure, I've combined everything you need: Regular map-making, a crew of smart captains, weekly accountability and a space to ask your questions, 24/7.

 I was so discouraged. I was crushed. I thought more than once about closing Yarn Love just so I wouldn't have to deal with disappointing myself and my husband.

But I didn't. I found you.

I dug your book off my shelf and got started. I gave myself 6 months to turn things around. Along the way I purchased your Map Making guide to help me with a tidy, executable plan, because I can work a plan like nobody's business.

I'm 6 weeks into my first quarterly map.

I HAVE EXCEEDED MY INCOME GOAL!

In 6 weeks, I have made more than $5000 of profit. I have streamlined my business processes. I have spent half of every other day at the pool with my kids. (In other words, I'm rocking family life and having fun, too.)

So thank you, Tara. You were just what I needed. There aren't enough words in the English language to express my gratitude for your help and insights."

-Katie, of YarnLove

What is The Starship?
• Weekly, gentle accountability check-ins where you get to ask each other and the Biz Rockstar hosts anything you like, in the text-based chatroom Holodeck
• Quarterly Map-Making sessions. Four times a year we set new, reachable goals and boil it down to Next Steps (that actually get done). You make a map to guide your next three months.
• Monthly live Q+A calls – ask me your questions and I'll give you a personalized, direct answer.
• Over 15 classes + guides aimed at exploring different aspects of growth, each with apply-it-to-your-own business worksheets. They are ready for you to download and work through as soon as you like. Twice a year we'll work through the Foundation Courses: Pay Yourself and Craft Your Marketing and Wrangle Your Time.
• TWO private, online spaces to ask me (and all the other Captains on board) your questions + get specific Do This Next steps or encouragement. We have both a private forum hosted on my site and an active Facebook group, exclusive to Captains
Accountability Partner Program – Get matched with another business owner who can meet with (phone, skype, text, in-person – whatever you decide!) to hold each other gently accountable. This is entirely optional!
First looks at my next projects –  from classes I'm creating to books I'm writing, I'll share what I can with Starship Captains as I create them!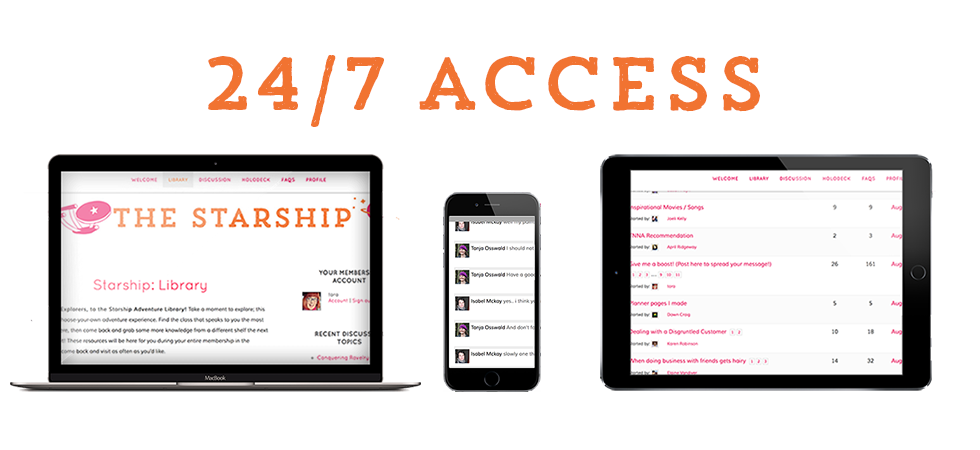 To get the forums, chats, classes and a community of supportive Captains, join for $97/mo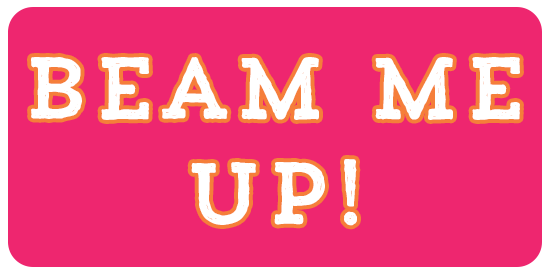 This doesn't come with a magic powder that makes everything instantly "better". But what it did do is make me sit down and look at my business from top to bottom, in all the little nooks and crannies that were neglected and full of dust bunnies, and clean it up. It made me examine why I'm charging the prices I am, what my goals are, what I am spending my work time doing and why. It made me see the systems that I *do* have in place and helped me put in new ones.
Each section of this course, as with all of Tara's classes, has been full of lightbulb moments whether I completed that section or not. I wouldn't want anyone but Tara holding my hand as I work through all of this stuff. It's been brilliant (and overwhelming, and tough, and totally worth it.)

– Joeli Kelley

What the Starship really does for you:
Answers your 3 am questions, so you're not up all night trying to figure out what to do. Your answers may come in the form of a class, a forum post by someone else, or the opportunity to ask in the forums and someone will be by to help you with it.
As one Captain put it, "You didn't just help me figure out my business, you helped me figure out my LIFE."
Gently holds you accountable. When you share your goals, your intentions and just your weekly plan, you give it power. When we know what you're doing, and ask you (sweetly, gently) how it's going, you rise to the occasion, and actually get stuff done.
Envelops you in the friendly warmth of coworkers without ever actually getting out of your pjs. Yep, everyone in this space is working on the same goal (a creative biz!) but in our own ways. So whenever you're feeling lonely or confuzzled, walk out to the water cooler and get some feedback or a cup of tea.
Connects you with resources. Whether it's the answer to a question or just the person who can help you spread the word, the Starship will be gently hooking you up into a support system that will biggify you in a million ways.
More than anything, the Starship takes you where you want to go.
With the Map-Making, you define your destination. With the check-ins, you stay on the course. And with the Accountability Partner, you stay accountable and take action, week after week, month after month.

"Starship was (is) a supportive network of like minded people who understood me and what I do…it was great to be a part of that community. And it felt like a safety net in a way. Like it was OK to change things up. It gave me confidence. It is probably odd to make this comparison but, it felt like when someone loves you you feel more secure in being yourself and trying new things?  I am taking with me a whole bunch of knowledge, tools, and connections from my time with Starship. And I would fully recommend it to others.

The Starship really validated me and what I want to do, and what I enjoy doing."

-Aubrey, A Daily Obsession
The heart of the Starship is our weekly Holodeck Parties.
This is where we all get together for a weekly check-in  (in our chatroom/Holodeck) and you answer the questions:  Whatcha workin' on? What's going well? How can we help?
Sometimes these are hosted by me, sometimes by my hand-picked Biz Superstars – others who have created a biz and have experience and perspective to share.
The chat takes place every Wednesday at 11am + 2pm EDT, every single week, and I'm  open to adding more times when needed. If you can't make it, there's an active check-in thread where the community will support you!

I try to make it to the Starship chats every week. I find that Tara's questions help me look back at my whole week (instead of just the past day or two) and see what I've accomplished, where there were challenges, and marvel at how much really got done. Plus, Tara and my fellow Starshippers are great at brainstorming ideas and finding a way past the maze of "shoulds" and "buts" to some great solutions to seemingly difficult problems.Even if I don't put the advice to work right away, the Starship chats always help me check my course and make sure I'm not about to sail myself off a cliff.

-Amy Crook, artist

Got something specific to work on?
Check out the classes in the library (immediately + continuously accessible):
Chart Your Stars – Plan, dream, get real + get ideal on your next year in business. And then it bring it to the Starship + get use-it-now advice.
Map-Making Guide – 

Step by step plan to take you from where you ARE to where you WANT TO BE. Includes 6 worksheets and 3 colorful maps.

BRAND NEW – How to Take a Break (without Breaking your Biz) – A Guidebook to stepping back or scaling down your work, without closing your business.
Explore You

– This three week course helps you improve one area of your business through attention and exploration.

From Hi to Buy: Craft your Customer Path – 4 audio lessons, 12 written lessons, and 7 worksheets to identify + improve the path your customers take to you – including what and how to write your blog, email newsletter, and social media.
Automagical Email Series – Connect with your people in a regular, easy way with email sequneces/auto-responders. This e-course walks you through your options as you plan your first series, with 4 videos and a workbook.
How to Talk About Your Work – In this three-part class you'll find the right words to describe your work and who it's for.
Busting the Blog Myth: Creating a blog that gets you want you want – My collaboration with Diane of Craftypod.com, this workbook has 4 lessons and 6 worksheets to move your blog from eh to oh yeah!
Finding + Wooing your Right People – Your guide to finding buyers, keeping them happy, all while staying true to the you-ness that keeps them smitten.
Right People 201: Dig deep into who your Right People are and where you'll find them.
Pricing your Handmade Awesomeness – Stop stressing if the price is right. This class includes 3 mathematical equations to find your price AND talks about the harder, emotional stuff that goes into pricing.
Rock the Shop – Wanna sell to local boutiques? Two hours, 2 checklists and 3 worksheets until you can do it with ease.
Rock the Show – Stop stressing over the craft show and get your goodness on the road (fun + profitably!).
Holiday Sanity – 4 weeks of planning for your holidays in a no-stress, no-should way. Expect a Cookie Party. Yes.
Twice a year we'll go through the Foundation Courses
Pay Yourself – 6 video lessons + apply-it-now worksheets on finding the profit in your current business and paying yourself (finally).
Craft Your Marketing – 6 audio lessons and worksheets to create your marketing plan. You'll also get access to the PDF of my book, Market Yourself.
Wrangle Your Time – Learn when you work best, and develop your own system for being as productive (and creative) as you can be.
You must be a member of the Starship when the Foundation Courses are offered to access them.
"Just wanted to let you know that Starship had been a really good fit for the last pieces of what I was needing to make some business changes. I've always done lots of goals and planning, but it would fall apart and fade. The extra few layers the Chart Your Stars and Map Making really have made things click… metrics, progress/review has made a big difference."

– Jeannie

Join us!

There are
25

21  spots left.

 

 "Tara totally gets my business and me.  By the end of class, I had a map of what I needed to do.  No longer was I flailing about, trying to figure it all out on my own.  Now I had steps and direction.  It's been a couple of months since I've been working on my to-do list. My website and Etsy store are in sync with each other. My newsletters are more focused and my website traffic is busy every day!

Thank you, Tara,  for helping me feel in control of my business and less overwhelmed about it!

-Lisa Check, Flying Goat Farms

How does this work?
Click the button, complete payment and you are IN. You'll receive a Welcome email immediately, with instructions on signing into the online community, where you'll get immediate access to over $1000 in digital classes and the discussion board where you can ask questions 24/7.  Your orientation will start the following morning, and you'll get weekly lessons the very next Wednesday.
What if I change my mind? 
The Starship is a place of safety and commitment, where you can be sure your fellow members are as equally invested as you are. Before you buy, please read the above page carefully. If you have questions, email me. Don't buy until you're ready to commit.
I begin to invest in your business from the moment you beam up and you have immediate access to all of the classes (over $1000 worth). My team and I will welcome you in with a personal message and answer all of your questions. If you decide that it's not for you after you've purchased, you can cancel your payment plan. 
. After 24 hours (of your first log-in), there will be no refunds. Even if you decide you don't want to participate in the forums or chat room, you will still have access for a month  after each payment processes. If you're mpayment fails to process, you have 3 days to rectify it (you'll get several email alerts!) and then you'll lose access to the site.
Got a question? Click to expand!
How will materials be delivered? 
All of the Starship materials are all delivered digitally. You'll receive an email each Wednesday with links to the recent discussions, information about new classes, and information about the chat. You have immediate and continuous access to the Library, which contains downloadable lessons for over a dozen classes. The classes include written, audio and video lessons, worksheets, and discussion forums.
How much time will this take? 
It depends on you and how much you already know about your business! The earlier weeks will take more time (around 30 minutes per day), as you get clear about the direction you want your business to go. After Chart Your Stars and Map Making, most lessons will take about 1 hour per week. You can spend as much time as you like on the forums, but there's no requirement (and I encourage everyone to spend more time working on their biz than they do in the community!)
Will I fit in?
EVERYONE worries about this! (It's just part of being human!). This is what James said after just his first week aboard:
"I just wanted to say thank you. Thank you for being so clear and authentic in your marketing and free products that I was able to trust emailing you my questions. Thank you for being so thorough and open in your answers that I knew my heart was right to be drawn to the Starship. And thank you for helping me to feel so welcomed and invited and celebrated in your space in such a short time."
What's the difference between the Starship and Lift Off?
Lift Off is 6 months of classes, delivered via email + monthly group calls (and is no longer availabe to the public).
The Starship includes access to Lift Off (these are the Foundation Courses that run twice a year) PLUS anytime access to  the classes PLUS a community of your fellow makers. There's a 24/7 forum, weekly live chats, and the Accountability Partner Program.


"This experience has solidified some things I already knew about myself- that I work better WITH other people, I need encouragement and support to move forward in my business, and the accountability really helps keep me on track. The people in this group are AWESOME, I have new friends AND new collaborators, and it's really a SMART group of women."
-Lisa Barnes, knitwear designer
Got another question?
If you just want to chat about it first, email me: tara@taraswiger.com