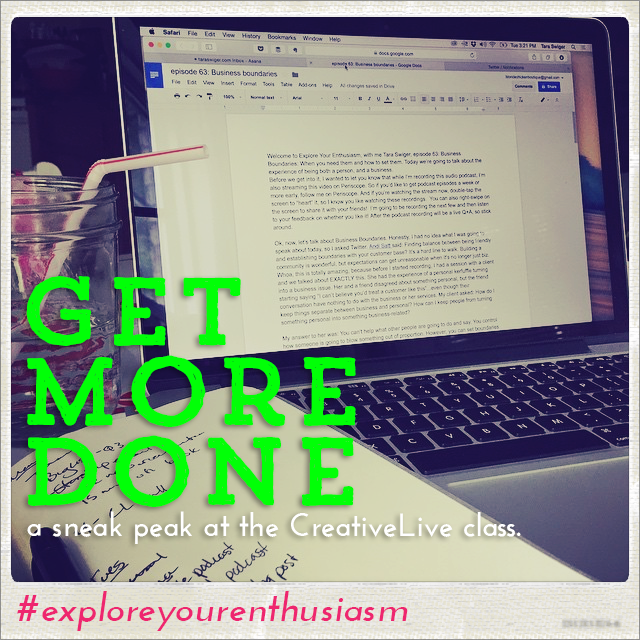 Podcast: Play in new window | Download
If you are listening to this episode as it's released, on August 19th 2015 – first of all, thank you! You're awesome. Secondly, if it's between 9am and 4pm PST, go to CreativeLIVE.com right now and click "watch live!" and you'll be able to watch me teach! Live!
If you're not listening RIGHT at that moment, I wanted to give you a sneak peek at what I'm teaching, so that you can start to have a more productive day RIGHT NOW. If you like what you hear, you can purchase the class here and get anytime access to over 5 hours of videos, the full 20+ page workbook, and a discount to Lift Off!
Imagine that it's the end of your workday. You close your computer, walk away from your sewing machine, put away your supplies. You take a moment to look back at what you just got done. Instead of feeling frustration, or that it's never enough, you feel calm. You feel GOOD. You're proud of what you got done, and you know that it matters – that it is moving you, bit by bit, towards your goal.
That is what I want for you, and that is the aim of this class. So that soon, maybe tomorrow, maybe next week, you'll get done working, and you'll feel GOOD.
In this episode I share the Three Keys to Getting More Done. 
How to listen