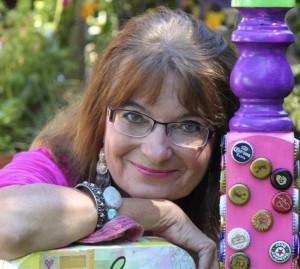 Today I'm sharing an adventure with Starship Captain Violette Clark. Violette is a mixed media artist, art journaler, cartoonist, author and Idea factory.  She lives in a magic cottage with Mr. G in White Rock B.C.  you can find her on herblog or on Facebook.
People have this fantasy of what it's like to be a full-time artist. But what's a normal day for you really like?
My day tends to vary depending on what's up.  I usually get up and check my e-mail around 7:30ish. Then I respond to Facebook mentions and comments.  On Monday, Wednesday and Friday I blog in the morning usually and then share the post on FB.  Also I post photos of my art or funky home and garden on FB since that's a big part of who I am.  I probably spend waaayyyyy too much time on Facebook but then that's the place I have the most interaction on.  I'm also on Pinterest but don't like to go there too often as you can spend a whack of time there.  Afterwards depending on what I'm working on I may create a Journal Page or a cartoon like my 60 in 60 cartoons I made.  Since I'm an illustrator/cartoonist/art journaler my time is often spent drawing … but more time is spent connecting with other artists, working on interview questions, responding to social media and marketing etc. I think it's a fallacy to think that artists spend the majority of their time creating. They don't…..and quite frankly "I just want to draw!".  Drawing makes me happy.  You might also find me working on a video – sometimes I post how to videos on Youtube or videos showing what I've done in my home I call the Magic Cottage. Because I'm a grandmother and daughter – I sometimes spend time with my grandchildren (often teaching them crafts) or with my elderly parents. Thankfully what I do is pretty flexible so if I'm needed I can take time off to help out.  If I'm teaching a live workshop much of the day is spent preparing for it and teaching it.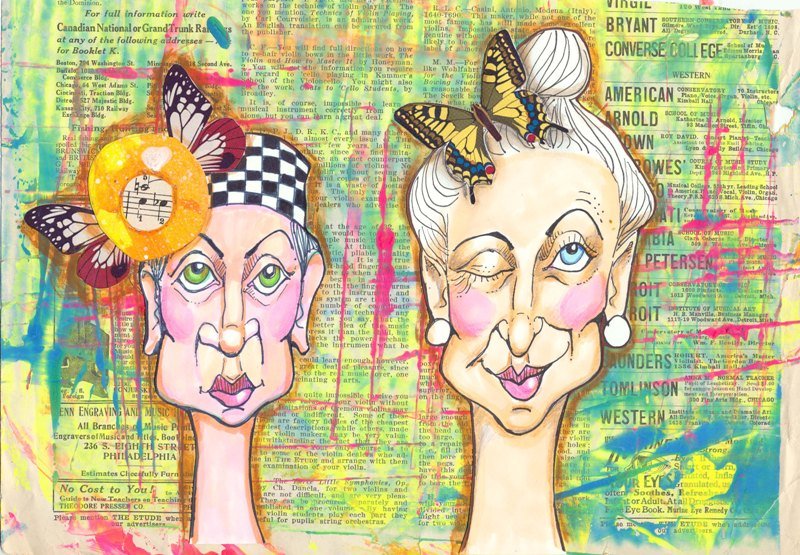 There are so many ways to make a living as a maker – how are you doing it? What have you combined and how has that changed through the years?
Well I teach art journaling online and live classes. I've been blogging for 9 years, that led to a book deal 5 years ago and a book published on Art Journaling. My book, Journal Bliss, led to online classes as well as live classes. Right now I'm creating cartoons – 60 cartoons which are being made into a book, postcards, and tarot cards.  I'm not sure what that might all lead to but I'm open to what happens. I'm hoping to do some public speaking using my cartoons and art journal pages in inspiring PowerPoint presentations.  Also I have been asked to be a part of some online creative workshops so I'll be working on that soon.  For the last several months I've offered "mojo sessions" to help women in small businesses get their mojo going again – helping them with promotional ideas and inspiration.  I'd like to do more sessions in the future which can be done live or in person. I have a ton of ideas and love to share them with creative women.
I am moving away from doing live classes on techniques – I don't really enjoy that anymore and want to focus on creative activities that are meaningful and inspirational. So to sum up your question:  I teach, draw/journal, do 1 -1 consulting sessions and soon I'll be selling my cartoon creations on etsy and on my blog.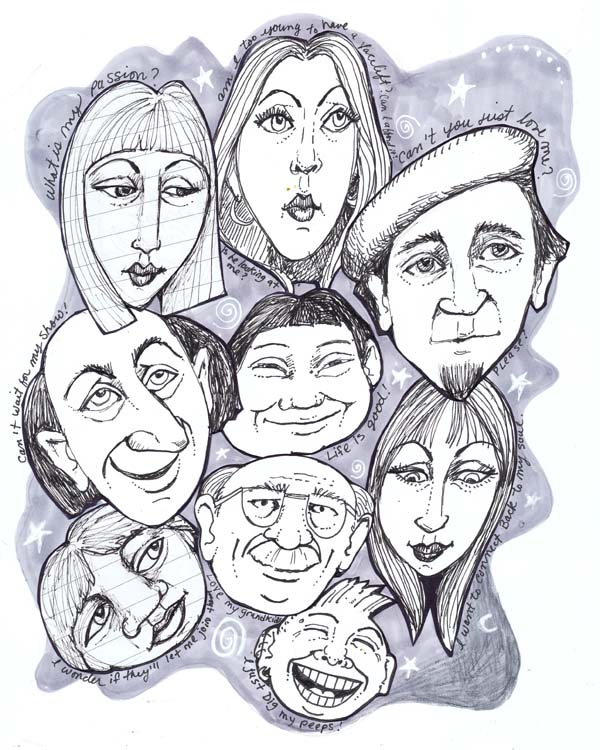 What new thing are you exploring now?
I guess you could say what I'm exploring now is "What gives me juice?".  What that is is drawing.  Drawing makes me happy. Right now I'm assembling my 60 cartoons to fit into a book format as well as into a tarot deck.  Because I have never made my own book before (self-published) I'm freaking out a bit about doing it – change is always scary for me. I'm sure once I figure it all out I'll laugh at why I was so nervous about the entire venture. Also the wheels are turning on a possible online class that would embrace creativity and spirituality. I'm thinking in this might happen later
Doing what I love, inspiring people and making a decent income from following my bliss is my definition of success. Also success for me would be to have my business in my home in a quiet place near the ocean away from the big cities.  In my world I don't need a ton of money however that would be fine too!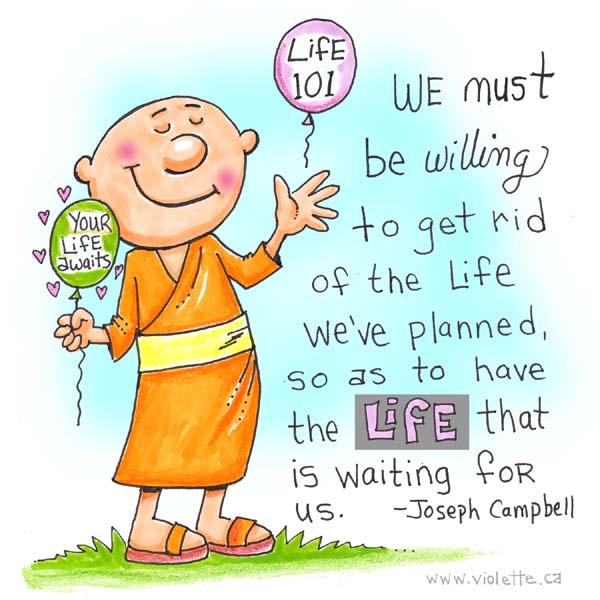 What's the next destination you're working towards?
My next destination is completing the inspiring book of cartoons, tarot deck, postcards to be available in the fall – just in time for the Christmas buying season.  Since it's the summer now things are a bit quiet so I can focus on getting the cartoons into a marketable format.  Also I'm working towards having a landing page for my two websites – my business site (http://www.purplejuice.ca) and my blog (http://www.violette.ca) are too confusing for me and everyone else. I want to blend the two into one place but for now I want to create a landing page where you can click on the services and it will take you there immediately.