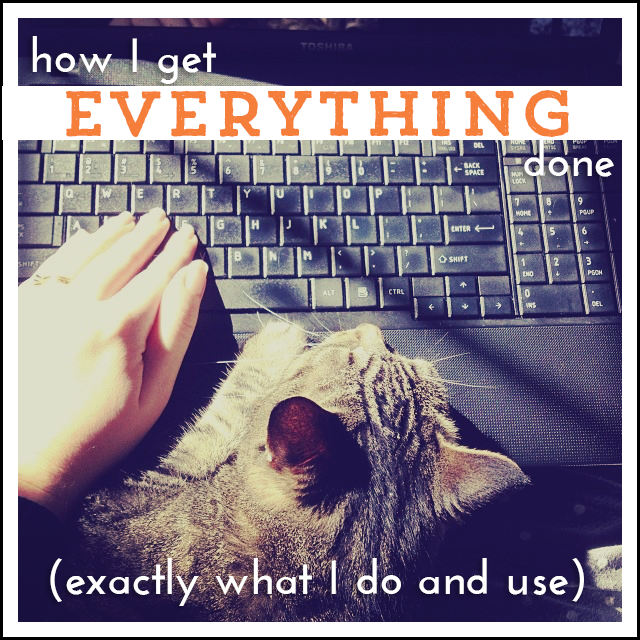 At the beginning of the year, I wrote a massive post  about how I got things done, which quickly became the second most popular post of the year (this is the most popular post). But a lot has changed during the last year. I got a new planner, I tried new apps, I hired another team member, (more about how to do that in last week's podcast!) and started using project management software.
In preparation of my class on putting together your own system for Getting More Done, I wanted to share an update to my own system, along with alllllll the gory details of what I use and why.
I'm going to break this up the same way we'll build your own system – by looking at the three parts vital to a system.
Those three pieces are:
Setting aside a specific time to work.
Keeping track of what you need to do.
Doing the work that matters.
Now, before you dive in, please remember that my business is probably really different from yours. YOU need to build your own system, one that works for your business and your life. I'm going to help you do that in this class.
My time to work
I work M-F (never on the weekends.) When I'm not working, I try not to even check my email, unless we're in the middle of the Starship launch and I know I'll be getting time-sensitive questions.
On Monday, Wednesday and Friday, I usually work from the coffee shop, from around 10am-4pm. If I get started late, I work later. On Fridays, I often stop a bit early (2pm or so) and go start my weekend. These days are my time for writing – these weekly blog posts, guest posts, podcast episodes, new classes, magazine articles, a new book – and replying to emails and the Starship forums. On Wednesday at 2p, we have the weekly Starship chat.
On Tuesday and Thursday, I usually work from home, so that I can do all the things I need quiet for – client sessions, podcast recording, class recording, interviews. I usually work from around 11am – 5pm (which is when Jay's out of the house, working at the comic shop). I used to try to start earlier…but we've got a tiny apartment, and I can't really get away from him, so I just enjoy our morning together. I let these days feel slightly less work-y – I stay in my PJs, I tend to put only 2-3 things on my list: hour-long client sessions on the phone wipe me out, and if I have 2 sessions…that's  all the thinking I have in me for the day; recording podcasts (and broadcasting and answering follow-up questions on Periscope) takes around 2-3 hours.
As you can see, I don't work 40 hours a week. I've learned, through 6 years of self-employment, that I don't have 8 hours a day of uninterrupted focus in me (I don't know anyone who does – in most office jobs you spend a chunk of the day talking to your coworkers, futzing about online, and walking around getting more coffee. Or was that just me?).
But here's the important factor: When I'm working, I'm working. I don't open my personal Facebook. I don't scroll through Instagram. I absolutely don't visit Pinterest or Amazon or play any games. This is my time for work, and I might get distracted replying to a customer email, or researching something, but I try to limit myself to truly work. In that way, my non-work time is 100% NOT work. I play games, read blogs, and endlessly scroll through Instagram and Pinterest in that not-working time.
If I find myself incredibly distracted and I haven't gotten my 3 Most Important Things done for the day…I change something. I either stand up and walk around, change locations or just stop working for the day. There's no point in forcing myself to sit at the computer if I'm not getting work done.
Knowing what to do
All of the working time in the world doesn't matter if you don't know what you're spending that time on! I keep track of things a few different ways.
Whenever I start any new project, I break it down into  it's individual to-dos. This includes every piece of content, every image, everything. I put these in Asana and assign the tasks to the appropriate team member and give it a due date. Some projects, like launching a new class, have a lot of pieces. Some, like writing my book proposal, have just a few tasks that are all "Write X chunk."
But new projects are just a tiny slice of what we do week in and week out. Most of what the team does repeats weekly or quarterly. So we have Asana projects that repeat!
An example: the podcast episodes
I write it and share the transcript with Jess
I record the episode + upload it to Libsyn
I write the blog post that includes the description of the episode + schedule it
(If it's an interview, Jay edits it and uploads the edited audio to Libsyn)
Jess edits the transcript
Jay lays the transcript out
Jess links it on the Transcript Page
Jay makes the image for the blog post
Jess edits the blog post and pastes the MP3 link into the player software.
She schedules (using CoSchedule) the social media posts about it, using what I've written.
That was actually more complicated for me to write out than it is in Asana. We figured out the steps, put them in Asana, and now everyone's tasks repeat each week on the same day. Repeating tasks cover 90% of what the team works on: podcasts, blog posts, the quarterly Starship boarding, regular review, editing and updating content regularly. I am responsible for setting the direction we're going, conceiving and planning new projects, and writing and creating everything with my name on it. Jess serves as Project Manager for most projects, as she's the final editor and scheduler..so if any piece is missing, she checks in with the appropriate person. Jay's the producer – he makes the graphics consistent, PDFs pretty, and the audio/video edited.
When it comes time for me to start work, 99% of what I need to do is waiting for me in Asana, with the date I'm going to work on it. However, I do a few things to make everything more do-able for me. (As far as I know Jess and Jay just work directly out of Asana and go through their list and check it off. Because I've got to prioritize for the whole team, I need to do a bit more thinking before I dive into work.)
Each Monday, before I start work, I open up my planner (I use Elise's Get To Workbook) and write down everything I need and want to get done this week. I'll look at Asana and add anything from there. I split it up by project, so I understand all the pieces of each product that need be done THIS week. Yes, most of it is in Asana, but I like having it organized in front of me, in my handwriting, so that I don't have to keep going online to check. The writing process also helps me remember anything I might have forgotten and really embeds this week's priorities in my head.
Doing the Work that Matters:
Once I'm tracking all the things that need to happen in my business, and I know what I need to do THIS week, I identify the three most important things I need to get done this week. This ensures that the most important things always gets done, even if something comes up (I get sick, a system melts down, whatever). It also gives me a filter for the week – I can always ask myself if I'm moving forward on the most important things. (I make sure that my goal for the quarter is always reflected in this step!)
Once I have it all done, it's simple to figure out what to do each day. At the beginning of every work session, I write down everything I wanna do during that session, and then I pick out the 3 Most Important Things. I start FIRST on these things, then work on the other stuff.
Yes, I am writing down each task a few times (it's in Asana, it's in my weekly list, it's in that day's list)..but I'm not going for efficiency but effectiveness. The more I write it down, the more important I've made it, and the more likely I am to do it on the appropriate day or week. When I talk to my students about their to do list, the biggest complaint I hear is that they don't get it done because they never look at it. I've set up my system so I'm looking at the most relevant part of my list (what I need to do NEXT) every day.
The other part is actually getting it done, and my system for just buckling down and working changes with the day. As I mentioned above, I'm sure to only be working when I work (no TV going, no podcast listening, no for-fun internet browsing) and when I'm done working I STOP (even if it's far before my usual quitting time, if I get finished with that days' tasks, I stop work!).
That helps a LOT – knowing that I only need to focus (I only GET to focus on work!) for a very specific amount of time. But if I find myself distracted (or just avoid-y), there are a few things I try:
Close all tabs and turn off all notifications. I have 99% of the notifications on my phone turned off, but if I'm really distracted, I put it in airplane mode and close ANY open tab.
Get up and walk around, get water or coffee and stretch. This is like a reset button and it's the quickest way of interrupting a not-productive use of time.
Start my favorite playlist. (I write best to bouncy beats)
Start a pomodoro timer and commit to working on a MIT until it rings. If I'm working on something really stressful or I'm having a bad day, I promise myself that if I do at least ONE pomodoro session, I'm allowed to be done for the day. I usually get in the flow and don't want to stop then, but if I'm not, I stop and close up for the day. It's important not to try to trick myself, or else I'll never believe it next time, and I'll start taking breaks in my workday.
(I have a theory that your productive self is like a puppy, or a toddler. You can't expect her to show up every day and work endlessly, without any fun. But you can ask her to focus for at least 20 minutes, with a break for fun. If you lie to her and never let her have a break, she'll revolt and will never show up when you need her. Taking physical breaks (dancing, listening to music, drinking something tasty) can reset her for another work session, but you can't just push her.)
And that's it! That's how I get stuff done, from the project-planning down to the every-day habits that keep me productive!
If you want to focus on only the work that matters in YOUR business, my FREE weekly planning sheet will help you do just that! Sign up below to download it!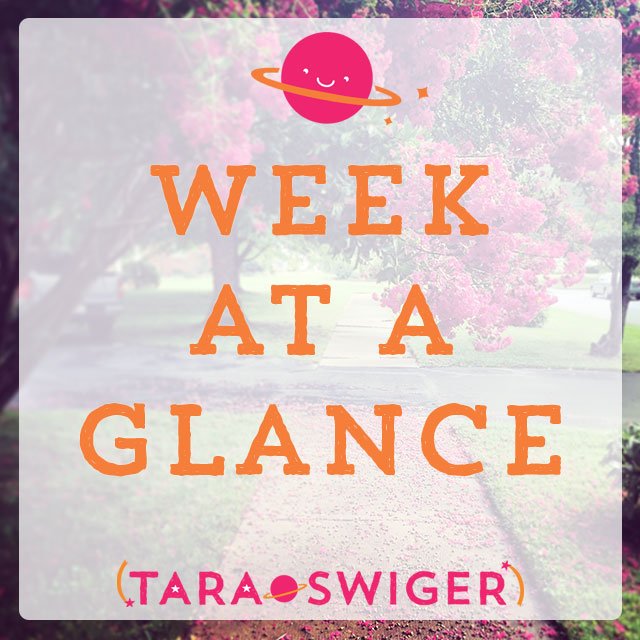 Get your FREE Weekly Planning Sheet!
Enter your e-mail to get your FREE weekly planning sheet so you can focus on what truly matters and GET MORE DONE.