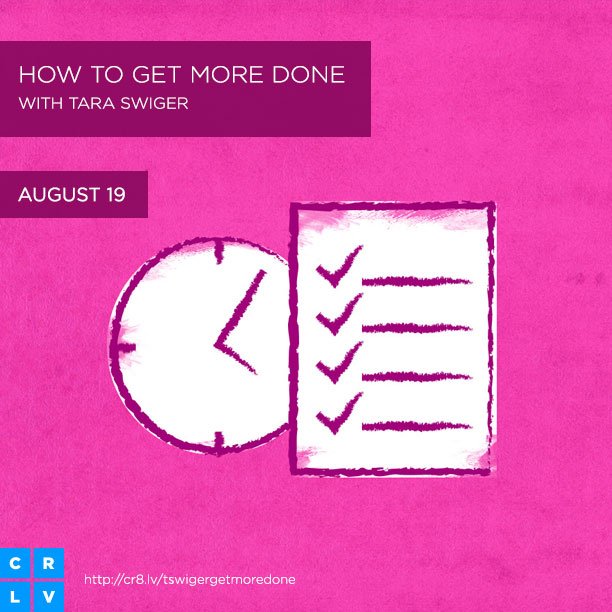 I'll be honest with you, ALL I can think about this week is "Getting More Done", both the class I'm about to teach with CreativeLIVE AND the act of getting more done. If you follow me on Periscope, then you know I've been asking you: What keeps you from getting more done?
I've taken all the responses (and all the questions my readers have sent me for the past 5 years!) and put together a solution, that will work for YOU, whether you've got 30 minutes a week or 30 hours a week to work on your creative business.
Along with the questions I'll answer in the class (like "How do I balance admin time and studio time?," "How can I build my business with SUPER limited time?", "How do I decide what's important and impactful for my business?"), I've also been asked some questions I'd like to answer NOW.
How does this work?
Go here and click "RSVP". You'll get both the bonus Holiday Sales Calculator worksheet right away (along with bonuses from Tara Gentile, Abby Glassenberg, Lisa Jacobs, and Megan Auman), so you'll be ready to start class Wednesday morning. At 9am PST (Noon EST) on Wednesday, August 19th, class will begin! You'll get a reminder email to log on and when you do you'll see me teaching, in real time! There's a chat room for you to ask your questions (the hosts will be lobbing your questions at me on the regular) and a hashtag (#CraftWeek2015) so you can connect with your fellow students.
What's the schedule of the class?
Note: Times are in PST!
9:00-10:30AM What do you NEED to get done?
10:45-12:00PM What's in your way?
12:45-2:15PM Find the Time (no matter how little you have
2:30-4:00PM Make Your Plan
Who is this class for?
This class is aimed at makers who sell their work and want to get more (of what matters) DONE each day.
This class is for you if…
You struggle to find time to work on your creative business.

You're frustrated with trying to balance all the aspects of your business: making, marketing and admin.

You have a list of things you really want to do, but find yourself NOT doing them.

You don't know where to find the time to work on exciting new projects (like a new product, book, marketing plan)

You're a curious explorer. You'd love for this to be a fascinating adventure, not a boring slog. You're ready to learn + move forward, not judge or guilt-ify the past.
My class, Get More Done, is part of a weeklong series of classes aimed at making your crafty shop ROCK the holiday summer.
On Monday, Tara Gentile will cover pricing and value.
On Tuesday, Abby Glassenberg will teach you how to write and send an effective email newsletter.
On Wednesday, I'll help you get more productive.
On Thursday, Lisa Jacobs will improve your copywriting (ie, your product descriptions!)
On Friday, Megan Auman will walk you through putting together your marketing plan!
By the end of it, you'll be ready to have a fantastic holiday season in your shop!
What if I can't watch live?
Watching live is free, but you can purchase anytime access. You can get my class here for $79 (the price will go up after class, so jump on it!) or you can buy the entire 5 day bootcamp. Each Day's page tells you what we'll cover on that day, so you can pick the one that's right for you.
Whether you can watch live or not, you may want to purchase the class to get some amazing bonuses:
Anytime access to the videos (so you can revisit it again and again!)

Full workbook to guide you through making your OWN system of getting things done

Resource Guide with links to my favorite apps + tools

$50 off Lift Off
I'm bummed I missed the Wrangle Your Time class, where can I get it?
Well, you're in luck! While you can't take Wrangle Your Time  as a stand-alone class (it is in the library of both the Starship and Lift Off) – it is ALL covered in this class! In fact, this class digs even deeper and gives more tips and software recommendation.
I don't have a business yet, I just have ideas.
Ready for some tough love?
If you are still just "playing around" with "some ideas", but you really REALLY want a business (and not a hobby) – step away from the internet. Stop taking classes, stop reading books, and stop looking at what other people are doing. Go into your creation cave and create your best work. Make 5-10 of them (whether this is products, designs, artwork, whatever). Ask yourself if you enjoy this enough to make 50 more. Then, take some pictures and make it available for sale (either online or in a craft show).
THEN, you are ready to start thinking about becoming effective with your time.
In other words, this class is going to be most useful to you if you know what you make and it's available for people to buy, somewhere. If you're not sure how to move from Idea to Business, check out Kari Chapin's class on getting started.
What's Periscope?
Periscope is a live-video streaming app. Even if YOU have no desire in sharing live videos, you can join (just download the app!) and follow me, so you get notified of any of my live videos. There's a chat room, so you're not just watching, you're also talking to me! Periscopes only stay online for 24 hours, so if you miss watching live, you miss it!
I've been using Periscope to answer quick questions about your small business, help viewers prioritize their week (or celebrate what they've accomplished) and share behind-the-scenes of my own projects (I've been announcing new projects and inviting participation on Periscope before I do anywhere else). While I'm traveling, I'm shooting live videos of any cool place I visit (coffee + yarn shops + dinners with other makers!)

I interact HEAVILY with the chat room, so Periscope is the best way to get some personal interaction. (You can always book a 1:1 session here and get my personal attention for a full hour. They're VERY limited and book up quick, so if you've been thinking about getting personal help, grab it here, then hang out on Periscope in the meantime!)
Got a question?
Ask on Twitter (I'm @taraswiger) or Facebook and I'll answer (in between traveling). Hope to see you in the class!