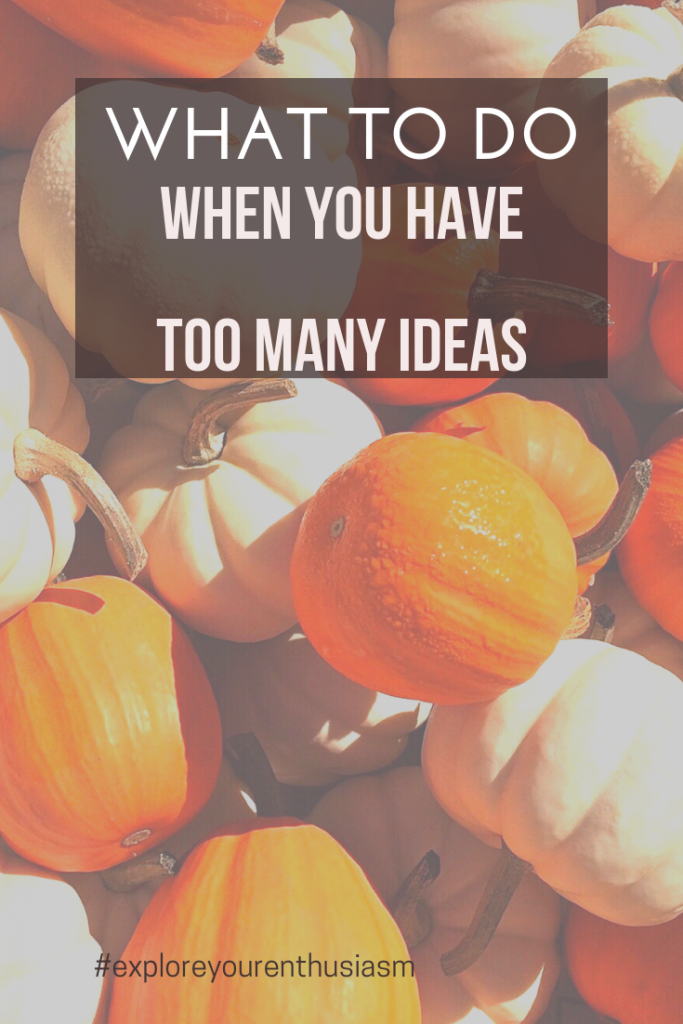 Podcast: Play in new window | Download
Have you found that whenever you're really busy and you do NOT have the time to work on something, you get a MILLION ideas for it?! I know! Me too!
So what do you do when you have too many ideas? How can keep from losing them? How can you keep creativity flowing? How can you be sure to choose the right one?
When I asked the Starship what topics they most wanted me to cover on the podcast, this came up over and over: What do I do when I have too many ideas?
First, know that you are not alone if you both have times of NO IDEAS AT ALL and ALL THE IDEAS, OMG! That's just a natural part of the cycle. Creativity and business is cyclical, you'll have times of planting, times of harvest, times of a totally fallow field (I grew up surrounded by cornfields in rural Ohio!). The important thing, the vital thing to keeping your creativity healthy and alive is to RESPECT the season you're in, don't try to push it. So when you have no ideas, just rest and get to work on the things you've already planned. When you have ALL the ideas, don't try to squash them down or ignore them.
Now, you can't always work on the ideas you have as soon as you have them! And some projects take a long time so even if you start right away, it's going to be a while before it's finished. So what do you do with all those ideas? You don't want to squash them, but you can't work on them?
The super simple, obvious answer is to WRITE THEM DOWN.
Ideally you're going to write them down in the same place every time, so you can find the list when you're out of ideas!
Here's a few things to keep in mind when writing your ideas down:
Put them where you'll find them again!
Look at what else you have coming up, and see if an idea fits in to your plan?
Does it have a deadline (like a Black Friday Deal idea)?  Does it need you to work on it by a certain time to make it happen?
Prioritize what you'll work on, based on what your current goal is, what makes sense for your business, and what you're enthusiastic about.
Keep going back to the same list and adding to it, all the time.
Review the list regularly! Ideally you'll do this when you're planning and thinking about your goal for the quarter and at the very least every 6 months. Maybe some of the ideas fit with your new goal, or maybe your goal is to implement an idea you still love.
Don't be precious about your ideas, you will have a million more. Cross out ideas you're not still excited about!
What I do:
If it can be done this week, write it down in my daily journal
If I'm not sure when to do it, I add it to a big list in my quarterly planning journal
If it has moving parts or a deadline, put it in Asana
That's pretty straight forward right? That's what I thought, so I was confused by the panic that this question seems to elicit in people and I wondered: Why does it upset people to have lots of ideas?
I have a few possible ideas:
It's frustrating to be excited for something and not get to work on it right away. But trust yourself to come back to it, and then DO come back to it, and you'll build up that self-trust, you'll start to believe that you WILL get to what's important, and you'll start to feel less upset about it over time (I can tell you this is true from experience!)
You worry about picking the RIGHT idea. You worry that if you have to pick between your ideas, you won't work on the right one.
I can understand that, but I have a secret for you that is going to totally change your life. Are you ready for it?
There is no right idea. There is no right answer.
I'm serious! If you have an idea for an Instagram Challenge you want to hold and you have an idea for a Black Friday Sale, you know what? Both ideas will go great. Both ideas are likely to grow your business! There isn't a RIGHT choice between the two – pick the one that either makes more sense for your current goal, your current ability and/or your current enthusiasm level. That's it!
One way to look at this is that there is no "right" answer, because no one knows the answer! You have to try it and see!
The other way to look at this is that EVERY answer is the right answer! Taking action, at all, in your business is better than NOT taking action. EVERYthing you do, if you pay attention and learn from both the successes and failures, is going to be progress.
Remember, there are very few things you need to do in your business. They are, in this order:
Have enough products in your shop (that are priced right)
Show up consistently, communicating with your community (where your buyers are)
Reach out to new audiences (like doing a craft show, getting in shops, etc)
Within those areas, you're going to have a goal or a focus – pick the idea that aligns with that current goal.
And above all, trust yourself!
You are going to have more ideas!
You are going to implement the really great ideas.
You are going to move forward.
Don't let too many ideas keep you from taking action. Take action, and you'll get more ideas.
How to listen
You can subscribe to it on iTunes (If you do, leave a review!)
You can listen to it using the player above or download it.
Subscribe or listen via Stitcher (or subscribe in whatever you use for podcasts – just search "Explore Your Enthusiasm" and it should pop up!).