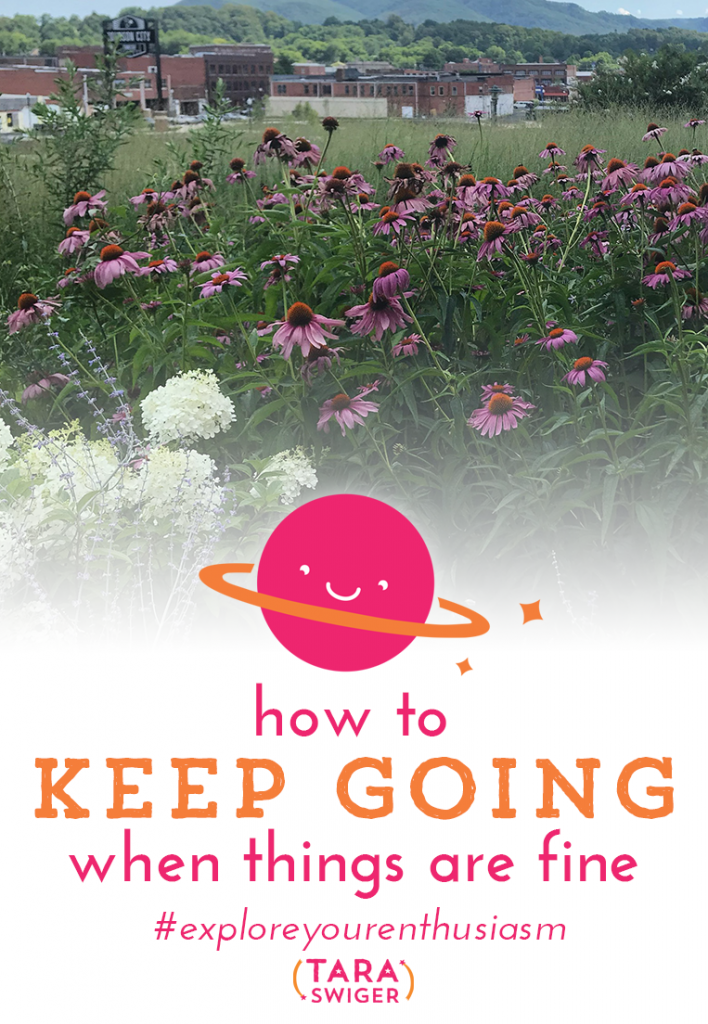 Podcast: Play in new window | Download
How do you keep going when everything is GOOD? Or FINE?
What if you met your goal, so you're not feeling super motivated? Or you've gotten excited about a new project? How do you keep your consistency on what's already going well?
Today's question comes from a Starship Captain who asked, "How do you stay focused on the parts of your business that are already going well, when you've got a new project you're excited about?"
I'm going to answer her question in a minute, but first I wanted to tell you that the Starship is what makes this podcast possible. I don't take advertisers and I don't spend a lot of time on this podcast selling my stuff because of the Starship. Also – the Starship gives me almost all of the topics I cover here – either the questions and conversations come up naturally, or I ask the Starship once a month: what do you want me to cover?
If you want to ask your questions and get them answered, the Starship is going to open next week! It has changed up a bit, so if you'd like to be the first to hear about the changes, sign up at taraswiger.com/starshipbiz!
Now let's get to the question, when everything is great, how do you keep going?
How to keep going:
Systematize everything.
You can systematize and streamline everything (so you have more time to focus on fun stuff!) by…
We talk a lot about this in the course on Taking a Break, we guide you through each step. The course is now only available in the Starship community, you can find out more about that when it opens, by signing up at taraswiger.com/starshipbiz
Decide on the results and the effective minimum dose.
What do you really want to accomplish in the area that you're not focusing on? What is the minimum you want from it? Being really clear and decisive on what you're willing to accept from the area of your business but doesn't have a lot of focus, is so important to your own peace of mind. It's fine that not every area of your business is your main focus at a given time, but we often beat ourselves up later, once we see the results. So determine the results you'll be ok with, and don't fret if things decrease while you're working on the new thing.
When you know the results that you want, experiment with what is the minimum effective dose of effort required. Answer the question: What do I need to do to get those results? It's entirely possible you're doing a lot of things you don't need to do, to get the exact same results you're getting. We often talk about doing more and trying more and adding more, but it can be even more effective to reduce what you're doing, to do less.
The great news is, identifying the results you want and the minimum effective dose that it takes to get those results is SO helpful when you go through a period of time when you can't work as much on your business – maybe your kids are home from school, maybe a parent is sick, maybe you're about to have a baby. But knowing what it takes for your business to survive at the level it needs to survive can give you a lot of peace of mind and clarity when you need to step away from your business… or when you just want to go in a new direction or try a brand new thing.
Get accountability
Even if you've been doing it for years, if you feel yourself start to slip, get accountability.
You can do this casually with a friend, or you can do this more officially inside a group like the Starship where we have weekly accountability check ends and accountability partners. But often, when people aren't doing what they want to do, the easiest solution is just to build in some accountability. Get someone who is expecting them to do what they want to do, someone outside their own brain, who won't accept any excuses.
I talked more about this is episode 73, how accountability can help you reach your goals
And about how accountability can help you be more productive in episode 122.
I want to end by giving you permission to follow your enthusiasm!
It will lead you in exciting new places and new opportunities. Don't be afraid to let yourself out of your box and into something new!
How to listen
You can subscribe to it on iTunes (If you do, leave a review!)
You can listen to it using the player above or download it.
Subscribe or listen via Stitcher (or subscribe in whatever you use for podcasts – just search "Explore Your Enthusiasm" and it should pop up!).
Get early access
Get a free workshop on building your business foundation.
Meet a few of the Captains and learn their lessons
Be the first to be notified when the Starship reopens