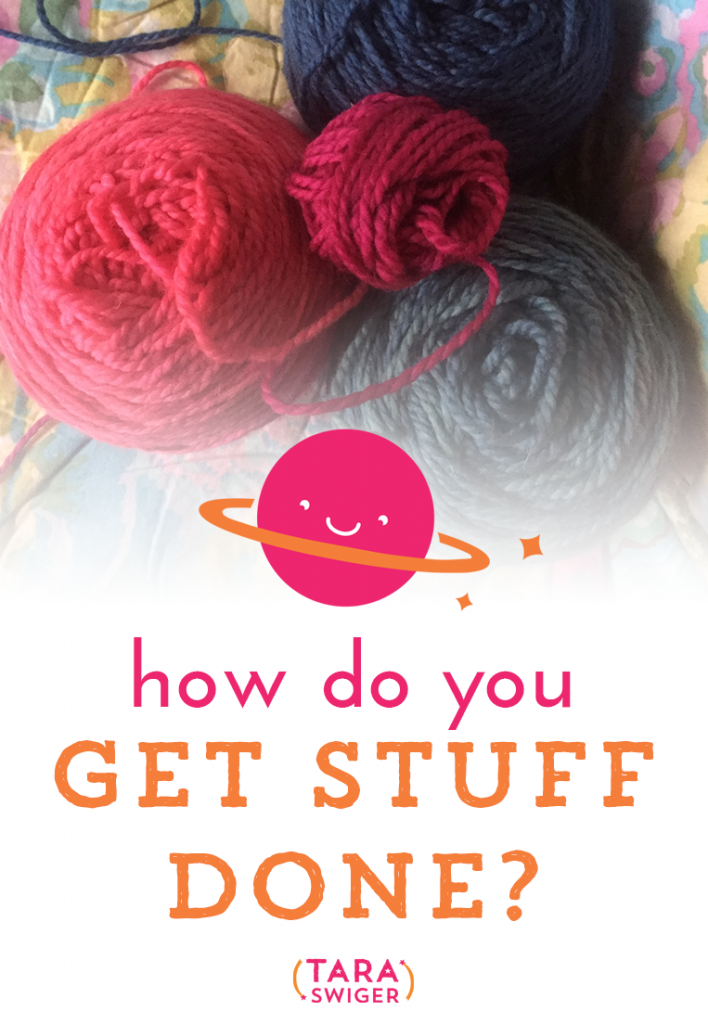 Podcast: Play in new window | Download
Get more goodness and support the podcast: http://patreon.com/taraswiger
How do you actually DO what you want to do in your business?
Do you need to understand WHY you're doing it?
Do you need to be held accountable?
Or do you rebel against anyone telling you to do anything (even when you really want to do it)?
This question fascinates me, because it's at the heart of why some people build their business quickly and others struggle along without ever taking much action. This has been such a popular topic that I thought we'd revisit it this week for the podcast. Make sure you read to the bottom in order to get your FREE guide to getting stuff done for Questioners, Obligers, & Rebels!
When I talk to makers and artists who are frustrated that their business hasn't grown, it's very rare that they have NO idea what they should do. Instead, it's that they aren't taking the actions they feel they need to take, they aren't doing what they want to do.
The best explanation I've ever found for WHY some people struggle to get stuff done, is in Gretchen Rubin's book Better Than Before (it's all about habit change, and working on your business really is about habits). She defines the Four Tendencies, as a reason for why some people get stuff done (or change their habits, or work on their biz) and others don't.
I've talked about this before on the podcast (listen in here), but this comes up so often, I wanted to revisit it.
According to Gretchen (and backed up by my own experience working with hundreds of makers and artists), we react to expectations (ie, people telling us to do something), in one of four ways. The way you react to expectations tends to be consistent across your life.
Upholders:
These people do everything that's expected of them, easily. They both meet external expectations (other people telling you what you should do) and internal expectations (things YOU want to do). I have met very few Upholders, and I think it's because they don't seek out biz support – once they know what to do, they just do it.
Questioners:
These people (uh, myself included) don't care to meet external expectations unless they understand WHY. But they have an easy time meeting internal expectations… if those expectations are built on understanding the rationale behind them. In other words, we questioners can do anything if we can turn it from external expectation (you telling me to do something) into an internal expectation (I understand why, and now WANT to do it, because it makes logical sense to me).
These people need to know WHY they are doing anything in their business ("because experts say so" isn't enough). Because I'm a Questioner, I create all of my classes and books for Questioners – I don't tell you what to do, I tell you why something will benefit your biz, then I give you a bunch of questions related to your business, so you can see how to do it in your OWN way. This is why I've built the Starship experience to start with you getting clear on your goals and your path – so that you decide what you want to learn and what you want to do next, and feel motivated to do the work because you can see how it fits into the bigger picture.(According my unscientific study, about 1/3 of the Starship members are Questioners)
Obligers:
These people (maybe you?) have a pretty easy time fulfilling external expectations (if someone asks you to do something, you will), but have a tough time fulfilling internal expectations (say, working on your business, just because you want to). In fact you may fill your days doing things others care about more. So you feel frustrated that you never seem to make the time to work on what matters to YOU. Ugh, this is frustrating.
The solution?
Get someone to ask you about what you really care about.
In other words, externalize those internal expectations.
You can do this with a group (like the Starship), where you tell us your goal and then check in as you work through it (this is why we have the weekly live check-in and forums) or with a single person (an accountability partner). After learning that about 2/3 of the Starship members were Obligers, I upped our accountability-providing, by creating the Accountability Partner Program – you just fill out a short form, and I match you with a partner. The two of you work together to decide when to check-in and then you simply tell the person: This is what I'm working on, I'm going to be done with it by X date. That, alone, can suddenly make you feel like you "owe" someone and so you work harder on your business!
Rebels:
These people tend to feel constrained by any kind of expectation. They tell me (we have a handful in the Starship) that "As soon as I write something down, like a goal or to do list, I suddenly do NOT want to do it." In fact, creating a schedule or a must-do list is going to ensure that a Rebel never does anything.
The solution?
I'll be honest, I have been thinking about this for over a year and quizzing any rebels I meet. Gretchen doesn't offer any solution in her book, and I had a hard time coming up with one. Joeli is a self-described Rebel who has made MASSIVE momentum in the last year of her Starship membership (you can get her full story if you sign up here) and she says what works best is making a big list and then picking, each day, what feels fun (instead of telling yourself you HAVE to do something that day), and setting goals that are more about paying attention and learning, than about measuring. (For example, set a goal of "noticing what already works in my business.") In other words, for Rebels, taking the pressure OFF is often a good motivator for working harder (but if you already feel bad about how little you get done, this might feel REALLY scary). This is why we focus, in the Starship, on finding what works for YOU and giving yourself permission to not do what other people tell you "have" to do.
So how do you get stuff done?

I hope you see that the answer lies not in forcing yourself to work in ONE way, but in finding what works best for you. No one of the above is better than the others (although I think we all secretly wish we could be Upholders!) – the key to productivity is acknowledging your tendency and then setting up your work day and expectations in a way that works for you.
If you think that more accountability, question-answering and a community of encouragers would help you in your business, check out the Starship – it's opening next week! 
Sign up below to get a FREE guide to go with this episode!
How to listen
You can subscribe to it on iTunes (If you do, leave a review!)
You can listen to it using the player above or download it.
Subscribe or listen via Stitcher (or subscribe in whatever you use for podcasts – just search "Explore Your Enthusiasm" and it should pop up!).
Get the Free Guide!
Get my (free!) Resource Guide on Getting Things Done for Questioners, Obligers, and Rebels.
Sign up below and I'll send you the PDF immediately!