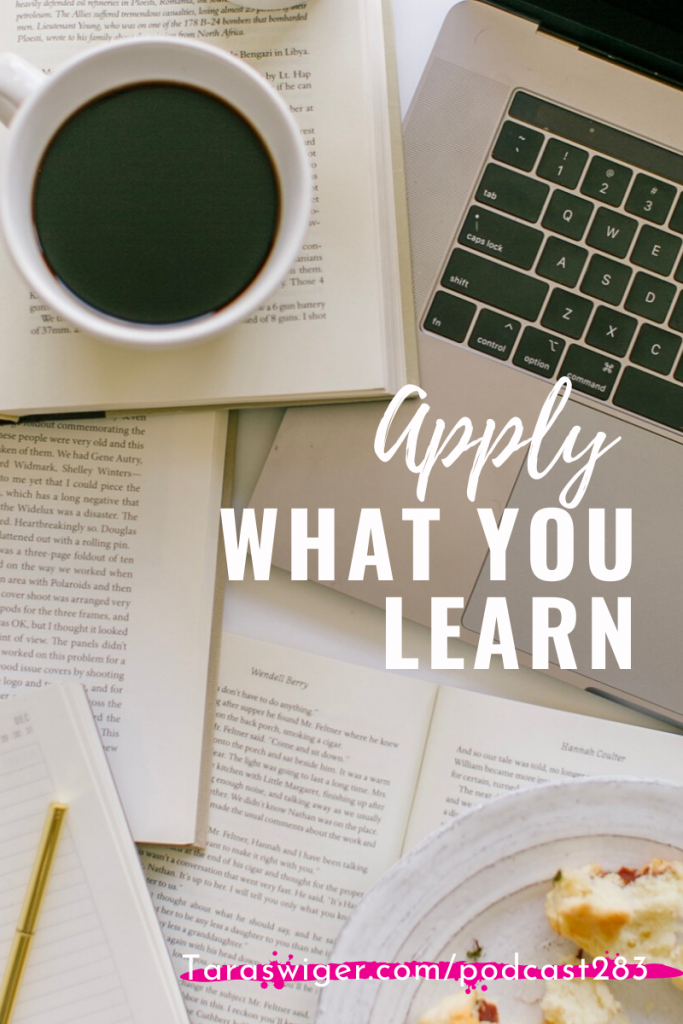 Podcast: Play in new window | Download
You have just read a great business book, or attended a workshop or joined an online class… but how do you get your investment out of it? How do you APPLY what you've learned? How do you make sure that it makes a difference in your business and your life?
Today I'm answering a question a Starship Captain recently asked after she read a great book – how do I APPLY this to my business?
You see, I've thought a LOT about how to make business education and information applicable. I've built it into my courses and program, so that as you work through the Starship Program, you are prompted to work WITH it in real time. We do this through apply-it-to-YOUR-biz worksheets, weekly accountability, chunking the content into pieces, and pacing it so that you work on it in an order that makes sense.
You can learn about how I structure it and WHAT you need to apply to your business in my free masterclass, the Four Foundation Method. Join me at TaraSwiger.com/foundations 
Go Slow
One of the mistakes we ALL make is that we get excited and we rush through collecting information and data. I am a big believer that you can absorb a lot more than you think, and you'll have access to it when you need it again, so I'm never afraid of forgetting something I learned in a book (this may be a quirk of my own brain. If you need to do something else to cement in your brain, like taking notes, you should do that!).
But remembering a fact is very different than using a fact to create real change. When you want to create a transformation in your business, you've got to pay deeper attention than just a quick read. You need to stop and think. You need to take notes or put action steps in your planner.
This is going to seem obvious, but one of the easiest ways to make use of a book or a class is to actually DO the exercises. I know, right? But I know you skip the exercises at the end of the chapter, just like I do! That's fine if you're reading a book just for general knowledge or to get an overview of the topic… but if you picked the book up because you want something to change in your business, you need to actually think and work through it. Don't just speed through.
Dedicate the time it deserves.
Set aside the time
Ok, ok, so you're going to go slow, you're going to do the exercises or homework… but who has time for that?
Well, if it's important to you, if it's a priority, you do.
We're going to talk about this more next week on the podcast, but if this is a priority, you need to set aside the time.
You probably know this, but be honest – when you pick up a business book or buy a course do you first stop and ask yourself when you are going to apply it? Probably not, but then we get annoyed when it doesn't get read and we don't see a change in our business.
This is a good time to tell you – nothing will make a difference in your business unless you commit to taking action and taking time for it. I was recently told that if the Starship comes with a guarantee that everyone will make a living from your craft, this person would absolutely join.
Well, yeah.
But honey, I can't guarantee that you will make a living from your craft, because I can't guarantee YOU will do the work, or that you will even open the lessons and read them, let alone do the homework, let alone make the changes you'll need to make to have a profitable business.
No one can guarantee your success except for YOU.
Allow for failure (and experimentation)
Here's the thing: when you try new stuff, it's not always going to get the results you want. You are going to try things and they'll fail. This has to be built into how you think about business or you'll never move forward. If you're waiting for the perfect piece of advice… you're going to wait for a long time.
I used to call this the special-snowflake syndrome, but that phrase got politicized, so now I'm calling it the Unique Paradox. This is when every student tells me their business is unique and this doesn't apply to them. But hon, if every business is unique, then there is no point in you learning any business advice. You know that there are foundations you can apply to your business, foundations that work whether you have a product-based business, a service-based business, whether you sell $4 PDFs or $100 earrings… right?
But you won't always know exactly how to apply it to work for you, so you're going to need to open to experimentation, to try, to fail, to try something new.
Often when you apply a new concept to your business, you need to build in time to reassess – is it the concept or the application that's not working? Can I try it in a different way?
And hey, this is why I build in monthly reassessment into the Starship. Because you have GOT to stop and check in, to see if you're headed towards your goals or away from them. You've got to learn the lessons your business is trying to teach you.
Ask yourself (over and over) : How can I make use of this? What part of this is applicable to MY business, today?
Yes, there are going to be parts of every book or course that don't pertain to you right now. Maybe it's something that you will need in the future. Maybe it's something you've already figured out. The key to making it applicable now, is to ignore that and look at what you really can use.
I know this can be hard sometimes. When I first started my first business (making handspun yarn and selling it on Etsy) all the advice I could find about selling in an online shop was for coaches, yoga teachers, skeezy guys selling "internet marketing." NONE of it applied to my business, but I started to look at the basics of what they were saying – know your goals, know your customers, know your product, know your numbers… and I started implementing that in my business and it worked!
But what I learned as I quit my dayjob and talked to more and more makers about our businesses is that not everyone has an easy time seeing the foundational concepts and breaking it down into do-able action. That is a strength that seems obvious and easy to me, but it isn't everyone else's strength. So I started helping makers improve their marketing, finding the direction for their business (and life!) and get more profitable.
But I want you to know – if it's hard for you to translate concepts from another industry-language or from old-school business terms, that's ok! There's nothing wrong with you! You don't need an MBA to have a successful business. You can work with someone that can help you translate! This is exactly what I do in my Foundations Masterclass (which is totally free) and what I try to do each week here on the podcast.
So if you're having a hard time applying general business knowledge to YOUR direct business, I have a homework assignment, go sign up for one of the spots in my upcoming Foundations Masterclass at TaraSwiger.com/foundations.
How to listen
You can subscribe to it on iTunes (If you do, leave a review!)
You can listen to it using the player above or download it.
Subscribe or listen via Stitcher (or subscribe in whatever you use for podcasts – just search "Explore Your Enthusiasm" and it should pop up!).