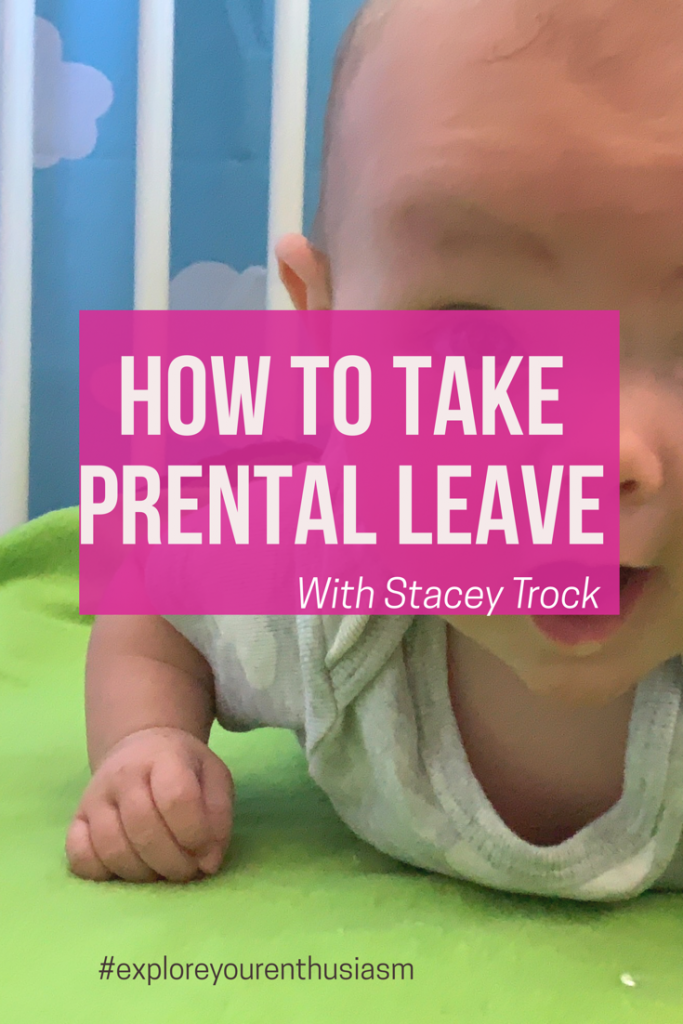 Podcast: Play in new window | Download
Whether for planned or unplanned circumstances, it's easy to feel like taking time away from your business is committing career suicide. Totally not true! In fact, taking leave from your business can provide an opportunity for valuable revitalization of your business trajectory and your life!
In this episode, we'll cover the basics of a plan for taking a leave from your business. So whether you're adding a new member to your family, taking time out to care for a family member, have a medical emergency or are taking a well-earned sabbatical to dream big, this episode is for you.
Basic timeline of a leave
A typical leave can be characterized in three phases: a complete leave (where you don't lay a finger on a business-related task), a 'maintenance mode' (where work for a very limited number of hours, focusing on only the most essential tasks) and a 'rev up' phase (where you slowly transition to 'life as usual').
The more that you can plan in advance for an efficient maintenance mode, the more successful you'll be!
What are your goals?
To optimally plan your leave, you need to know first where your business is at and what your goals are. To do this, you'll need to document how you're currently spending your time and gather your full current budget (income and expenses). Only then, will you be able to identify the essential tasks you'll pare down to during your leave. You want the most bang for your buck (or, limited hours!)
You may identify a financial goal (to make X amount per month during your leave) or a business-related goal (i.e. to maintain your current customer base) for your leave. You will probably not experience growth during your leave time, but you'll be focused on making the most happen in your available work hours.
Plan in advance: how to trade time, energy and money
If you are entering a planned leave, then you have the luxury of time (not so for an unplanned leave caused by an unforeseen emergency). The easiest strategy for keeping content consistent during a period of leave is to 'work ahead' before your leave begins.
A leave may be a time when you want to consider hiring help to take on tasks that you won't have the time to complete. It is best to document your business procedures and search in advance of your leave to find the right fit. Hiring someone from a hospital bed is probably not the best timing!
I encourage you to look at your whole life when planning. Maybe during your leave period, you decide to hire out the cooking of meals to leave more time to dedicate to your business. That's totally legitimate! You'll be able to make these types of decisions once you've completed documenting how you spend your time and setting your priorities (goals).
You ready?
By the end of this episode (even if you're not taking leave), you'll feel ready to streamline your business and focus on the essentials!
Book recommendations:
Find me!
If you're looking for more information about taking/planning a maternity leave, you might like my Creative Live class: https://www.creativelive.com/class/returning-work-after-maternity-leave
Stacey Trock is a consultant in brand management and social media. She helps small businesses engage authentically with their customers by developing both long-term content plans and live social media event coverage. Stacey teaches and writes about business for Creative Live, industry organizations and trade magazines. You can find her at StaceyTrock.com
How to listen
You can subscribe to it on iTunes (If you do, leave a review!)
You can listen to it using the player above or download it.
Subscribe or listen via Stitcher (or subscribe in whatever you use for podcasts – just search "Explore Your Enthusiasm" and it should pop up!).