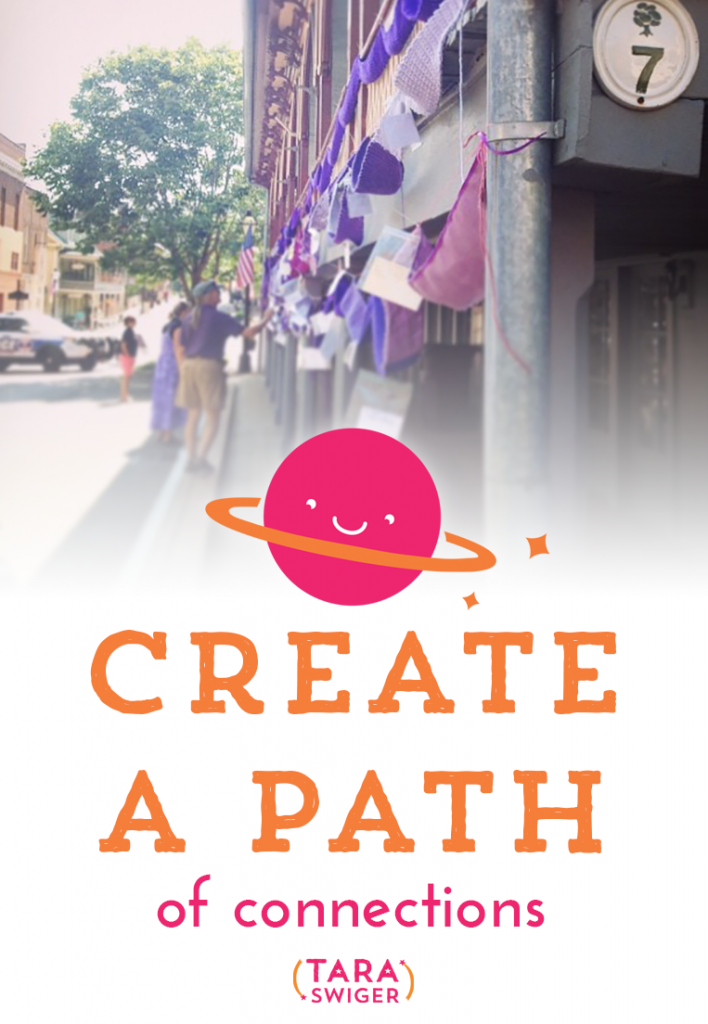 If you're listening in to your people, and you're fully showing up to connect with them, the next step is to make it easy for them to connect with you. While it's true that having a host of option (blog, email, social media) gives your reader a lot of choices…it also triggers the paradox of choice. With too many equal options, people are more likely to choose nothing than to choose something. Not to mention, having too many equal options makes it hard for you to keep up with it all, which is oten "solved" by putting the same information everywhere, punishing those you follow you in more than one place, killing real connection.
It's your job to create the path.
If you want to connect with readers and buyers, and help them find your work and make the decision to invest it, then you need to make it as easy as possible for them. You do this by suggesting what to do next, at every step. You do this by creating a path for the reader/buyer to follow.
This pathway of connection includes absolutely every way you interact with people who may or may not be your right people – your blog, email newsletter, social media, guest posts, sales pages, and (once they cross over into Right People territory and pay for something), your connection pathway continues through your products, classes, clubs, retreats.
Today we'll talk a bit about creating a pathway of connection for your reader (before they buy, before they decide if they are one of your Right People), and tomorrow we'll talk a bit about creating a path for your buyer.
Every path is different.
I can't tell you what your path should look like. It's going to be based on what works for you and on what your People use and read (I talk about choosing your tools in detail in Chapter 5 of the book.) But as you plot your path for your customers, here's a few things to keep in mind:
The first steps on your path are the easiest to do – reading one blog post, replying to one tweet. This is where the person very first becomes aware that you and your work exist. Next steps on the path require more commitment and more information.
Honor this commitment your readers are making and the trust their putting in you. Honor it by giving them what they've signed up for. Respect the deeper commitment by matching it – create deeper content, invite them to specials, give them first sneak peek.
Keep in mind who you're writing for. A guest post is going to be seen by people who don't know anything about you. A tweet may be read by new followers and old friends. An email to your newsletter list is read by people who have committed to hearing from you regularly, and who probably have already decided they like you and your work. Write for the specific audience.
The farther people walk down the path, the closer they are coming to you. Since such a small percentage of people who read your blog or follow you on Twitter actually take the time to reply to you, treasure each response and give it your time and attention. In replying (or starting a conversation) this person is saying: Hey, I want to connect with you more, I want this to be a two-sided relationship. This is the best! These relationships are the bedrock of your business, so do whatever you have to do to make time for them.
Make it easy for the reader to move down the path. Once you know the steps on your path, lay them out in order for your readers. Suggest the reader of your guest post visit your blog, tell your twitter followers about your newest post, ask your blog readers to subscribe, create an autoresponder to introduce new subscribers to your work , invite your subscribers to your newest product or service. It's up to you to explain the path to interested readers, so don't wait around for them to find it.(You do know I send special weekly lessons to explorers, right?)
At the end of this path is a relationship, an equal exchange. This might be a sale (in which you exchange money for a product) or it might be a collaboration or even a real friendship. As you build your path and invite readers to the next step, remember this! Begin with the end in mind, and ask yourself if you want to say or do what you're doing, if there was a true friend on the other end.
Let's take a breather for a minute and acknowledge something. This is kind of scary. If you feel anxious or shy about talking about your Art, then it might be exceedingly uncomfortable to imagine this path, to imagine that you're going to have more and deeper conversations. I think this is why so many people just  default to  "I listed this" tweets or boring blog posts. It's much easier to be boring and impersonal.
But there's a huge upside – it's much easier to invite real fans into your work. It's much easier to talk to people who want to buy what you sell. And the only way to know they truly want it, is to give your fans a way to connect with it and you. I tell clients to look at their newsletter sign-up as a chance for the fans to speak up and say: I'm here! I want to know more!  It's a service.
And here's more good news – when your future customer is connecting to you in new ways, when you're respecting their commitment and fulfilling it with your best work, you'll see that you are both getting something out of the relationship. They're not just giving you money for your art – they are enjoying the relationship. They are delighting in knowing you.
If you're feeling scrambly about launching your book or writing your newsletter, it's likely that your pathway isn't clear (to you or your people).  Finding time to make your art and connect is often as simple as clarifying your connection path and making it obvious to readers.
May 2014 update: You can now learn how to build your Customer Path!