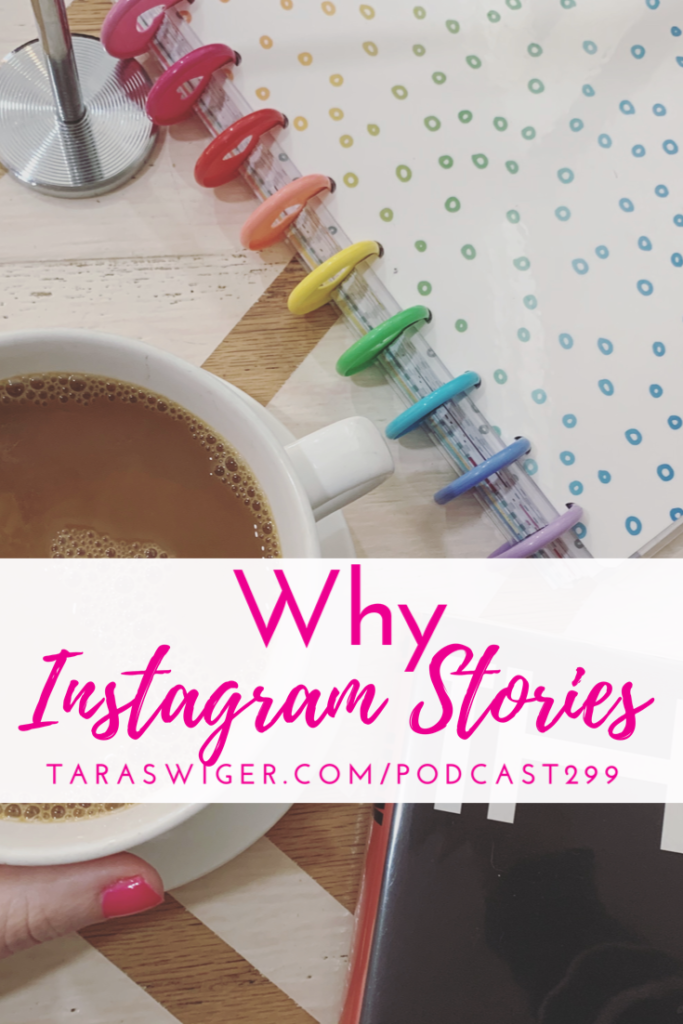 Podcast: Play in new window | Download
Are you using Instagram Stories? Is it connecting with your customers and helping you reach your goals? Or are you confused about what to do to make it effective? Today I'm going to answer your questions about WHY you should be using Instagram Stories and HOW to make them work for you!
Today we're diving into the tool Instagram Stories and how you can use them to connect with your right customers, build trust and make sales.
If you're reading this podcast, thank you! You may wanna hop up above to the video of this episode as well because the video has a few extra minutes of showing you what exactly I'm talking about! You'll find it at the top of the post.
What is Instagram Stories?
Instagram Stories is an extra feature on Instagram, where you can post images or 15 second videos from your day. They expire after 24 hours.
You can shoot them "live" from inside the app, or you can use the photos in your photo library on your phone. You can also share your regular Instagram posts (if viewers click on them they'll be taken to your post where they can like and comment) and you can share other people's Instagram posts, which means you can share your customers photos of your work!
Why do Stories?
What is the best way to build trust with potential customers? It's in-person events. Customers get to talk to you, touch the product, then buy directly from you. The second-best option is live video, it is the most similar to being in-person. The potential customer gets to see how you really talk, see what you're working on.
This builds relationships and it builds trust. And more trust = more sales.
Stories allow you to show way more than you can in your Instagram grid. Are you packing orders, getting supplies, making products everyday? In Stories, you can show that!
What do you have in common with your customers? You can share that in Stories. For example: reading, relationships, personality type, preferences, etc.
Remember: You get to decide what to share.
How do you use Stories effectively?
What kind of Stories build relationships?
Use Engagement tools
Polls,
Questions,
Sliders
Use DMs
Use Stories to tell your Marketing Message, and then save it to "Highlights"
You may be thinking – uh, what is my marketing message? What do I talk about? I outline what goes into your effective marketing message in my free workshop "4 Foundations" and we can work together on your Marketing Message inside the Starship Program. To watch the free workshop and learn more about how we can work together go to TaraSwiger.com/foundations
I'd love to hear how you are using Instagram Stories in your business! Come tell me on Instagram. I'm @taraswiger.
I'm going to give you homework right now to put this into practice:
Take a screenshot of your podcast app as you're listening, then open Instagram Stories, share this photo and tag me @taraswiger and add the hashtag #exploreyourenthusiasm. This is such a low-stress way to get started, you don't have to talk to the camera or anything.
While you're on IG, send a DM and tell me what you learned from this episode!
Thank you so much for listening and I'm wishing you an enthusiastic week!
How to listen
You can subscribe to it on iTunes (If you do, leave a review!)
You can listen to it using the player above or download it.
Subscribe or listen via Stitcher (or subscribe in whatever you use for podcasts – just search "Explore Your Enthusiasm" and it should pop up!).