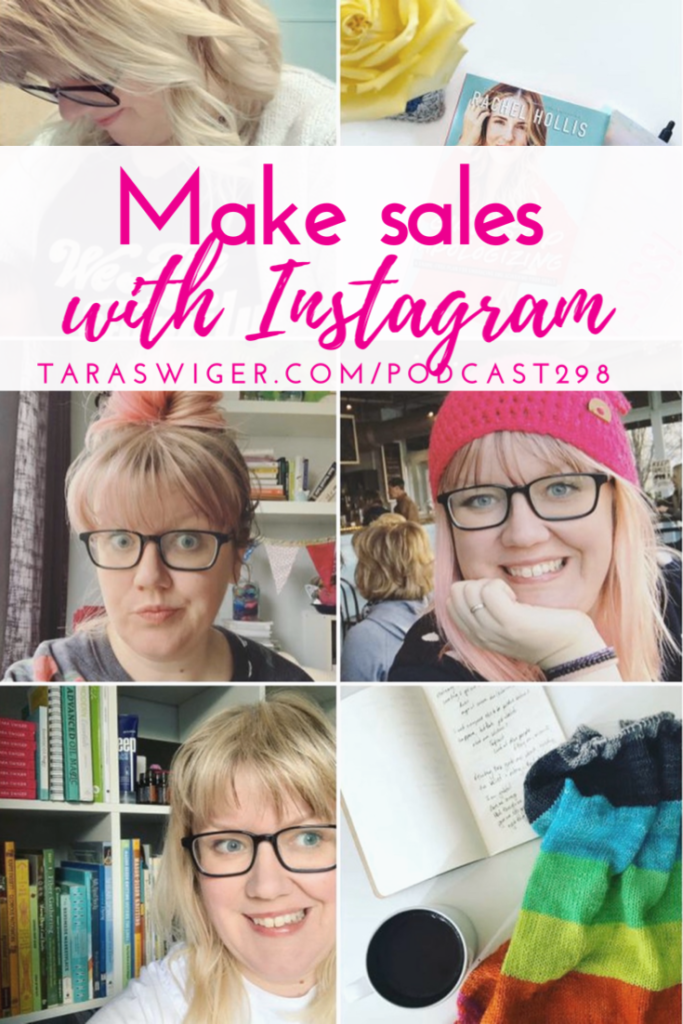 Podcast: Play in new window | Download
Is Instagram worth it? How do you make sales with Instagram? I know! This is one of the ongoing questions my students have about any tool, and Instagram in particular. Today I'm going to explain EXACTLY how you can increase your sales by using Instagram.
Before we dive into Instagram, we are coming right up on episode 300, and I am including YOU in this episode! To participate, head over to my free FB group: fb.com/groups/taraswiger and the info on how to be involved is right there, pinned to the top!
Today's question comes directly from the FB group: Does Instagram actually make sales for anyone? It seems to be just a waste of time, a bunch of content going into the void.
First of all: yeah, it can DEFINITELY feel like a waste of your time!
The good news is: YOU are in charge of whether it's a waste of time or not. It's true! You don't have to wait for Instagram to send you people, or for your right buyer to just stumble upon you.
Instead, make Instagram effective for your business by creating a plan and using it to find, connect with, and build trust with your ideal buyers. You will make sales with Instagram when you talk to, connect with and build trust with your Ideal Buyers.
So how do you connect and build trust on Instagram? 
Identify your Right People.
Talk to your Right People on YOUR profile
Find and connect with your Right People on their profile.
Now let's get into it deeper.
Identify Your Right People
Who buys your item? Who wants what you sell? These are your Right People. This is who ALL your marketing should be for. This will impact what photos you use, what captions you write, what hashtags you utilize, everything about all of your marketing.
This is a deeper process than just answering a few questions and it is what I do with Captains inside the Starship. So if you want to know more about your people, check out the free workshop at TaraSwiger.com/Foundations and we can work together to identify your Right People.
On Your Profile
If you're taking the time to post photos on your Instagram, then take the extra time to make it effective at making a connection with your Right Buyer.
How? Captions.
A photo might grab someone's attention, but captions are how your customers get to know YOU, get to know your brand and what you stand for, and feel connected to you.
Yes, you could just write three words and be done, but if you're taking the time to post, shouldn't you take the time to make it worthwhile? Writing a longer post (over 65 words, which is the average), it will take longer, but it will also be more valuable.
The data shows that posts with longer captions generally have higher engagement than those with a shorter caption. Engagement is when your followers interact with your post (comment, like, save or share it). And more engagement leads to more people seeing your post.
Ok, so what do you write? This is where you come back to your RIght Buyer – what is she interested in? What does she need to know about your product or your company? We answer all these questions in the Starship, so you create effective posts.
On Her Profile
How does your customer find you?
Well, she may be searching, she may click on hashtags, but the most direct way for your customer to find you is… you find her.
Stop waiting for your Right Buyer to find your photos, or to find your shop – find her!
How? 
This goes back to the work you did to identify your RIght Buyer – once you have a very clear idea of who she is, you can look at who she follows, what sites she reads, what she's into. One of the easiest ways is to look at your Actual Customers. See what they're posting, who they're following, what hashtags they use.
And… connect with her! Follow your customer on Instagram, comment on her posts, when she asks for a recommendation, give it! You're not going to be SELLING to her, but you will be CONNECTING with her.
Look at who else they follow and who follows them. If that person seems like your Right Buyer, follow them! And connect.
Does this work? Doesn't it take a lot of time?
Oh, I know, I hear you moaning now – but Tara! Doesn't this take a lot of time? Does this work? 
And the answer is yes and yes. It does take time. But you are already scrolling on Instagram. Right? You are already spending time on social media that is not building your business. I'm not asking you to spend MORE time, I'm asking you to spend your time EFFECTIVELY. As in, doing stuff that will make a change.
As for it working, listen. I don't recommend you do only this. This is one strategy in what should be a full plan for marketing, that includes clear messaging, email marketing, in-person marketing, along with Instagram.
This is not linear. You don't get a 1:1 result. Or even a 10:1 result. Some posts will connect with people and get 5 new followers. Some will have a strong call to action and hit someone at just the right time and generate 2 or 10 sales. And some will just build a relationship and build trust, so that when you post your newest product, your followers are ready to click over and buy.
How does this actually work?
Well, here's the thing: I've actually said all of this backwards to how your customer will experience it. How it's going to work is that you are going to go out and connect with your Ideal Buyers on her profile. Leave comments, make recommendations, answer questions. Then, she will move from her profile to yours. You will be building a profile (full of photos and captions) that connect with her so she'll stick around, maybe click through to your products, maybe follow you. Keep posting, with calls to action that lead her to click, and she'll click through to your website and buy when she's ready.
As I was sharing this in the Facebook group, I had someone ask "What about commenting on a post that already has tons of comments? Won't I just get lost?"
Yes, yes you will. For marketing purposes, don't bother with accounts that are super big, with dozens of comments. Your comment will mean so much more to someone who doesn't get very many.
What I've noticed is that people have so much resistance to this idea. They don't want to do it because they don't see immediate results. They don't want to comment on other people's posts, but they want people to comment on theirs.
Why? You show people how to interact with you. If you are never in comments, no one else will be. If you never follow anyone or interact, you can't expect anyone to interact with you.
Yes, you will do work – captions, comments, stories, that won't get a response.
So what? You're learning, you're creating a library of content. You are trial-and-error-ing it. You are getting better at your marketing messaging.
And guess what?
This podcast is built on the very principles you'll apply to your Instagram. I create content that will delight you. It takes me a LOT of time and energy to create each episode I give it to you for free. I connect with you on social media, you may listen for a month or two years, all the while feeling more trust and connection with me, until you feel ready to join the Starship and work with me.
Are all those episodes I create where you didn't buy a waste of time and energy?
No, they were building a relationship.
But don't forget – your posts aren't building that relationship with ONE person, they are building it with many people who are seeing today, and people who will scroll back and read it a year from now.
If you've been listening for a while, and you are curious about learning more to work together, check out how we can work together in my free masterclass – 4 Foundations to a Thriving Handmade Business. You can find it at taraswiger.com/foundations
How to listen
You can subscribe to it on iTunes (If you do, leave a review!)
You can listen to it using the player above or download it.
Subscribe or listen via Stitcher (or subscribe in whatever you use for podcasts – just search "Explore Your Enthusiasm" and it should pop up!).