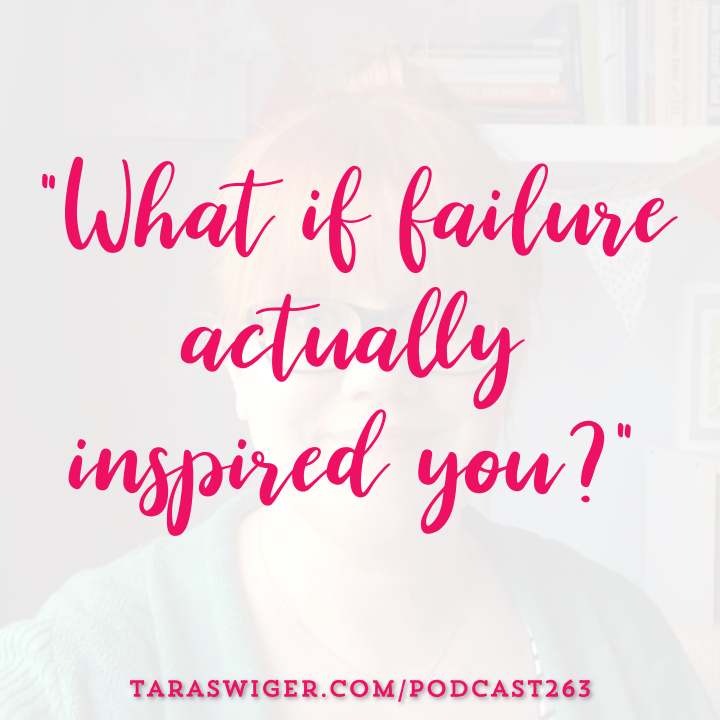 Podcast: Play in new window | Download
Do you let failure convince you to stop? Is it a sign that you are not going to ever get what you want? Or do you use failure as fuel to push you farther?
When I was reading Abby Wambach's new book Wolfpack, one of the lessons in it really struck me. She said: Use failure as fuel. She talked about how women so often use any failure as a reason they can't do something. They feel like everything has to be perfect before they have permission to try something or be something.
The problem is, success is built on failure.
You've got to experience failure to get to success.
If you let the first failure stop you from going forward, you won't have any success.
As I read, I realized: Oh man, I've been using recent failures or just small things like not hitting a small goal, NOT as fuel, but as a kind of proof that I can't do it.
And I know I'm not alone, because so many of you tell me that "Well, I tried that and it didn't work out, so I'm just not good at it." or "I guess I can't have that."
This is something women struggle with a lot, I know I have. We've got that internal fire, we have a mission, the motivation to do amazing things, but so often we are looking for reasons to distrust it, reason to not trust ourselves, proof that we're not good enough. And failure provides the perfect excuse. The perfect proof.
And I get it, when we go into a project (or anything really) with self-doubt, anything that doesn't go perfectly seems like proof of what we already believe: "I'm not good enough. I really can't do this. It's for other people."
But that's just wrong.
Failure is not a sign that there is something wrong with you. Failure is just data. Data on how to get what you want. Maybe you need to grow, maybe you need to work more, maybe you need to try harder. Maybe it's just gonna take more time. Failure is information about what your goal or your dream will actually require.
So the question is: are you using failure as an excuse to stop doing what you're doing? Are you using it as proof that you shouldn't be doing it? That you're not good enough? Or are you using failure as fuel for the next step?
One of the stories in Abby Wambach's book was about using failure as fuel. In it, she told the story of how the women's USA soccer team used a four-man loss as a reminder the need to work harder to win. As fuel for their fire to keep going.
I want you to think about this for a minute. What if failure actually inspired you?
What if it could be the fuel that pushes you forward, what if it could be the inspiration that keeps you going? I know, I know, that's a major mindset shift from failure as a sign that we're doing the wrong thing, to failure as a sign that we need to go harder.
But so often, in so many of your own businesses, that's exactly what failure is. It's the sign that you needed to work harder, it's a sign that you need to commit more, it's a sign that you are capable of so much more than you think.
I want you to think about it like a sports game. I know, I am not the best at sports metaphors. But I do know this: losing one game, does not mean that you lost this season, it does not mean that you lost the championship. In baseball, players are expected to "fail" most at-bats. A GREAT hitter only hits a SMALL amount of the balls that come at him.
Because…FAILURE IS NECESSARY FOR SUCCESS.
I talk about this more in episode 171 – because in order for your business to grow, you need MORE failure, or as I phrase it in that episode get MORE rejection. You need to be told "No" more often, so you can get to yes. You need to not hit your goal, so you get closer to hitting it.
Let's do this together, let's reframe how we think about failure, about falling down, about not getting it right.
Let's remember that this is not the last chance you'll ever have, that there are more at-bats, there are more games, there are more months.
In fact, you have endless at-bats, you have endless opportunities to work hard or learn more reach that goal in the future. You're closer now than you've ever been!! Don't quit when you're minutes away, weeks away, months away from hitting your goal.
I wanna hear how you've used failure as fuel or how you're ready to reframe this. Come tell me on Instagram, I'm @TaraSwiger and you can use the hashtag #exploreyourenthusiasm.
Don't forget to join the Take Care Challenge at TaraSwiger.com/takecare
How to listen
You can subscribe to it on iTunes (If you do, leave a review!)
You can listen to it using the player above or download it.
Subscribe or listen via Stitcher (or subscribe in whatever you use for podcasts – just search "Explore Your Enthusiasm" and it should pop up!).
Get a library of transcripts!
Enter your email to get free access to a whole library of podcast transcripts.