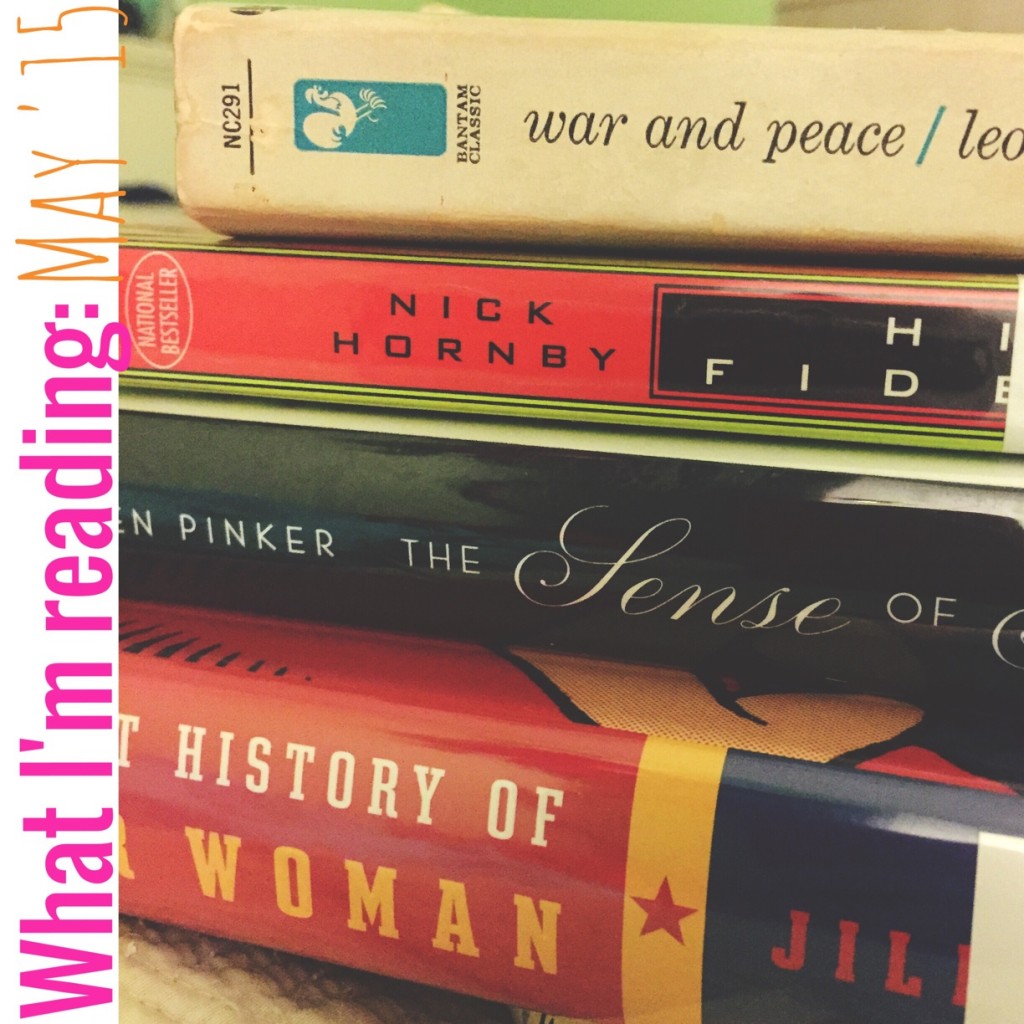 I follow my enthusiasm by reading…a lot. And once a month, I share (some of) the books I read last month and the books I intend to read this month. You can join the informal book club by sharing your own list in the comments and find all the posts here.
 What I'm reading
First of, let's just get this out of the way – I finished very little in April. I made good progress through some dense books, but so much of my month was spent in non-reading situations (you know, those in which you're face to face with a real! live! person!), that I really never had a full-on reading binge like I normally do at least once a month. So, here are the books I've either just finished or am in the middle of:
Marbles: Mania, Depression, Michelangelo and Me, by Ellen Forney. Oh man, this was an amazing graphic memoir. If you know and love anyone who suffers from, well, any mental illness, read this. Her graphic representations of both mania and depression were the best, most human, caring, most understandable anything, I've ever read about it. This page, in particular, cracked me up.
(If this book was a movie it would have an R rating for some bits about her sex life. If that'll offend you, skip it. But if it won't, READ THIS.)
Are You My Mother?: A Comic Drama, by Alison Bechdel. This memoir-ish look at the comic's relationship with her mother (and therapists) doesn't have the same coherence as her first, Fun Home (which I read last month), but I enjoyed it.
Playing Big, by Tara Mohr. I'm in the last chapter, and I'm gathering my thoughts about it.
War and Peace, by Leo Tolstoy. Is there any way to tell you that I found this for $2  at a used book store in Carlsbad and since it's on my Great Books  list, I immediately started reading it and I'm halfway through and finding it surprisingly enjoyable, without sounding completely pretentious? No? I thought not.
The Sense of Style: The Thinking Person's Guide to Writing in the 21st Century. Only a chapter in, because it's not a read-before-bed read. Definitely requires some brain cells to process. (That said, it's probably already made me a better writer. Can't ya tell?)
I also read a lot of comics I LOVE this month: Thor*, Saga, Jem (!) and this one (our new favorite!). (If you don't want comics piling up, but want to try some of these, get 'em digitally at Comixology.)
*In case you don't keep up with comics, Thor is a lady now! And she's not Lady Thor or Thor Girl – she's full-on Thor, goddess of Thunder and she's bringing it.
What are you reading?
PS. What I was reading last year.
The usual disclaimery disclaimer applies!