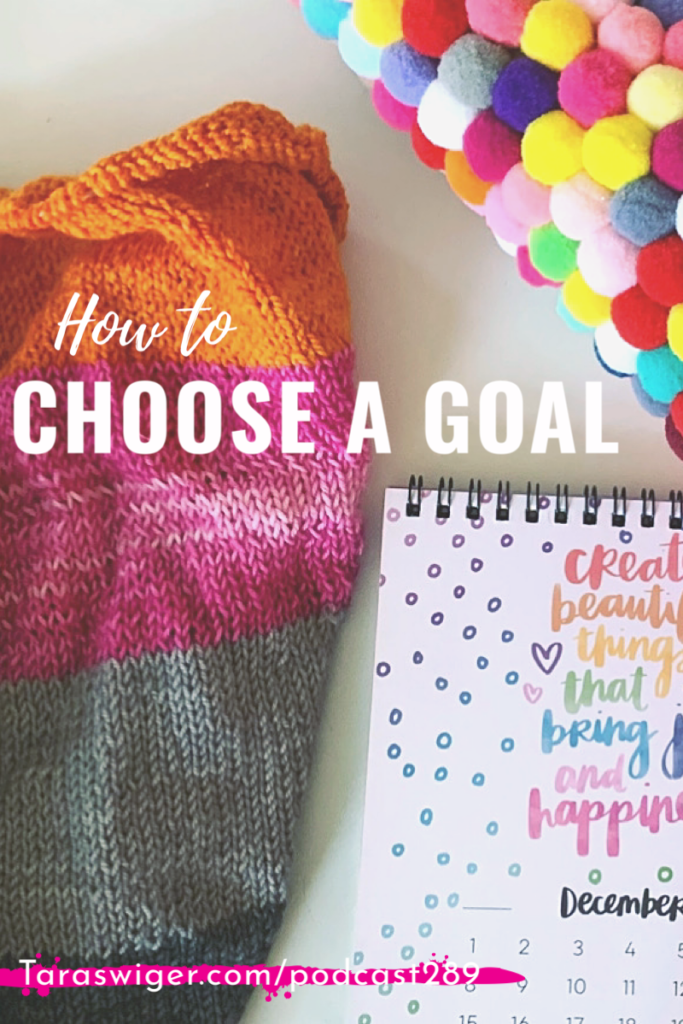 Are you stuck between two really great ideas? Wondering if you have to choose or if you should just do them both at the same time? How could you choose between them?
Today I'm going to help you answer one of the BIGGEST questions I get about creating do-able plans for your next goals: Do I have to pick just one and how the heck do I do that?!
In my book Map Your Business and in my Starship Program, you begin by getting clear on your big vision. Then you set a goal and break it down into steps and actionable to-dos. For the last two weeks we've talked about how to stay on top of those To Dos, so they actually get done.
But this week we're going to back up and answer the question: How do you even pick the next goal? Especially when you have several projects that all look like good options?
This question came up in the monthly coaching call inside the Starship Program (learn more at taraswiger.com/starshipbiz) and it's one I know we all deal with. So let's break it down – do you need to pick just ONE goal? And if so, how can you decide?
You can find a worksheet to help you apply what you learn in today's episode here.
Do you need to pick just ONE goal?
I get this question ALL the time, because my Map Making process involves making a really detailed plan for ONE goal at a time. So the short answer is yes, in order to make a detailed plan and get it accomplished, you need just one goal.
Can you work on more than one goal at a time?
Well, it depends.
What's your time frame?
Over the course of a year, you're going to be reaching a lot of different goals.
Over the course of a week, you will get distracted if you focus on too many at once.
This is why I set the timeline in the Map Making process for three months. That's a good amount of time to set a goal, work on it, adjust your path, and learn quite a bit about what the project requires. It's a short enough time frame that you won't forget what you're working towards and you won't get bogged down in doing the same thing, and still a long enough time frame that you can see some real progress.
It also depends on the kind of goal you have.
There are income or sales goals.
There are habit goals.
There are KPI goals.
There are award goals.
For example, most makers I talk to want to get more consistent with their social media. That is something you can do while you're working on a sales goal. I'd encourage you to make the goal more measurable, like "I want to post on Instagram 5x/week". You're going to do that alongside a lot of other stuff.
And still, I recommend you let that be your ONLY goal for at least the first month as you get used to it.
Why focus?
Why focus on just one at a time:
You'll be focused (this is one of the main benefits of setting ANY goal)
You'll know what to do next and how to prioritize
You'll see faster progress
You'll learn faster and can change it up
The sense of accomplishment will keep you going.
If you want to learn more about setting the right-sized goal, check out episodes 191 on stretch goals and episode 91 on why you're afraid of big goals.
So you want to narrow it down, but you've got two really great ideas.
Perhaps you're debating, as one of my Starship Captains did: Should I focus on increasing my online sales or my wholesale sales?
Or: Should I focus on my email list or Instagram? Should I self-publish a book, or sell more patterns to magazines?
First, some good news.
Any goal is good. 
Anything you commit yourself to, make progress on, and learn from, is going to improve your business and your life. You're going to be in a better place in 3 months than if you didn't pick anything.
So take some of the pressure off, ok?
Now, when it comes to choosing a goal, I like to ask Captains two questions:
Questions to ask to choose the next right project:
What is closer to money?
Where is your enthusiasm?
What is closer to money?
This is one of my favorite questions, because it's gonna get you fast results: What is the project you can work on that is closest to making money?
For example, if you have products in your shop, selling one of them is the absolute fastest way to make money. If you have customers, having them buy again is closer to money than finding new buyers. Self-publishing your finished pattern is a lot closer to money than pitching it to publishers.
You feel me?
However, lemme warn you that you can not build your whole business doing just what's closest to money, because it will wear you out and not necessarily take you the direction you want to go. You want to balance choosing quick-money options with long-term right-direction goals.
But I'm really disappointed at how many people say they have a business but NEVER do the thing that will make money – instead they focus on metrics that look good – like more instagram followers or more prestigious partnerships.
If it's been a while since you focused on SELLING your thing directly to the people who want to buy it, then I'm going to suggest you pick whichever project is closer to money
Where is your enthusiasm?
Here's the thing: most people who tell me they can't decide between a few options, it's because they are piling up the SHOULDS.
Well, I SHOULD do this.
A REAL business would do this.
I don't have as big an Instagram following as that person, so I should improve that. 
No, no, NO. 
Our aim isn't to build A business, it's to build YOUR dream business.
Which goal is aligned with what you're most enthusiastic about?
Are you LOVING working with your newest retail shops?
Are you throwing confetti every time you get a response to your newsletter?
Yeah, you might not be enthusiastic about the WORK involved in your goal, but are you enthusiastic about the end goal? Or some part of the process?
Then go with that. 
You are going to have the MOST progress and grow the fastest by looking at what you're genuinely enthusiastic about,and following it.
It might not be strategic but all of my best moves have been following my enthusiasm.
I did plan to start a podcast, but I started it in one week and it's been one of the best things for my business.
I did not plan to start a Facebook group right before Thanksgiving, but it's been an amazing place to be – I LOVE meeting and approving new people who apply.
I did not plan to create a worksheet for this podcast episode, but you know what? I'm feeling it!
If you go with your enthusiasm, you're going to be more likely to follow through.
So that's how I decide on a project – commit to following through on ONE aim in the next three months and then ask yourself – what is closest to money? What am I most enthusiastic about? Drop all the shoulds, and go full speed to what you want.
I created a worksheet to help you answer these questions, you can grab it here.
Wishing you an enthusiastic and peaceful end of year!
How to listen
You can subscribe to it on iTunes (If you do, leave a review!)
You can listen to it using the player above or download it.
Subscribe or listen via Stitcher (or subscribe in whatever you use for podcasts – just search "Explore Your Enthusiasm" and it should pop up!).