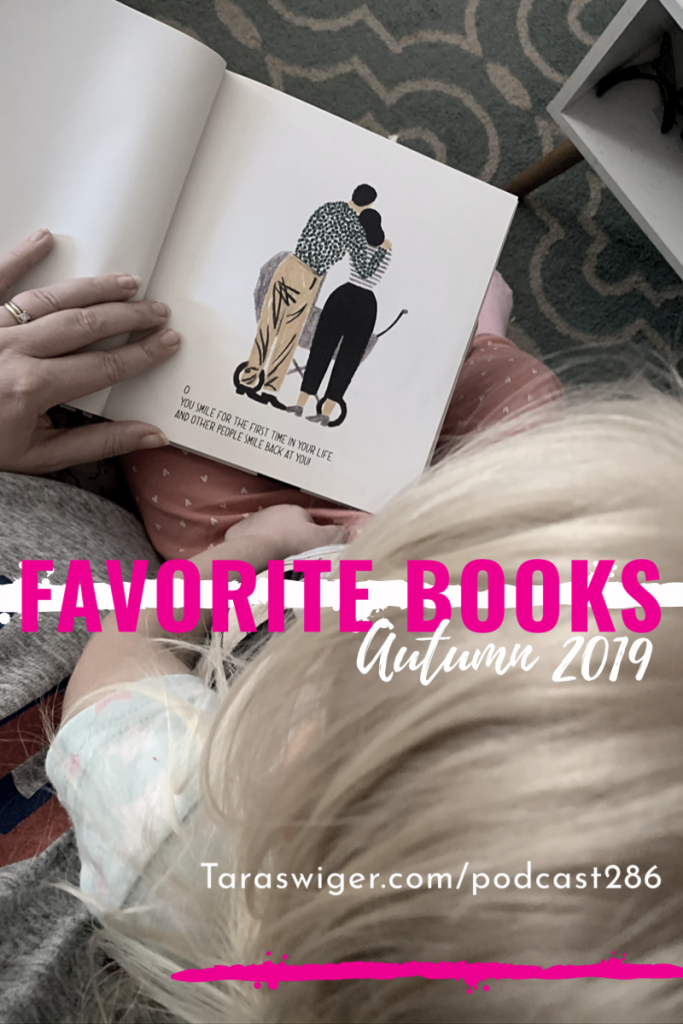 Podcast: Play in new window | Download
It is time for my seasonal round-up of the very best books I've read. We're talking sequels that live up to your hopes, toddler parenting books and of course, mysteries and thrillers.
Usually we talk about building a creative business, goal-setting, marketing, and confidence. But we also love to read and talk about books! For the past 6 years I've shared my monthly reading list on my blog, and since January 2018, I've shared that list on the podcast (Starting in episode 192). I've heard from a lot of you, that you love to talk books with me, so I'm making even more bookish videos and a book club, over at Patreon.com/taraswiger
I also know you're busy you may not read 100+ books/year, so here on the podcast, I sort through all I read and share my FAVORITE books of the season.
Favorite books of Autumn:
Let's talk about my favorite books that I read from September – November 2019. I'll share these by category, like my fave mystery/thriller, fave sci-fi, etc. But first, let's look at the stats: I read 21 books, 9 of them thriller or suspense novels, 3 non-fiction books about families, 6 books in three different series. I read fewer books this season than I did over the summer, in part because I've been super inspired by my work and in part because I had a lot more disappointing books this season. They weren't bad; they just weren't amazingly gripping. But let's focus on which books I did love.
My fave fantasy series:
Wayward Children series by Seanan McGuire.
I read Down among the Sticks and Bones and Beneath the Sugar Sky, and they were both magical and delicious.
Fave parenting book:Lo
Oh Crap! I Have a Toddler by Jamie Galwacki
This is by FAR the closest to my own parenting style of any book I've read. And that's because her philosophy is that every kid is different and that your theories fly out the window once you're dealing with the kid in front of you. She also advocates for treating children with respect, humor, and natural consequences.
Still loving…
Inspector Gamache series by Louis Penny
I mentioned in our last seasonal round-up (episode 275) that I liked Riley Sagar's Lock Every Door and Peter Swanson's Before She Knew HIm that I wanted to read their other books. I ended up reading all of the backlist of both authors and although I enjoyed them ok, they weren't as great as their more recent books.
I have also been reading the backlist of Megan Abbott, and I love all of her novels.
Book I was completely surprised by:
Fleishman is in Trouble, by Taffy Akner-Brodesser
So many of my faves came from Book of the Month Club.
Remember you can join them in getting extra videos and a Book Club, over on Patreon.com/TaraSwiger.
How to listen
You can subscribe to it on iTunes (If you do, leave a review!)
You can listen to it using the player above or download it.
Subscribe or listen via Stitcher (or subscribe in whatever you use for podcasts – just search "Explore Your Enthusiasm" and it should pop up!).