With all this talk about newsletters, several of you have written to ask:
How do you keep track of all the names? Isn't that an awful lot of administrative work?
This is a splendid question, because it reminds me I haven't really addressed the infrastructure of sending a newsletter, the thing that makes it shockingly simple: email marketing software.
I use Mailchimp and this week's guest expert Wendy uses aWeber. I know there are many more out there, but these are the ones used by, well, everyone I know.
What do they do?
Generates a sign-up form. It can be a seperate page (like this) or code for your sidebar (like you see here).
Keeps track of subscribes and unsubscribes.
Puts an Unsubscribe link at the bottom of every email, so you don't break any spam laws (yes! There are laws about this!).
Helps you design a pretty email (like this one).
Gives you stats on what got opens, clicks and forwards.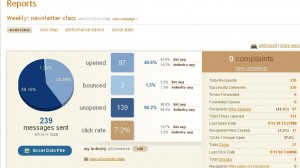 (this is what they look like in Mailchimp)
Getting started
The magic of software is how easy it is to get started. Setting up my first list (for yarncustomers) only took a few hours and I've learned more and more features as I went.
If you want to skip the random poking around that comes with teaching yourself (or if you know you'll keep putting it off if you wait to have a few hours to learn it), I can't recommend Wendy Cholbi, tech translator, enough.
Wendy's helped me figure out all sorts of confusing newsletter-ish stuff and now she's joining me to teach the basics of setting up your first list using newsletter software. She'll make it simple, straightforward and give you a checklist so you know you're not missing a step. You can join us for the class here.