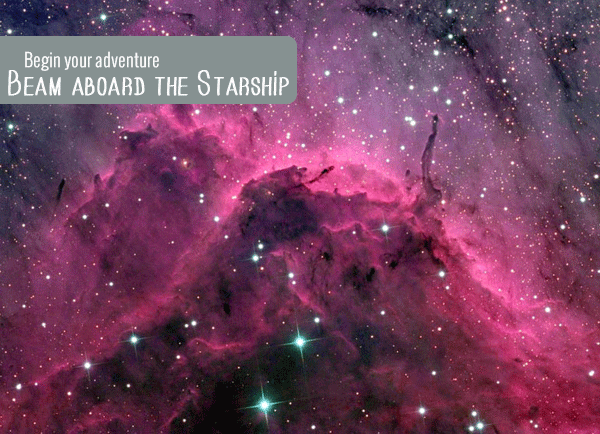 The Starship closes for the quarter, today. If you want to join, do that here.
In April 2011, I sent a message to 10 of my most-committed students and I told them about this idea I had. There wasn't a name (they helped me name it), there wasn't a big plan. I wasn't even sure I wanted to do it for more than a year. There was just a seed of an idea, based on what I had learned from my own students.
They wanted to support each other. 
At the end of each class I taught, I'd have a Q+A time where student's could ask me questions. After class, I'd get a few emails: "I really wanted to tell the question-asker THIS about my own business." So I added chat rooms to my classes. But these felt temporary and the smarts that students shared was soon lost. The solution: a forum, where the shared smartness is searchable.
They wanted to  feel less alone. 
The regular refrain of my class chat? "It's so nice to know I'm not alone."  Even today, after three years of weekly live chats, someone always expresses this, every week. And you know, I feel the same way. It's lovely to be surrounded by people with the same goals, the same trials, and the same hope.
They were ready to commit. 
At the heart of my new, nameless idea was commitment. If you joined, you'd be in for a year. Your participation could be ANYthing for the year, there's absolutely no guilt and no expectation. I felt that this commitment to working together on their business, for a calendar year would be the impetus for real change. Instead of taking classes and here and there and just jumping around, you could really dig in and focus on one area, or one goal.
Over the last three years, I've had push back about the year-long commitment (you should make it  shorter! More people would join!), but shortening your commitment changes the nature of the relationship. Instead of feeling safe, you'd feel adrift. You'd always be deciding if it was "worth it"…and if you're busy evaluating your experience, you aren't really living it.
Why do I only open it for 10 days, once a quarter? 
Because we're all in this together. When new people are drifting in all the time, they might come in during the middle of something (a class, a series) or they might not get my full attention. But when everyone new comes in at once, everyone, new and old, makes their own map at the beginning of the quarter. We're all starting at the exact same place (wherever we are in our own business path). So we go through the agony of choosing, the strain of dedication, the everydayness of continuing to work towards it, together. 
From these three tenets (supporting each other, feeling not-alone, committing), has sprung everything else – the weekly chats, the 1:1 sessions, the forum, the classes. I actually write all of my new classes based on what the Starship member needs. (And it turns out my classes are better than ever..and better attended.) This quarter I'm creating a class about your customer path — all of your marketing that leads your customer closer to you.
Throughout the last three years, Captains have inspired me, challenged me, and shaped the Starship into what it is. They've named it, created the culture, and requested the classes. 
If you'd like to get the new class for free, and your ready for support + commitment, join us! 
PS. It really does close at 4pm today. So don't dally!