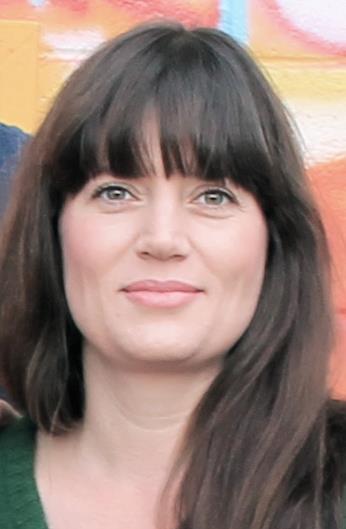 Today I'm talking with Gabrielle Krake, a Starship Captain and the owner & designer of Bee Wise Goods.  
People have this fantasy of what it's like to be a full-time maker, or to own their own shop. But what's a normal day for you really like?
Well I often joke if I can shower, brush my hair and teeth and eat at least one salad then I'm doing great! As far as making things, I get to make inventory on Mon – Wed when I'm not
in my shops
. I have to get super motivated, usually by some unknowable spark of creativity and then I make my things in assembly line mode, cranking out 10-20 of one item and then I move to another. I personally make over 25 handmade items and
16 sewing patterns
(I only have to print these and package them, but I have several I would like to develop but do not have the 30-40 hours it takes to draft one, right now). On Thursdays I'm back in my shops and have to catch up on spreadsheets, accounting and merchandising. On Fridays and Saturdays I work for my daughter in
her bakery
and we start at 6am making her goodies, displaying them and selling all day. Sunday is an "off" day for me but I usually make something fun or watch movies all day. Oh and jammed in all the cracks between business tasks I have four kids that we homeschool (three have graduated but still live at home) make meals, and clean my house (it's really only clean and tidy when we're sleeping). We have chickens and dogs, a cat, and chinchillas.
There are moments when I want to throw in the towel and just read books and go to coffee like my friends, but I know deep down I would be bored in about a week of that and start another business, haha!
There are so many ways to make a living as a maker – how are you doing it? What have you combined and how has that changed through the years?
In all honesty I started my business because when the economy collapsed in 2008, my husband's income was cut in half (at least). I had started a blog and was posting crafty ideas and tutorials so when we realized we were going to need extra money I decided to start making reusable grocery bags and do repairs to bring in money. Over the course of the next few years we had made and sold thousands of products in a very unconventional way, at the time – through a blog and my website that I did myself. There were very little resources to promote tiny enterprises like ours but Etsy and PayPal played the biggest online role and getting my things into stores was the second component to not starving.
The business was a huge miracle in many ways, we were able to barely keep our house and each other but all other peripheral luxuries and necessities were culled. It made life simpler in ways that we adopted permanently.
Three years ago I realized I was giving away much of my income in rents, commissions, wholesale orders and co-op hours so we opened our own shop in 2011, added another one in 2012 and now a bakery in 2013. (The shops are all connected, we're slowly taking over a 1951 strip mall.) There are days when I daydream about not working so hard but then I see that the legacy we're leaving for our 4 kids is priceless. Even if they do not emulate us by being business owners, they have a very realistic view of finances, they understand options and they know they have choices about how to make money.
What new thing are you exploring now?
I am in the process of inventing the creative magazine called
Makers Unwound
. It will start with a local focus and depending on how it goes we can expand regionally and beyond.
The joy I feel, the relationships we have developed and the legacy of income choices we have given our kids is true SUCCESS for me.
What's the next destination you're working towards?
I want to start taking a backseat in operations. Two of my kids are slowly becoming equipped with the skills to allow me to make inventory, create art and work on the magazine. Accounting, spreadsheets and invoices takes up about 15-20 hours per week that I can begin to have back for creative purposes. We are planning on expanding the bakery and offering more products.