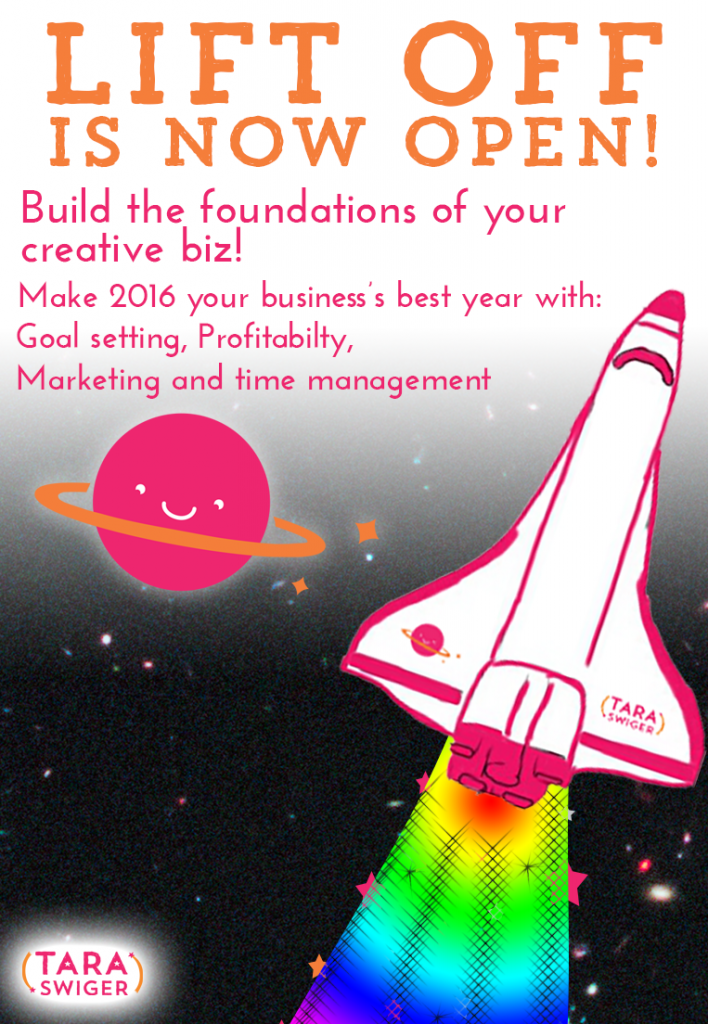 Yaaay! It's the MOST wonderful time of the year
Lift Off is now open and boarding! If you want to have the best year in your biz, join us here!

Lift Off is 26 weeks of creative biz lessons that guide you through building the foundations of your business. The classes include
Chart Your Stars – In this business-shaping, week-long course, get oriented in where you are now, and where you wanna go. Get clear about your big vision for your business and the North Stars that will guide your adventure.
Map Making – Set a goal for the next three months and then make a map to get you there. (You'll do this twice!)
Pricing 101 – In this 2-day course, do the math on your actual products and make sure your price is in alignment with what you need.
Pay Yourself – In this 4-week course, get clear about the entire money picture of your business. Discover your own Break-Even Point, where you're most profitable, and exactly what you'll need to do to reach your own profit goals.
Market Yourself – You will get a signed, printed copy of my book, mailed right to your house. The accompanying email lessons will help you discover:

Your message
Your people
The tools you'll use to reach your people
At the end of this course, you'll create your own marketing plan, to start using right away.

Wrangle Your Time – Learn when you work best, and develop your own system for being as productive (and creative) as you can be.
"I have been following the Lift Off emails and have been doing the homework.  I wanted to let you know, I have been learning and practicing what you have been teaching, at my pace and it's helping me a lot!  It's great to have this guidance, it helps to confirm some things I already knew, but wasn't sure if they were right or wrong for my business. It feels like walking the path and seeing the sun coming up on the horizon….because I am already having good results!"

-Rossana Aponte
The lessons include:
Audio and video lessons with full transcripts – emailed directly to you.
Over a two dozen worksheets to apply what you're learning directly to your own business.
Monthly, live group coaching calls with me (ask your questions and get them answered).
Lift Off closes on December 23rd and  won't open again until June. 
"My business has had a pricing revolution that started last year – a few months before I joined the Starship and continued in earnest when I took your Pricing class.  Not only did my business become profitable because of the new pricing, But, I started some new lines that were extensions of my existing popular lines (just like you suggest!). These lines have also become popular and added to the profitability of my business. Thank you!"
– Belinda, Belinda Lee Designs