One week after the book launch and I am still…floating. That's the only word for it. The launch party, the giveaways and the reviews have all been sparkling and delightful and perfect.
I promise that next week we'll get back to talking about YOUR small biz, but before we do, I have to fill you in on a few more book-related things (like chances to win it!).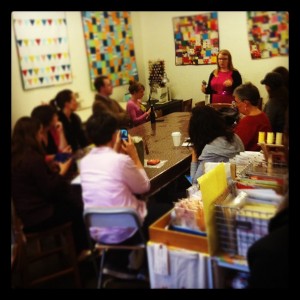 Seriously. If you're in the Boston area, you do not want to miss this yarn + fabric shop. Friendly, well-stocked and filled with a wonderfully sweet community.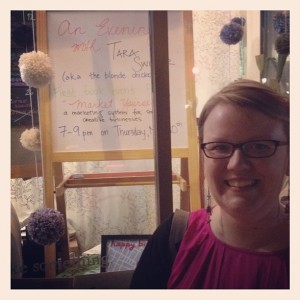 I was totally thrilled to make it home to the Launch Party.
(And they had signs all over! Even in the window! Nothing will make a girl feel fancier than a window sign!)
Reviews + Giveaways
Not sure if the book is right for you? Check out these reviews:
"Let me just tell you – this book is HEAVY. It's full of advice, full of theories and ways to practice them. Full of material to follow – from friendly to professional, from personal to business. This book doesn't have tons of drawings, tons of diagrams or lots of colours. It's straight to the point."
Read the whole thing at Rock + Purl + enter win a copy
"Market Yourself by Tara Swiger does not disappoint. Tara Swiger knows marketing and after you read this book (heck, after reading the first chapter!) you will believe that Tara Swiger knows you."
Read the whole thing at Handmade Success + enter to win a copy
"Market Yourself is oriented toward people who make and sell handmade objects (including, ahem, knitting patterns) but could be just as easily applied to boutique service companies or pro-bloggers looking for the right audience; pretty much any business with a small-to-non-existant marketing budget will find invaluable tips here."
Read the whole thing at Ropeknits
"What you need to do is straightforward (know who your "Right People" are, for example), but it can feel overwhelming. That's where this book went from being interesting to being gripping for me: Tara breaks all this down in a friendly, conversational way and provides worksheets and helpful tips (like "16 Questions To Help You Write A Douche-Free Bio" by Kelly Parkinson). "
Read the whole thing at MK Carroll
Vianza's just straight up giving away a copy (enter by tonight!)
And I think that's everything?
If you've reviewed the book (or you'd like to!) leave me a comment with a link! And if you've bought or won the book, leave a comment and let me know what you think, mkay?
Thank you for making this week utterly magical.