Using Product as a marketing tool.
This month, we're talking about the difference between self-promotion and marketing. Marketing is made up of 4 aspects: Place, Price, Product and Promotion. Last we talked about using Place to market your work and today we'll look at how 2 makers used Product to reach a new market.
They met in the Starship and got to know each other while chatting in the Holodeck (our Starship-only chat room). When Shannon visited San Fransisco and stayed with Amy (a side effect of the Starship: you've always got a couch to crash on), they got to see each other's work up close. And they realized that their target markets (or Right People) aren't that different.
Shannon makes jewelry that geeks (math and science geeks) like, and Amy makes art that geeks (horror and sci-fi geeks) like.
They collaborated.
They talked, they asked the Starship questions, they sketched different ideas.
When they decided on what to make, Amy created the art and Shannon took those files and turned them into the right sort of files for the laser cutting software. They figured out the costs (and paid them up front) and now they each sell the work in their shops.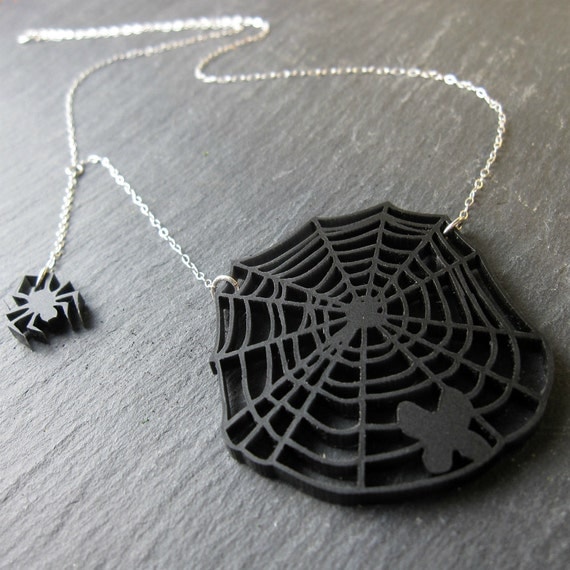 This collaboration is a really great example of reaching a new market by creating a new product. Amy now has a high-end jewelry to offer her card-buyers. Shannon now has geeky/gothy jewelry with a slightly different aesthetic to offer her current customers.
The trick of creating a new product is to look at your existing customers.
What do you offer them? What do they use it for? What else might they like?
(Bonus points: what could you give them to help them use your main product?)
You want to be careful not to create something for an entirely different kind of customer. For example, If you sell geek-themed wall hangings, you might not want to make cutesy, Disney-themed baby blankets. (But baby blankets that go with your wall hangings = perfect!).
The mistake I see a lot of crafters make is to branch out into products for other crafters. This makes sense if you already sell something to crafters (patterns, yarn, supplies), but not if you sell the finished work to non-crafters. Remember, the girl who buys your jewelry probably doesn't make jewelry…so what else would she like?
Whether you choose to collaborate to create a new product or just come up with something yourself – what kind of new product might introduce you to a new market?
Here are a few ideas from the makers I've worked with:
A knitter who sells scarves can make custom-ordered blankets
A fine artist can sell cards
A knitwear designer can teach classes
A lotion-maker can make soaps
A jeweler can create a line of men's jewelry
A purse-maker can create wallets, or big beach bags
A yarn shop can create their own kits with yarn + patterns
A yarn-maker can carry someone else's handmade kitting needles
A glass artist who makes beads can make holiday ornaments
An embroiderer who makes wall hangings can create embroidered jewelry
How about you? What new kind of product could you make?