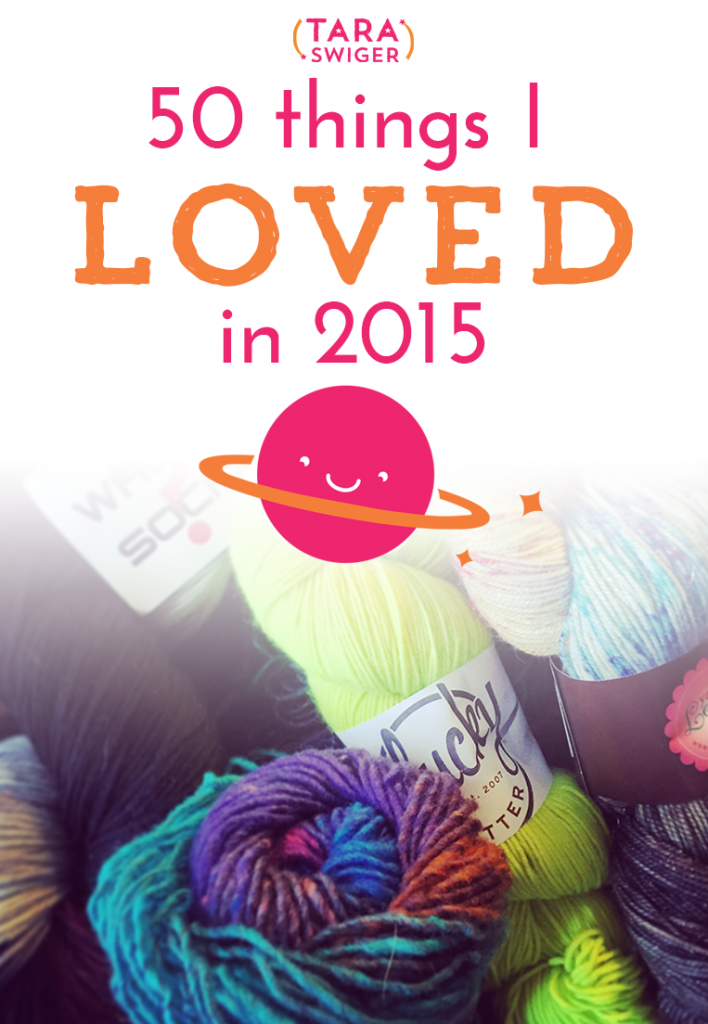 Last year I shared a list of everything I loved in 2014 and it was so much fun that I decided to do it again, as part of my yearly review. It's so much fun to think back through the tools I discovered or the experiences I had that are particular to this year. What are your favorite parts of the last year?
(This is no particular order, I just started listing as things came to me.)
By far the most favorite part of my year, of every year, is getting to work with amazing, inspiring, clever, curious makers and artists. I am honored to be part of their journey. All of the stuff on this list can't compare to the joy my job brings me.
Periscope. If you asked me to name one tool that changed my business the most in 2015, I'd have to say Periscope. Through it, I connected deeper to my current students and (quite a surprise to me!) I found and connected with many brand-new-to-me people who became Starship Captains this year. (You can watch all recent episodes here.)
Jess. She makes my entire life better with her feedback, editing, and smarts.
Working with Jay (my husband) as a team member in my company. Sure, we had a lot of adjusting to do, but it's not only improved our all-the-time communication, it also built our confidence for our next business undertaking. Plus, getting his insight and skillz into my projects makes everything better! (If you like the blog images, or the visual prompts of the Biz Confidence Challenge, or the fact that I now put podcast recordings on YouTube – that's all him!)
Asana! This project-management tool has streamlined all of the many pieces of my biz, and cuts down on back-and-forth that comes from having three hands in just about every project.
Finally finding a planner-system that works for me, that isn't just a notebook. I've been using Filofax + Get to Workbook.

Grants Pass + visiting my parents. For the first time in my LIFE I was able to visit my dad + second-mom three times in the same year. This is by far the best perk of my job, and the highlight of my personal life.
The Biz Confidence Challenge! The idea came to me and I sketched it out in 10 minutes and it started the very next Monday. The reactions + results have been fantastic. The #bizconfidencechallenge hashtag is an inspiration.
Pad Thai. Still my most-favorite dinner.
The entire CreativeLIVE experience. I loved working with their team, and getting the chance to grab a bite with both Abby and Megan.
My galaxy sneakers. There is nothing like having a pair of shoes that you just adore.

Craftcation! This was such a fun experience, it totally cured my fear of conferences. And of course having days to talk about life with Kim Werker is always a good thing. Plus Abby! And Blair!
My neon green maxi skirt. And my giant neon pink paper-thin scarf. The perfect traveling clothes!
Raylan! He came into our life in January and almost left us in December (scary!). He was a hot mess of excitement and energy, but through patience and playdates, he's become a snuggly, sweet (still super-curious) member of the family.

Charleston! I took a quick 2 day trip there at the last minute, with my mom and her friends, and it was lovely!
Daiya Mac + Cheese and brussel sprouts! I ate this meal about 500 times this year.

TNNA + teaching in Columbus. I got to see so many Starship Captains
School House Craft. The entire conference was fun, but the highlight was getting to know Isaac and Caitlin and Sharon better (and more Kim and Marlo!). In other words, as always, the best part of anything is the people, and I'm thrilled to get to work alongside such lovely people.


Honore Bakery is within walking distance of my friend's house in Seattle.

YUM

.

Finishing the first draft of my book proposal. And then sending to an agent. It took way longer than I planned, it was super scary, I have no idea what's going to happen… and yet I'm so glad I did it.
Discovering the perfect writing spot! There's a bookstore inside a coffe shop! I ONLY work on the book here, so it's easy for me to snap into focus when I sit down.

Being on other podcasts. I shared my secret inner warrior (She-Ra, Princess of Power!) with Jeffrey Shaw and talked about launching and confidence with Tiffany Han.
Writing for Yarn Market News.
Red hair! I thought about it for over 3 months and finally pulled the trigger at the very end of the year. It's an ongoing symbol of following my gut instead of focusing on what other people will think.


Inside Out

. By far one of the best movies I've watched in years. It's sparked conversations with everyone I've talked to about it.

Comics! Especially Jem, Unbeatable Squirrel Girl (her roommate is a knitter!), B*tch Planet, and Ms. Marvel. If you don't read comics, I highly recommend getting any of these in paperback at your library and diving in.
Knitting! I finished more knitting this year than I have in years. Mom's sweater, my Blue Sand, Boxy, mittens, Jay's hat, Mom's Pendulum.


Knitting along to the Gilmore Girls. I re-watched it all this year.


Going to afternoon matinees on Friday. The local movie theater does an extra-cheap movie between 4 and 5 pm. We took advantage of it at least once a month, which feels like sneaking out of work early. There were a lot of great movies this year!

Some Starship Captains got buttons made, so they can find each other at events! I was so flabbergasted that they love the community enough to do this on their own!

Les Mis!! For our anniversary Jay took me to see the local community theater production. I cried throughout (and I met a podcast listener, which was amazing).
My new morning routine: Water, quiet time, reading (a book, not my phone), and working out. It's made my mornings so much calmer and more fun. I look forward to getting up!
Taking a full week off at the end of December. I stressed about this a lot, but I knew I needed to recover from the awesomeness (and hard work) of the Lift Off launch. It didn't turn out how I imagined, but I'm glad I did it.

Reading about fitness with the goal of loving yourself and becoming stronger, from Neghar, Jill, and Jen. I cannot recommend their programs and blogs strongly enough.
My library. It's beautiful, has a great view, and is staffed by people I'm becoming friends with!

The CSA – this is the first time in years that we subscribed and it was fantastic.

Reading! I read some of my favorite books ever this year: Big Magic, Man's Search for Meaning, The Confidence Code and dozens more.

My mastermind group. It is full of women I respect and our deepening friendships (and ongoing idea-generation) has been a huge blessing this year.
Finally figuring out Pinterest. Caitlin said about 3 sentences at School House Craft that just shifted the whole thing for me.
Tailwind, for scheduling my blog posts on Pinterest!
CoSchedule for scheduling social media directly from WordPress.
Buffer for scheduling social media from anywhere.
Hiking! We went on a great hike through a new-to-us local mountain with friends, and then went on an amazing hike with my dad in Oregon. After every hike I remember how much I want to spend more time outdoors!


The new Starship site is AMAZING. I LOVE IT.
Hiring Wendy was the best decision I made. The project would never have come together without her. (Plus, she's hilarious.)
This is the first year since I started my biz that my focus wasn't on making new stuff. Instead, I focused on going deeper for my current students and on improving everything. I became more consistent, created a new platform for the Starship, improved and refreshed every single piece of every class, and really nailed the launch of Lift Off.
This was the best year of sales in my business ever. I can't believe I almost completely forgot that. It's just one sign of how much my biz is growing into something I love.
Making plans for 2016! I'll be teaching nearly every month: in San Diego, Columbus, Cleveland, Atlanta, Maryland, and Western Mass. (Want to get updates when I nail down the dates and places? Sign up here!)
What were your favorite parts of 2015?