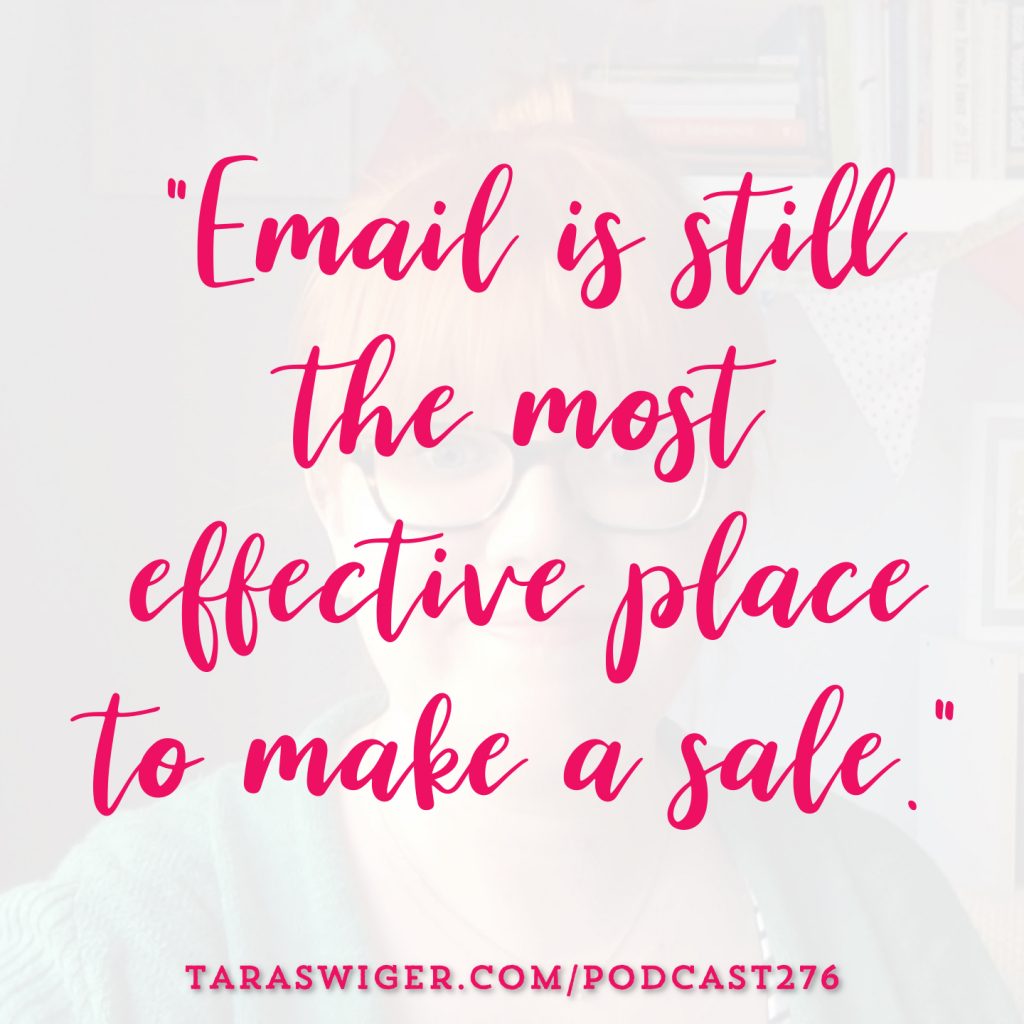 Podcast: Play in new window | Download
What is the BEST tool to promote your business? How do you say NO without losing customers? How do you balance multiple businesses?
Today I am answering YOUR questions in this Q+A episode!
Thank you to my Patrons: 
Most weeks I teach a lesson to help your creative business, but today I am answering YOUR questions! I gathered questions from my community of supporters on Patreon, and my Instagram comment section. I am going to answer your questions about the BEST tool to use right now to promote your business, how to balance multiple businesses and how to say NO.
And if you want to learn how to avoid the three mistakes I see most creatives making, come to my workshop THIS week: TaraSwiger.com/foundations.
Before we get into answering these questions, I want to thank Sarah Schira of Imagined Landscapes for her support of the show! Sarah makes best Gnome puns around! If you need more gnomes in your knitting, check her out!
Thank you to Kim Werker, longtime friend, colleague and fellow Enthusiast. She's starting a free community, that you should definitely take a look at.
The Questions:
A patron asks:
I would be interested in hearing ideas about how to balance multiple small businesses.  I have a vintage clothing business in a brick and mortar antique store, an etsy shop selling vintage sewing patterns (both of these are very established, but small volume), and a much newer fine art business making art toys.  I also freelance as a filmmaker and event photographer (my main source of income). I feel like if I picked only one of these, doubled down and really ran with it, I would get further, but I like the variety and I like having multiple sources of income.  So all of them kind of poke along slowly. Thoughts?
This is a lot of businesses! I think your intuition is right – the way to build fast would be to focus on one… but if that leads to a life you don't want, why do it?
Why do you need them to get any further? Growth is not the highest good – your own wellbeing, enjoyment and the business doing what it needs to do is the goal.
So DO they need to grow faster? What gives you the most joy?
What do you need your businesses to do financially? What would that look like? How could they work together to do what they need to do?
Then divide up your time accordingly.
Kristina asks: 
How to say no to a potential or current client without being mean or burning bridges. Do I always need to give a reason or excuse? 
I have a whole series of articles and podcast episodes, on how to say NO, with scripts!
The first thing is that you need to reframe this! Saying no, especially when you simply can't take on a job at all, is not mean, it's a part of business. In fact, someone reaching out to see if you can take a job is probably expecting that you may say no. That doesn't mean they won't come to you with their next project. They may even appreciate that you are so in-demand, and book ahead next time.
Now it's slightly different if you're not just turning down a job, but you are saying no to a current client on a current job. Like no, I can't ALSO do X, the scope of this project is Y. But you have to remember: that's why they're asking. You have the choice to say no.
In most cases I would NOT give a detailed reason or excuse, the other person doesn't want to hear it! Also, the more you say, the more they have to argue with. They can delegitimize your reasons.
For example, I have had conferences ask me to do more than we had contracted for, "oh, could also be available during this time? Could you also sit on this panel?" Quite often I say yes, because I like getting chances to talk to more people. But if it doesn't sound fun or it will exhaust me, I say "Oh, our agreement was X, so that's all I'm going to be able to do."
It's hard, but don't give any more explanation.
You can have a standard reply, like "Thank you so much for reaching out, I would love to work with you. However, I'm booked up with projects and my timeline is X weeks out, so unless that works for you, I'm going to have to say no." And if they're asking for more once you've started working together, quote a policy. "My policy is to not…." or even, "Our initial agreement is…"
Before I answer the last question, which is quite a doozy, I want to thank Brenda, who makes gorgeous knitting patterns. I've linked up to a blog post she wrote on her site about the experience getting her website made, because it's really great!
Thank you to Erin, who designs beautiful shawls.
On Instagram someone asked:
What is the best tool to promote your creative business these days? When you are just starting and don't have time to be on every platform and do email, blogging, in-person promotion, etc? 
My answer is the same as it was 5 years ago when I wrote my first book, Market Yourself, and I've seen newer data that shows it is still the right answer: Email is the most effective place to make a sale. So if you want to increase sales, and you want to REACH the people who want to hear from you, email is the answer. Email reaches those who have said they want to hear from you, and people take action from emails. It doesn't take much time at all to set it all up, so the hardest part is getting people ON the list (who are you sending these emails TO?!) and then actually SENDING the emails.
The good news is – once you have decided what you're going to regularly send, it doesn't actually take that long to put it together each month or each week. If it is taking a really long time (because you've made your emails complex), then simplify it. Simplify it down to whatever you can consistently do. That can be as simple as hooking up Mailchimp to Etsy and having it populate your 5 most recent products.
So hook it up in an afternoon and decide what you're going to send. Every email software generates a form that you can either link to or embed, so the "where do these people come from" question is simple – anywhere you already are. Put the form on your site. Link it in your etsy profile and your Etsy thank you messages. Link to it on Facebook and in your Instagram profile. Every time you send an email, do a post WHEREVER YOU ALREADY HAVE ANY CONNECTIONS about what will be in the email and share the link to sign up.
It could be that you have a personal facebook page, and you think your family and high school friends aren't going to want your emails? Link it up anyhow, you may be surprised! They may be super into whatever you're selling or they may have a sister or cousin who is. My husband's uncle shares links to my work sometimes, and I'm surprised by how many people who he knows who sign up to hear from me.
So, you may be thinking, but Tara, it sounds like you're saying we have to be everywhere to get people on our lists! And the truth is – you do need to be somewhere other than just in your shop and in your emails. You have to GO somewhere and meet new people. For you it may be having a booth at the local farmer's market (one of my Starship Captains has absolutely CRUSHED her local markets and doubled her sales), or it may be a FB group with local moms, or it may be talking to your local yarn shop about carrying your work. But your work (and you) have to show up somewhere where people can encounter you. And when they do, invite them to sign up for your emails because that's going to be the most effective way to make sales.
I hope that answers your questions! If you want to learn more about how emails fit in with everything else you have to do in your business and how to focus ONLY on what matters, join me in a LIVE workshop this week! Sign up at TaraSwiger.com/foundations.
Before I go I want to thank Marianne Weber of MWsDesigns , who makes notecards and greeting cards! And the artist Rowena Roberts, who does beautiful paper-cutting!
How to listen
You can subscribe to it on iTunes (If you do, leave a review!)
You can listen to it using the player above or download it.
Subscribe or listen via Stitcher (or subscribe in whatever you use for podcasts – just search "Explore Your Enthusiasm" and it should pop up!).