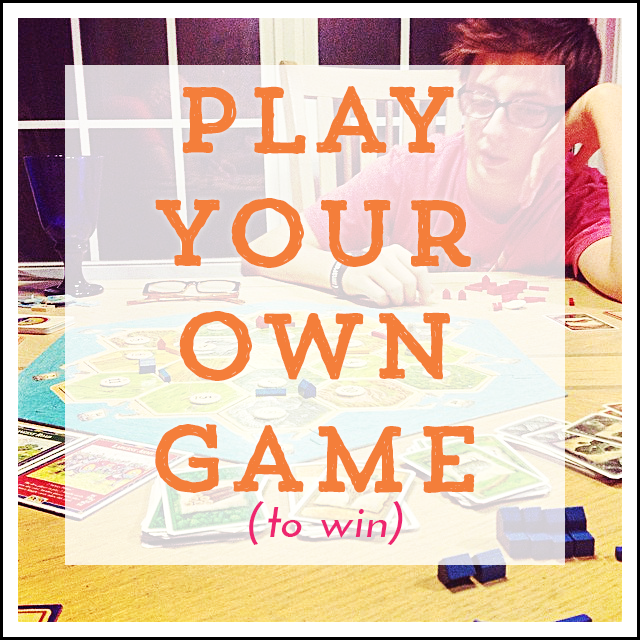 Last week I was talking to Jay about the other comic book shop in town. He was said, "They are really good at X. Maybe my shop should get better at X."
And I said, "But is that the game you want to play? Do you want to get good at selling X, or do something completely different? When you talk about what you love about the shop, you talk about making it inclusive, having the friendliest customer service, making it a place to spend time and feel like you belong no matter who you are. That's just a totally different game than what the other shop is doing."
"Oh, you're right."
(I love hearing that.)
I hear this from the makers I work with, all the time.
"She started classes and made a lot of money."
Do you want to teach?
"Uh, no. "
"He said Periscope has done wonders for his business."
Do you like to be on video?
"Uh, no."
You see, when you look at what other people are doing and compete on their grounds, you're playing their game.
And you're always going to lose someone else's game, because THEY set the rules. They are currently holding the world record for that game. (Or else you wouldn't be checking it out, right?)
Instead, play your OWN game.
Make your own rules of what success is.
Play the game you care about.
Get as awesome as possible at what YOU love, not at what other people have success with.
This is one of the keys to standing out in your industry – do something that you most care about, in the way you really want to, no matter what is bringing other people success.
I shared a bit of this on Periscope the other day, and a viewer said, "But people might not like you, if you do your own thing."
I want to challenge that.
For starters, your people, the people you're serving and providing awesomeness for, they are LONGING for what you alone can offer. If you give them something no one else is doing, they are going to LOVE you. Adore you. Buy everything you make.
When you step up to being the best at your OWN game, there are going to be customers who love it.
Will everyone love it? Nope! But "everyone" doesn't love what you're doing now! "Everyone" will never all love the same thing. (See: Coke vs Pepsi.)
Your industry, your "competitors", the people in your life who don't get it … they might not like it. They might not get it. They might think it's super strange, fringe, or inexplicable.
But that doesn't mean they don't like YOU.
Beyond that, it doesn't matter. Your business is not counting on everyone approving of it. It IS relying on some people to be so passionately enthusiastic about it that they can't wait to buy.
And that's only going to happen when you start offering something YOU are enthusiastic about, that shines out something only you could do.
So please, don't be troubled by anyone else. Play your own game.
What is your own game?
I don't know! But here are some places to ask to yourself: Am I doing this because everyone else is? or because this is what I want to be great at?
Products you offer
How you offer it (subscriptions, one-offs, exclusives)

How you launch it

How you describe it

How you photograph it

Where it's sold

How much it costs

Who you serve
What do you think? What's the game you are playing?
P.S. The game I'm playing: providing you with enthusiasm and encouragement to become  the best business expert in your own business. If you know someone who needs to hear this, share it with them.