Yesterday I went on about how effective email lists are for your business, and today I want to talk about the easiest (and least time-consuming way) to use your list: creating an autoresponder.
An autoreponder is a series of emails that are sent, automagically, to subscribers on a schedule you set. The biggest draw of creating a series like this is that you only have to write it ONCE. And everyone will see it, in the order that you want, forever. Unlike a blog, social media or weekly newsletters, everyone is receiving the information in the same order. And you don't have to think about it again!
Although these are pretty simple to create (see the tutorials below), I don't find many of the makers or teachers I work with use them…I'm not quite sure why. We got to talking about this in the Starship, and it sounds like the main block is just figuring out how it would work for you and your business, whether you're a yarn-maker, a designer, or a writer.
Well, I've got some ideas for you! In today's video (the first lesson in the new mini-class), I explain the benefits and the three different ways you can use 'em in your business:
Reading this via email? You might have to click through to see the video.
Tutorials on how to add emails to an autoresponder using:
Want to use autoresponders to connect with your customers? Join me on a 5 day exploration!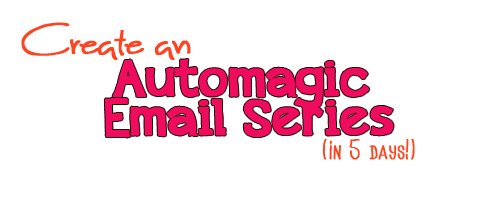 This video is the first in a series of 4 lessons on using email series in your business. In coming lessons we'll cover, in detail, each of the ways you can use them, along with examples, and try-this-yourself worksheets. Get the exploration here.
Got questions about using or creating series? Ask me!
PS. Unrelated! See that picture in the frame behind me in the video? That's a picture of the Starship, commissioned from Amy. You can get art for your business from her!
PPS.Today's my mother-in-law's birthday and she sometimes reads the blog. Hi Rhonda! Happy Birthday! I'm sorry your gift will be late, but I promise you'll get it Friday! xoxo!