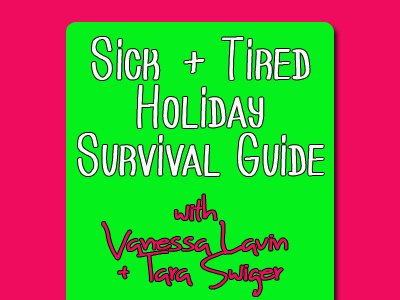 I'm dedicated to helping all makers have a happy and sane Holiday season…but I know it's extra-hard if you're sick, tired or sad. Not only do you struggle to have the energy to do all the things, you might also be feeling guilt or disappointment about not being able to do everything you want to.
Today I'm happy to  bring you the perspective of a Starship Captain who has been there, and helps others get through it. Vanessa Laven was diagnosed with cancer in September of 2010, and as she shares in our conversation below, she was going through the worst of the chemo during that holiday season.
(If you can't see the above video, click through.)
Watch our conversation to learn: 
The key to making the most of the season, no matter how you're feeling.
3 things to help you enjoy the holidays
What to say to someone who is struggling/sick/sad during the holidays (How to avoid the sad head tilt.)
Stay sane during the holidays
The key to sanity is in getting it allll out of your head and into a plan. The Holiday Sanity Kit helps you do just that, along with a community of supportive Sanity Seekers, and a four week e-course to keep you on track. Find it all here. 
Want more survival tips? Check out the (free) Definitive Guide.
Sign up here to get more on surviving your business adventures, no matter the season.