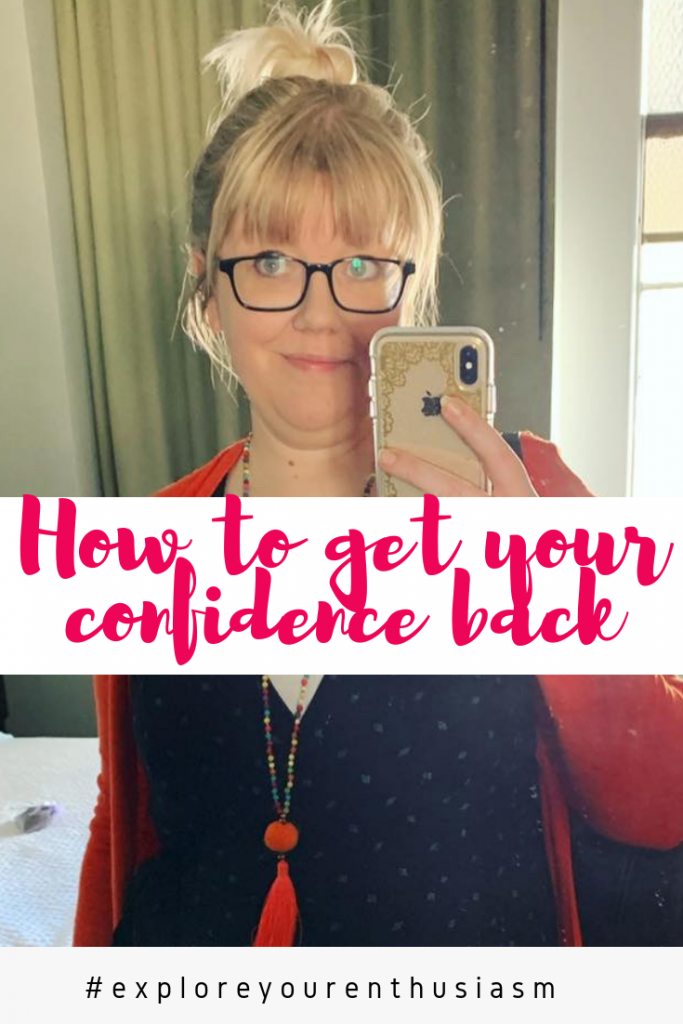 Podcast: Play in new window | Download
I'm gonna be honest: For years I have been teaching about confidence, here on the podcast, at conferences. So I was surprised to find: I had totally lost my confidence. Today I'm going to share how I lost it and how I'm getting it back. Hopefully it will help you locate your own confidence.
First: What do I mean by confidence? Let's define it here, because it's easy to misunderstand. And I'll be honest, I meet a lot of women who say they can't move forward until they're more confident and in my work, I've just found that's not entirely true. You are probably confident ENOUGH to at least do SOMETHING.
So let's define it: Confidence, in the terms I'm talking about, is what psychologists call self-efficacy – you have the power to do something. You believe you can do it and affect the outcome.
It's NOT believing you can do EVERYTHING. You may be confident in your cooking, but not have confidence in your business. You may be confident in your writing, but not in public speaking.
Another thing: Being confident doesn't mean you feel confident ALWAYS.
It is NOT feeling amazing all the time. Feeling like you can do anything, feeling totally fearless.
For more about what confidence is and isn't, check out episode 126: What Confidence is and isn't.
You probably have enough confidence about SOMETHING, to take it and apply it to your business. Even if you don't feel amazing all the time, you can take the next step.
Here's the thing: Confidence is a spectrum. You're not "confident or not confident." Some days your more confident than others. Your more confident in some areas than others. And depending on life, and business, and the results you're getting, you may slide around the spectrum.
In my case, I entered adulthood pretty high on the confidence scale – I worked hard, I got good grades, I made stuff happen (like a scholarship and a happy marriage). I went through bouts of self-doubt, but I pretty much never lost my belief that if I REALLY wanted something, I could make it happen. I may be slightly delusional, but this delusion let me take action that made stuff happen.
And here's the thing: I wasn't confident that everything would be great, I was confident that I would be ok. I was confident that I could try and still be OK. I was talking to a friend with a similar background and a successful business and she said – my definition of OK was very basic. As long as I wasn't living at home again or in an abusive relationship, I was OK.
That's what has led me to do everything I've ever done in my business – to start selling yarn on Etsy when Etsy was brand new, to quit my dayjob 10 years ago, to start helping other people with their business soon after, to publish two books, to encourage my husband to quit his day job, to start a new business – it all has been based in the core belief that I would be OK. So I may as well try, right?
Then, we were hit with disappointments: infertility (which has been bubbling away in the background for a decade), we weren't able to buy the comic book shop, I suffered my longest ever bout of depression, we had two kids we LOVED leave our home.
While we had the foster kiddos, I took a step back from work. And when it was time to step back into work, I was plagued by the constant doubt: Can I even do this?
I think a lot of self-doubt came from the period of depression – it sucked away all sense of action, of ability, of efficacy. I physically felt like I couldn't do anything all day, my brain was foggy and it was very hard to do anything mentally, and emotionally, well I mostly just cried or felt numb. So when I was feeling better and the depression lifted…my sense of self was beat up. The depressed Tara, who didn't have physical, mental or emotional energy became real to me. I started to believe she was me.
At the same time, I knew she wasn't. I knew Get-Things-Done, 6 Figure Business Tara was the real me, but when I would dream about plans and goals, I was trying to imagine Depressed Tara doing it and…I couldn't imagine it.
The basis of my confidence (which had been "I'll be OK no matter what") switched to "But what if I can't do it? What if it doesn't work out?" That hard part is, I didn't really know this happening. My first clue was back in September when a business friend said "Oh, I'm sure you'll be at X goal next year!" and I was like "Maybe, I don't know" and he was like, "Wait! That is not the Tara I know." I went back to my room and cried because my friend was right. That is not the Tara I have been.
The next clue was just a few weeks ago, when I was at a conference and the speaker asked us to think about what we wanted to get from the experience, and I realized: I want to feel confident again. I did some journaling and I realized that it's not that I need a better schedule or a different office, I just need to BELIEVE that things are possible again. That I can work towards my goal and whether I reach or not, I'll be ok.
The good news: Once I realized it was the problem,  I know how to get it back. I have TAUGHT how to get it back!
I've shared all of my story of losing my confidence with you, in hopes that you may see some of yourself in it, that if you are feeling wobbly, you'll recognize it. Now let's talk about how to get it back (or get it for the first time).
The first part of this is knowing yourself. If you've been paying attention to how you work, what your strengths are, how you work best, you'll have a better idea of what's going on, if you paid attention when things were going well. So that's the first step – build your confidence from who you are. Build it on your strengths. In other words, stop paying attention to who you WISH you were and what you wish you were like. That's going to keep you in a self-doubt spiral of constant comparison.
How I am doing this: This may sound crazy, but I make a list of my strengths. What am I good at? What do I KNOW I can do?
The next step is to take care of yourself. You're not going to feel good if you don't have what you need. Part of this is eating, drinking enough water, sleeping enough, but it's also filling up your inspiration well. For me this is listening to certain podcasts (I share them in episode 248) and reading books.
Confidence comes from action. DO something every day.
If you're waiting around to do something until you feel confident, listen to episode 131: How to Take Action, without waiting around for more confidence.
Here's the good news: you're already DOING things every day. Really! So write down what you want to do (be easy on yourself!) and be sure you add things that "don't count" to your To Do list. Did you feed your child? Did you feed yourself? Did you get dressed? Brush your hair! Huzzah! You are accomplished!
How I am doing this: I noticed that when I just let myself rest and didn't do anything (or rather, didn't mark stuff off a list), I just felt worse. It made me feel like I couldn't do things, so everything was so much harder to start doing, even after I felt better. (It's harder to get started than it is to keep going). What I needed was to make myself do one thing, that had a real impact, every day. And most importantly, write it down, so I had the satisfaction of marketing it off. I had fallen so far off of my planning, that I started over with a new planner (You can watch a video about how that's working for me here).
I started feeling better about my ability to do stuff, but there was still some stuff I wasn't doing each week, stuff I put off for, seriously, over a month. The answer? An accountability partner with the very same goal and focus. We check in by 10am each day with a list of two things we're going to do and again by 10pm to say if we've done it. Just knowing someone else is waiting to hear if I did it makes all the difference. A friend of mine is super strict about her partners – if you miss a time, or you don't do what you said you would, you have three strikes. After three strikes, you lose your partner.
Celebrate
A huge part of confidence is remembering that you HAVE done awesome stuff and you WILL do awesome stuff again. Some suggestions for getting in that frame of mind:
Practice accepting compliments. Don't follow-up up a compliment with all the reasons it's not true.
Better yet, remember the compliments – put them in a folder, print them out, heck, someone on Instagram illustrated her compliments.
Tell your loved ones – "I need help remembering that I've done awesome things. Can you help?"
List all the things you've overcome.
List all the things you've accomplished.
Look at these lists as often as you need to!
I hope this helps you move forward in your business! Remember to take care of yourself, take action, and celebrate each tiny step.
How to listen
You can subscribe to it on iTunes (If you do, leave a review!)
You can listen to it using the player above or download it.
Subscribe or listen via Stitcher (or subscribe in whatever you use for podcasts – just search "Explore Your Enthusiasm" and it should pop up!).