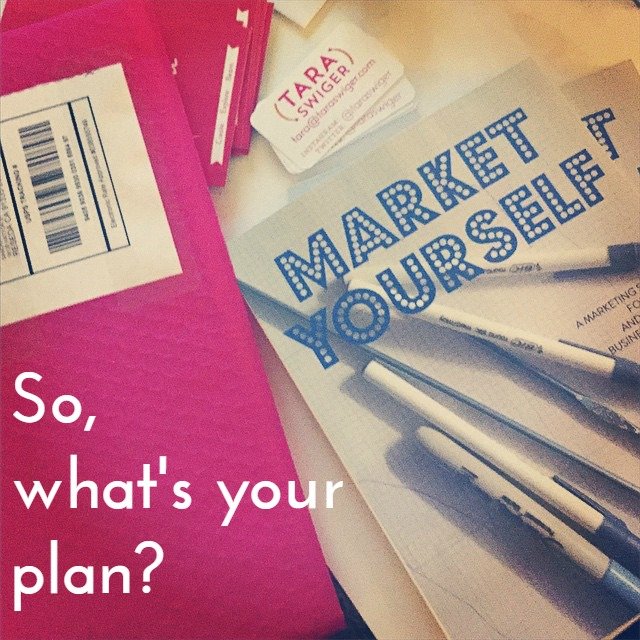 Last week we talked about how to sell something:
Identify the person who will love it and buy it (I call this your Right Person).
Figure out what she cares about and why she buys your product (in the beginning you're guessing; as you get more sales, you'll ask her directly).
Explain how awesome your thing is, in terms she understands.
Go where she already is and talk to her there.
I heard back from lots of you that you KNOW you should be doing this, but it just feels overwhelming and like a lot to keep track of.
But it doesn't have to be. In fact, all these pieces can fit together into one plan, that you implement day in and day out, without worrying too much about it.
Yes, it takes time, energy, and commitment to set it up, but once you have it… it just works. You know what to do, every day. You'll continue to test it, improve it, and work it… but first you have to have it.
This knowing what to do thing feels AWESOME. It helps alleviate so much of the doubt and second-guessing you've been struggling with. It focuses your working time. It allows you to be consistent, which builds trust with your people, expands your reach, and – yes – leads to more sales.
This plan for reaching people is called….a Marketing Plan! (Imagine that!) Remember: Marketing = any communication you have with your people. So this is just a plan for reaching your people on the regular.
My first marketing plan was scribbled in my day job office, on a post-it note I kept hidden under my keyboard, circa 2007. It said:
Post one new picture to Flickr each day + add to groups (the days before Instagram!)
Tweet picture (ask for help naming?)
Reply to 3 new people (Flickr, Twitter, knitting blogs)
One new Etsy listing/day
Blog 1x/week
Email list every month (new yarns)
You see, your marketing plan can be as big or small as you need it to be. I added new stuff to the list all the time to see what might work, but knowing the absolute minimum kept me focused when things got busy. What you can't see from the list is the time I spent finding my possible customers (knitters who knit with handspun yarn…which was harder before Ravelry!) and figuring out what groups or tags would help my yarn be found by more people. But once I did that … I just followed the plan.
To make your own marketing plan (that actually works, and isn't a waste of your time), you need to:
Know what makes you and your thing sparkle (stand out from everything else).
Identify who some of your people are, what they care about, and where they hang out.
Choose the methods you'll use to reach them.
Put it all together in a plan that you implement, day in and day out.
If you'd like guidance and a clear path for making your own plan, check out Craft Your Marketing. In this 6 week e-course you will identify your sparkle, find your people, choose your tools and then make a simple, post-it worthy marketing plan that will bring you more fans and more sales. You don't have to do this alone. I'm here to help with audio lessons (and enhanced transcripts!), worksheets, and FUN.
If you don't know what you're doing TODAY to connect with your people (or who they are or what to say), I hope you'll join me in class: https://taraswiger.com/craft-marketing/.