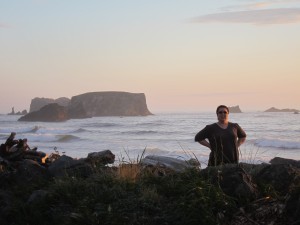 Today I'm sharing an adventure with Starship Captain and fiber artist, Sasha Torres. Sasha Torres is a cerebral-yet-whimsical yarn maker, dyer, spinner and knitter who loves the ocean, really good vanilla ice cream and the smell of raw wool. Her passion for all things wooly led her to start her yarn company, Sheepspot, which sells breed-specific, hand-dyed wool yarns and fibers for those craving sustainable stash from happy sheep. Find her at sheepspot.com.
People have this fantasy of what it's like to be a fiber artist. But what's a normal day for you really like?
Well, I still have my day job, so I spend 3-4 days a week largely focusing on that. The other days I spend on Sheepspot.
I try to start every day by meditating for about fifteen minutes and writing in my journal. Both are ways of checking in with myself, partly to figure out priorities for the day, and partly to see where I am emotionally. The business, and the things I need to do to help it thrive, often really scare me, and I'm trying not to let my fears run things without my knowing that's what's happening. So I basically start the day by asking myself how I feel and writing about that a little bit. Some days I feel fine, and I'm just eager to get to work, so I just let myself do that.
Then I do a quick triage of my email and check in with my Ravelry group and social media. I'll respond to any questions or comments, and If I have items going up on the website that day I make sure that the posts I've scheduled in advance to go to my Twitter, Facebook and Google+ accounts look OK. I'll also post the new stuff on Pinterest, in my Ravelry group, and perhaps on Instagram.
Then, if it's a Sheepspot day, I head to the studio. I usually start by immersion dyeing a batch of yarn that doesn't need to be watched that closely, so that I can re-skein whatever I've dyed the previous day and get set up to dye more complicated colorways. I find that with my current studio setup I can comfortably do three batches of yarn or fiber a day. Once all the batches are finished and drying I usually head back to the computer and deal with shipping or marketing stuff. It's a long day, but fortunately I like all the different parts of it.
There are so many ways to make a living as a maker – how are you doing it? What have you combined and how has that changed through the years?
Sheepspot is still very new, so my income right now is still coming from my day job. I expect that this will be my situation for the next 18-24 months, and I'm OK with that.
What new thing are you exploring now?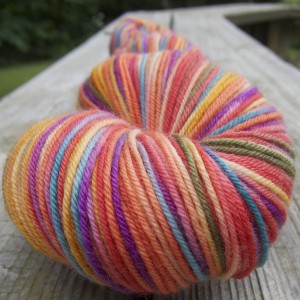 I'm learning a ton of new stuff every day about all aspects of the business, from the kinds of fibers that my local mills can and can't work with, to where to buy recycled mailing supplies. But the most intense and satisfying exploration I'm engaged in right now is in my studio. I'm trying to stay improvisational while dyeing. I am finding colorways I love making and techniques I love using, but I'm very conscious as well of the need to keep experimenting. It's a delicate balance. On one hand I'm trying to work out how to be more efficient, but on the other I want to keep playing and learning.
Everything I sell is either sustainably grown and/or processed in North America. The majority of it is both. Sheepspot exists to provide options for fiber artists who are interested in small, sustainable agriculture, or who care about genetic diversity among sheep, or who are concerned about the quality of life of the sheep that grow the wool with which they work, or who are dismayed about the near-total disappearance of the textile industry from North America. All Sheepspot yarns and fibers have to earn their way into the product line by answering at least one of these concerns. Success? Making a living getting these materials to the folks who want them.
What's the next destination you're working towards?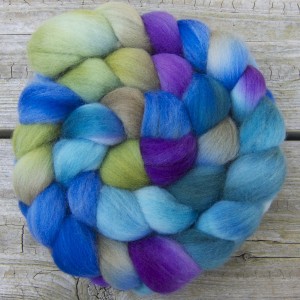 Every year, Tara encourages all the Starship captains to choose a "North Star"—a quality that will guide our business decisions. My North Star for the year is "sustainability." I'm working toward building a profitable company that I love working in and that's friendly to the earth and its inhabitants. In other words, I want Sheepspot to be physically, emotionally, financially and ecologically sustainable.
Would a North Star help to guide you on the path to your business dreams? Sign up to find out when the Starship opens for new Captains!