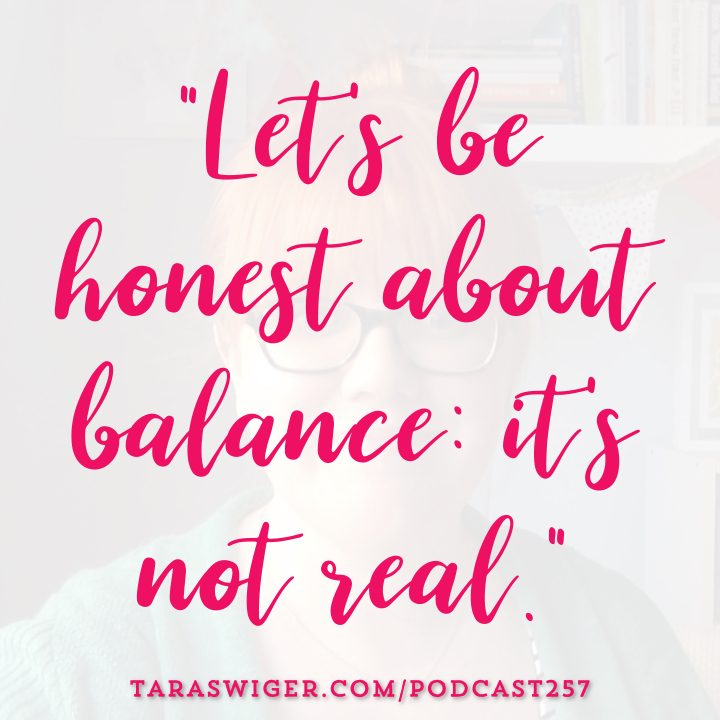 Podcast: Play in new window | Download
How do you balance business and family? How do you balance alone time with together time? What if you just need to be alone to work on your business but you feel like you should be with your family? Today, I'm going to give you a super honest answer. Ya ready?
So let's start by being honest about balance: it's not real. Or at least, this ideal goal of work-life balance, where you're always happy with how much time and energy you're spending on each area of your life and it always feel balanced and equal – that ideal is not a goal worth pursuing, if it even is possible.
Why? Because life is full of curves and changes and YOU are not balanced. What you want is not balanced. When I talk to you about balance, what you tell me is that you want the projects you care about to get more energy. You want to feel like you're connected with your partner and kids. You want to feel enthusiastic and in the flow with your work.
You don't want to give 50% to family and 50% to work and then where is your self-care and FUN going to come in? You want to give 100% to your family when you're with them. You want to have 100% energy to work on your dream, when you do it. You want to be 100% in on girls night or the novel you're reading or the nap you're taking. Right?
The goal isn't to have everything perfectly balanced. And if you keep pursuing that as a goal, you're always going to feel like you're coming up short. I'm gonna suggest that your goal may be, instead, to be fully engaged and enthusiastic about most of what you're doing with your day, and to have the time to spend on the things you care about.
But first you have to get really honest with yourself (just like we talked about last week). Take an assessment of your life – where are you spending your time and your energy?
Start by identifying the categories of activities: What takes up your actual time? If you're not sure, track your time for a week – every hour write down what you're doing.
I'm gonna share my list with you, but yours will be different of course:
Cleaning and life-admin (dishes, vacuuming, making meal list, talking to Jay about finances/parenting/etc, scheduling stuff, going to meetings)
Being a loving mom to the kids in my life (hanging out with past foster babes, hands-on care of new foster babes)
Loving partnership (anything with Jay that isn't managing our life – we eat dinner together, talking about our day, going to movies, going on trips)
Work (podcast, doTERRA, IG, emails)
Reading and learning and entertainment (novels, non-fiction, listening to podcasts, watching biz trainings)
Joyful movement (walking, dancing, running, lifting)
Community (hanging out with friends and family, coffee dates, texting with friends)
In a life that feels full and enthusiastic and satisfying, I don't want all of these things to take up the same 10%. I want to be fully present for them, when I'm doing them (well, life admin stuff can be distracted with listening to podcasts!) and when I'm not doing them, I want to let go of them.
For me, and a lot of you, the problem isn't that I'm not doing what matters or that I'm doing the wrong stuff, it's that I'm kinda always thinking about the other categories no matter what I'm in the middle of. For working moms, it may be that you're thinking about your kid's cough when you're working. Or you're thinking about your next IG post when you're with your kid. And I'll be honest. I don't know how to stop that. I know that having boundaries around your time (like I talk about in my Time class, at TaraSwiger.com/time) can help keep everything from bleeding together and overwhelming you. But it's also natural that you're going to think of other things.
What helps me is to know: It's ok, I HAVE TIME for that later, I don't need to do it now. It's having peace of mind that I do have time allotted for everything so I don't have to keep obsessing over it right now, now is the time for X.
And this is how boundaries and deciding your day before you start it can really help. Yes, you're still gonna be distracted by other stuff in your life, but knowing that you have time for both will really help.
After you took a look at your categories, look at where you're spending your time. And then decide where you want to spend your time, not forever, just *this week*. What categories need some love and attention? When can you give them that? Block it off in your calendar, or put it on your priority list for that day. There's a book Pick Three, where the idea is each day you don't have to do everything, you can just get to three categories, and rotate the three you work on.
I don't totally agree with that theory because you never really get a break from life admin and mom-ing and being in partnership. But you can decide which days or hours those categories will get your undivided attention. Like maybe Monday you are focused on work and life admin, whereas Saturday you take your family to the library and park and really PLAY with them or you go out to the movies with your friends.
Here's the thing I hope you're absorbing from this: There's no way to do it "right" and for a lot of us driven Type A types, that's SUPER annoying. We want to get it RIGHT. We want to spend the right amount of time with our family, we want to have the right amount of time for our business, we want to have a clean house).
But the awesome thing is: there's no one right way…which means you can't get it WRONG. You can only keep experimenting and figure out what works for you RIGHT NOW. What works for you this week? What does your family need? What does your life need? What does your business need THIS WEEK?
And guess what? You'll have another week next week where you can shift your focus.
I know this is something a lot of you really struggle with, and that is getting in the way of you enjoying your business or life. If that's you and if doing the exercise in this podcast still isn't helping you bring a sense of enthusiasm and calm to your life, I highly recommend working with someone to help you through it, someone who can help you identify what you want to change and then hold you accountable for changing it. My friend Joeli Kelly is who I talk to and she is a certified life coach and has spots available now. This isn't an ad, this is just a real-life recommendation. If you need more help with this, go to JoeliCreates.com to get an expert help. Tell her this episode sent you, so she'll know how to help!
How to listen
You can subscribe to it on iTunes (If you do, leave a review!)
You can listen to it using the player above or download it.
Subscribe or listen via Stitcher (or subscribe in whatever you use for podcasts – just search "Explore Your Enthusiasm" and it should pop up!).