This is the third in an ongoing series about planning (your business and your life!) for the holidays. If you want to keep your Holiday Sanity this year, join a group of crafters + artists in our accountability fun.  If you're struggling to find the time because of family or health limits, check out Within Limits.
Instead of going on and on about planning today, let's just get down to the action. The action of looking clear-eyed and honestly about what you want to do this holiday.
For most of us, that starts with a List.
I am Queen of the List, but my planning really needs to go beyond the list.
I've put everything I know about dealing with big (scary!) to-do lists and turned into a teeny tiny mini-guide.
How I figure out what needs to be done.
How I make sure nothing falls through the cracks.
How I make sure it actually GETS done, hopefully a few days before it's really done.
All of it explained and then demonstrated with silly handdrawn worksheets.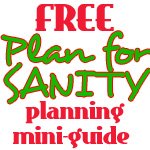 This is one of the first materials I made for the Holiday Sanity program, but I got so much gushing about how helpful it was, I thought, I need to share this with everyone.
So here it is, completely free. No sign-ups or commitments or anything.
Just right click on the little button to download.
And enjoy!
Edited to add: At the request of several fast readers, we're going to do a weekly check-in, right here in the comments.
Today, let us know: did you fill out the first List of Doom?
Of course, you can get private accountability (and brainstorm and learn from a whole pile of clever crafters) in the Holiday Sanity program. Tuesday's the last day to join!