I'm always looking for new ways  to connect our community. I'm super-happy with the new cities popping up daily on our map, but until we can get together in person, I think I can find better ways for us to get together online. The Starship is one way that we come together and support each other, and I've been looking for a more casual opportunity to learn more about you, and let you meet each other.
I'd like to invite you to introduce yourself to your fellow explorers. In fact, I'm throwing a party so we can do just that – an Exploration Party!

The Exploration Party is an opportunity for you to declare your boldness and connect with other explorers, by sharing a story of what you've explored. 
To join in:
1. Write a post about something you've explored or experimented with (ideas below)
2. Post it anytime next week (August 12-16), and include a link to the Exploration Party page, so that your readers can find other explorer's stories.
3. Leave a comment below with your post!
That's it!
I'll include all the explorer stories on the main Exploration Party page, and I'll share my favorites each day on the blog, Twitter, and Facebook.
You might write about:
Exploring a new craft
Exploring a new technique
Exploring a new subject matter or theme
Exploring a class, book, or blog
Exploring an area of your business.
Remember to make this work for you and your readers. If you never write about the behind-the-scenes part of your business, you don't have to start now! Write about what you usually write about – but share an exploration you've done into your subject matter!
(Ex: exploring support, following my enthusiasm, experimenting.)
Don't have a blog?
You can share your story on Facebook (just set that post to "public"), Flickr, or even Instagram! Just send me a direct link to wherever your story is housed!
My hope is that this party will do two things:
Remind you that you already are an explorer. You know how to find the answers to your questions.
Inspire you to explore deeper, by seeing how other creatives are doing it.
And if you find yourself with a particularly thorny issue, or an area of your business you've been avoiding exploring, you can join us for a guided exploration right here.
 Update on Party Favors!
It wouldn't be a party without Party Favors, right?
All contributors will get $30 off their Explore You registration! Just share your link, sign up for the class, and I'll refund you $30 right away!

Spread the love!
In your intro or conclusion, be sure to link back to the Exploration Party. You can copy the below directly or put it in your own words:
"This post is part of the Exploration Party – a celebration of our inner explorers, led by Tara Swiger of Explore You. You can find other tales of adventure from artists, crafters, writers and biz smarties – and share your own story – right here."
Tell your friends! 
"I'm joining the Exploration Party and sharing my adventures with @TaraSwiger! http://bit.ly/16xxEka"
Want to include an image?
Feel free to snag one of the below: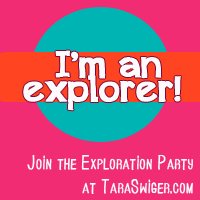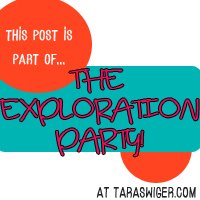 Got questions? 
Email Vulcan@taraswiger.com for instructions, ideas, or images!
If you plan on joining the Party, leave a comment below letting me know!
And don't forget to leave your link when you have it!
Update!
The Party is now over! View the entire party here. You're welcome to continue to write about exploration and tell me about it (I'd LOVE to hear what you're exploring!), but this page won't be updated again.