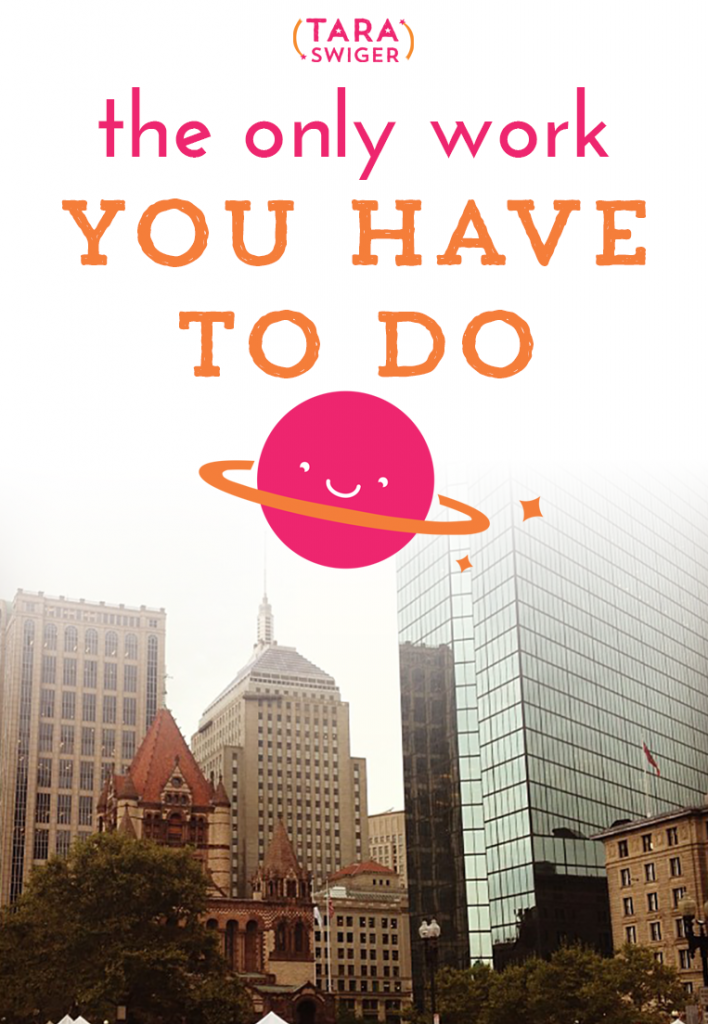 Last week we talked about growth and rest, and I mentioned that setting intentions (or goals) is so "you focus your energy on what you really want, so that you filter out the distractions, so that you find your own path and trust your choices."
But in order to filter out the unhelpful, the busy work, it's imperative that you do not stop there.  In all the Starship success stories (you get 'em here), the actual map-making only takes a week or so.  But then there's the three months that come after. Those three months are what moves people from where they are, to where they want to be. Those three months are where all the magic happens and people increase sales or finish the big project or launch a new line.
But the "magic" isn't magic. It's Work.
I meet (and read the blogs of) a lot of creatives who are working long, draining hours and still not getting where they want to be, so let's get really specific about the kind of work that makes a difference. I'm not interested in work for work's sake (in fact, I'm pretty much a slacker by comparison to my peers – weekends off, sleep-in Wednesdays, and several weeks of vacation every year.)
The Work that matters.
Before we get to the work, make sure you are working towards something. Big or small, you gotta know the big WHY behind what you're doing. Are you trying to increase your sales? Or find more time off? Or get a book deal? Each of these requires totally different kind of work, so you gotta identify this first. Seriously. Stop working until you know why.
Now that you know why – good news!  In my experience, most creatives only have two kinds of work that actually matter.
Make your Art. 

Connect with the people your art is for.
Make your Art.
I'm using art in the Seth Godin sense, to mean anything that you create that comes from you and who you are. It can be painting, knitting, teaching, writing, singing or ditch digging.
Whatever it is that you make, you actually have to spend time making it! I know it's easy to get seduced into twitter, emails, blogs, and the endless list of things you should be doing to market your work. But before anything else, you have to be making something.
Sound obvious? I think so, too, but I get a few emails a week from people who are "ready to start a business", but don't make anything, yet. I understand the impulse, but if you want a life filled with creativity, you have to start creating. If you want to be a writer, write. If you want to teach, teach.
Connect with the people.
As you're making your art, connect.
This could be craft shows or online shop + blog or snail mail correspondence with your patron – but someway, somehow, you have to be having a real conversation with the people you create for. This is not the salesy, persuasive, one-sided monologue of a sales page. To connect with someone, you have to go where they are and ask about them, get to know them. And then – the hard part – you have to fully show up, as YOU. Vulnerable, honest and open, you have to be there, with them (for the difference on vulnerability and oversharing, read Brene Brown!). This isn't the tweet where you share a link (although that might start a conversation), this is the back and forth where both people are feeling heard and seen. This writing that scary blog post, this is making a clear and heartfelt ask, this is honoring the equal exchange you and your buyer are co-creating.
The good news is: you don't have to do both every day.
If you're like me, you get in moods for each. For example, this week, because of the tragedy in Boston, I've needed to take a break from connecting (because it so quickly led to obsessive reading and crying). So I wrote, alone in my living room, this very blog post, longhand into my journal. I share it today, because I'm ready for the conversation, for the connecting. Last week, I was mostly connecting and not creating – answering questions on the Starship, sharing my favorite quilt patterns.
The trick is to go with your own flow, and still find time for both. To create when you need to create, and not forget about connecting. To connect genuinely and make offers, without ceasing to make your art.
This is the work of your creative life.
If you're not where you want to be, can you identify which one of these is needs more attention? Or perhaps both  get crowded out by the stuff that looks-like-work?
I've been thinking about this a lot lately, because all of my recent one-on-one sessions have come back to this balance of Real Work. Explorers are trying to find a way to do both, under the pressure of a Big Project (launching a book, designing a new line). When you have to go in your Creative Cave to knock out a big project, how do you keep the connection happening? This is the kind of thing we craft a plan for in the Flight Plan sessions.
I did over 20 sessions last quarter, all with Starship Captains, and they were so connect-y, I have committed to finding the space to do even more. I opened 5 spots to non-Starship members for this quarter. If you want to find your own balance of connecting and creating, grab one here.
What does the Real Work balance look like in your work?
PS. If you need to be convinced that your Art is art, or that you should be making it in order to survive the new economy, read The Icarus Deception. But for most of us – you already know!