Today I have a pile of awesomeness to announce.
I have been working double-time to bring the expertise of 2 (!) guest-teachers  for 2 (!) classes that will help you with exactly the things you (and other crafty people) have been asking me.
But before I get to the classes, I wanted to introduce you to something that's been slowly baking in the background:
The CraftyBiz Kitchen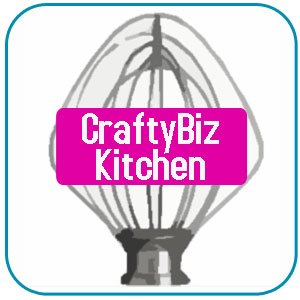 I'm starting with this first, because if you like BOTH of the class I'm about to introduce, then you'll save money by signing up for the Kitchen.
What is it?
In the CraftyBiz Kitchen, we'll bake up some customers for you, we'll test your recipes, we'll come up with some new ones. We'll sit around the table (Twitter) with our cups of coffee and share where we are, what we need and where we hope to go. It's welcoming, low stress and super simple.
The CraftyBiz Kitchen is where we take what we've learned in the class and we apply it to our businesses and then get feedback, suggestions and support from each other.
How it works
Joining the Kitchen gives you, automagically, access to every class I teach. That's at least 2 every month, many with guest experts. But on top of the normal class stuff (the live class, the recording, the summaries), you'll also get the tools to apply what you've learned to your own business. And weekly check-ins on Twitter.
The cool thing? You're not making a long-term commitment. As soon as you're ready to leave the Kitchen, you can.
You can read more about it (and sign up) here.
July 22, 2010
Guest expert: Cairene MacDonald, of Third Hand Works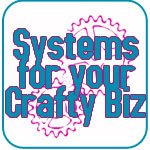 Systems are those sneaky things that you don't even realize you need.
Systems make your crafting smoother, your shipping smoother, your time management smoother. They bring ease and support and awareness.
What is it?
This class is a one hour live telechat/interview with Cairene. We'll talk about what systems are, how to build them  (hint: you already have some!), and how to recognize the ones that need tweaking.
You can read all about the class (and sign up for it) here.
August 3, 2010
Co-teacher: Diane of Craftypod.com
You've probably noticed by now that the awesome things happen in your business when you connect and get to know people with an audience of your Right People. Magazine articles, local press, or a referral to a boutique owner. We'll teach you how to figure out what you want, who can help you and how to build those relationships without being slimey or awkward.
What is it?
This class is a one hour live class, in which Diane + I will teach and then take your questions. Afterward you'll get a recording, a summary and an invitation to a Twitter Q+A session.
You can read all about the class (and sign up for it) here.
Woo! Brunched!
And now that I've brunched (you remember what a brunch is, right?) two classes + a Kitchen, I'm going to dance!
And I invite you to dance with me in the comments!
What are you dancing to?
What are you learning this summer?