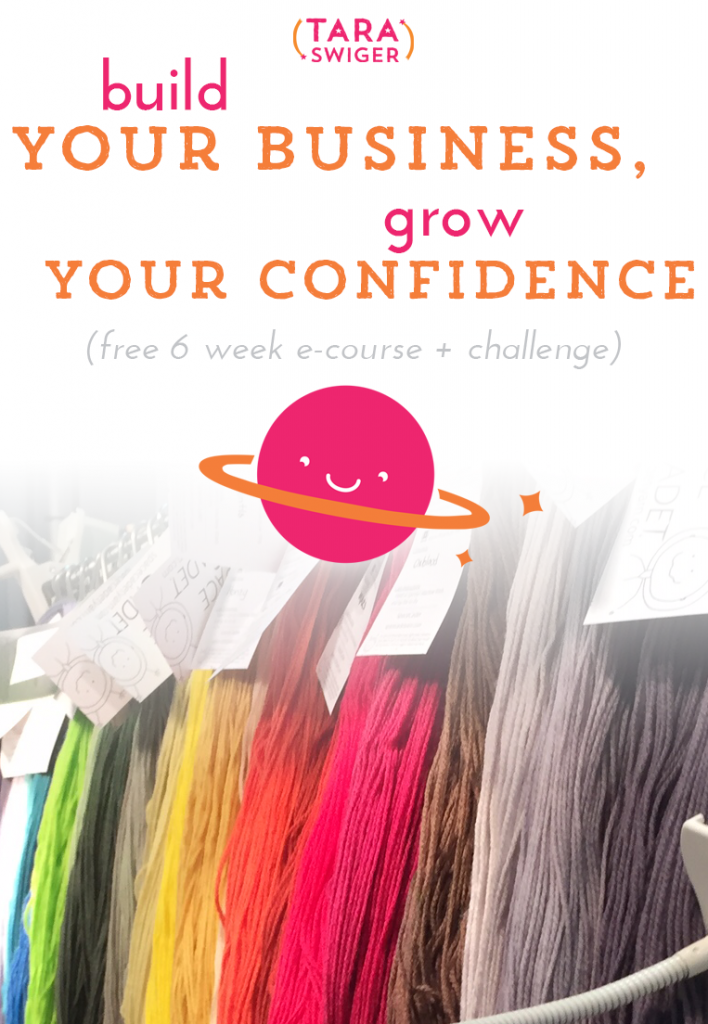 How do I keep my self-doubt from holding me back?
How do I move forward even when I don't feel like it?
These are the questions we all come up against, especially as we start to do something new and challenging, like starting or growing a business based on our creativity.
The answer is: Confidence.
Not "just force yourself to do it." Not "just wait until you feel ready."
The answer is: Identify the doubt, build your confidence in that area, and then move forward, bit by bit.
Oh, I know, it's more fun to focus on the tactical stuff, like growing your Instagram followers or learning Periscope, but remember, none of the tactics (and no amount of followers) will matter if you don't know where your business is going; and beyond that, none of the tactics in the world matter if you don't DO them.
When I talk to makers about their businesses (and when I look at my own), what I discover 99% of the time is that we all know a BUNCH of stuff we COULD do, but we feel held back from actually DOING it.
To be totally honest, I know about a million things I could be doing for my business, but I don't do them because… I don't have the confidence.
An example: Recently a friend (who is in the industry and knows a lot of great people) sent me a request from a journalist looking for an expert in exactly what I teach. And I hesitated to reply to it, for over an hour, because I thought: I'm not an expert enough.
I finally did it, but afterward I realized how much a lack of confidence could have cost me in that moment, and how much it's cost me over the life of my business.
I bet, if I asked you to, you could tell me a similar story in your own business, from just this month.
So I ask: What would less self-doubt and more confidence do for your business? How would you act? What would change?
In a recent podcast episode, I lay out 7 ways to defeat self-doubt (and build your confidence), but just knowing these things is different than DOING them. Doing them takes time, and focus, and dedication.
So let's do it, eh?
Let's take the actions, together (because, yeah, I need it too).
Over the next 6 weeks, I'm going to challenge us both to take one action, each week, to move forward, build our biz confidence, and step into our own awesomeness. And I'll be playing along too, and sharing my own progress.
Here's how it'll work:
Each Monday, I'll post a challenge on Instagram. (Be sure you're following me!) This will be one action you can take during the week, that will build your confidence. When you complete the challenge, snap a picture and share it with the hashtag #bizconfidencechallenge (I'll also email you this challenge, as I know you may not be on Instagram!)
Each Friday, I'll send a lesson to build on the challenge and explore it deeper. Sign  up here to get them!
I'll post a discussion thread on the Facebook page (be sure you've liked it, and that you like a few posts, so Facebook actually shows it to you!), so that after you've read the lesson, we can discuss your experience with the challenge and what you've learned.
These confidence-building lessons + stories will only be available to email subscribers, so if you'd like to share it with friends, please tell them to sign up here! (And don't forget to sign up for yourself, too!)
Are you in?
Ok! Here are the steps you need to take:
Be sure you're following me on Instagram
Share this page with your friends
Like the Facebook page and join the discussion.Answer the question here: What specific action has self-doubt kept you from taking, in just the last month?
Take a picture that represents something you'd do in your biz, if you had more confidence.
Share it on Instagram and tag it #bizconfidencechallenge.