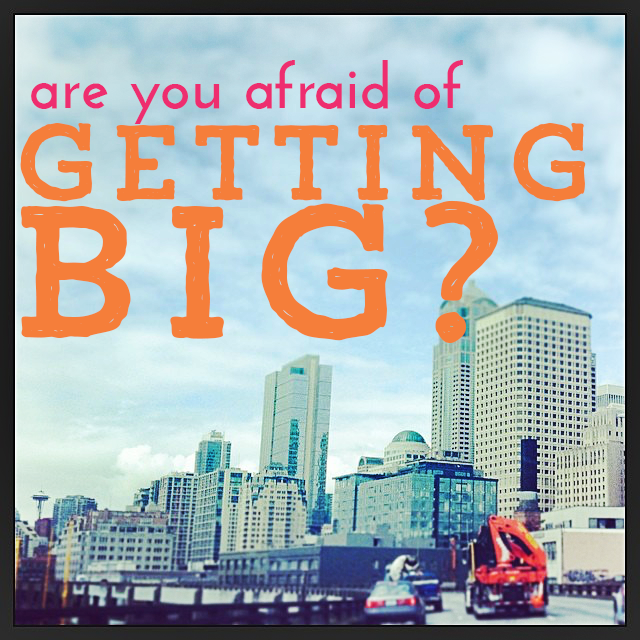 The past couple weeks on the podcast I've been talking about issues that come up when you've been in business for a while and you've started to grow: boundaries and scaling challenges. This is stuff that my students are dealing with, as they grow beyond the "how to get any sales" questions. But I hesitate to talk about these  "advanced" business issues, because I don't want to scare you off, if you're not there yet.
I hear from younger businesses all the time, who get tangled up  trying to solve these issues before they need to. They're worried about boundaries and how many people they'll have to deal with when they "get big." They worry about scaling up their production, before they sell one thing. They're worried about getting help before they need it.
Do you do this?
Are you afraid of what will happen when you get bigger? Do you stop yourself from taking opportunities or pursuing possibilities because you're not sure how it'll all work? Do you hesitate to dive deeper into marketing, because you worry it'll work TOO well?
If so, I've got one thing to say to you:
Stop it.
Really. Stop it. *
Don't borrow problems you don't have.
Don't worry about what will happen if you "someday" get big.
It's not preparing you. It's not making you ready.
It's getting in your way.
When you start to worry about all that could go wrong if your business grew, you're going to hesitate to put in the hard work on growth activities. You're going to step back from challenging yourself with new goals.
And then you're going to wonder why it never worked out, why you never grew.
I get it.
I really really really do. I worried a lot (I still do!) about what would happen when my business grew. I worried that I was going to owe way too much in taxes. I worried that my thing could grow so big that people would have weird expectations of who I am and what I do.  I worried that I would get mean comments or emails. I worried that I would have to set boundaries and tell people no. I worried that I would make bad decisions, let people down, or totally ruin my life.
But guess what?
This can happen at ANY level of business! It can happen even if you don't have a business! (I have some traditionally-employed friends that could certainly use some stronger boundaries.)
And sure enough, I have experienced all of the above (except the ruined life bit. Haven't done that). And I survived. In fact, it wasn't nearly as bad once I got there.
But why bother?
Because you really really want a business, more than you want to live in fear.
You want to create something from your passion + smarts + hard work. You want to build something that is your own. You want freedom, creativity, or fun.
Whatever your reasons are, they are driving you to do this (sometimes scary) thing.
And this is what's cool:
Your business makes you stronger.
In order to keep building and growing, you'll have to face your fears. You'll have to grow past them. You'll have to dig deep and learn that you are more powerful than you thought.
All this growth and fear-wrangling, it makes you stronger everywhere – in business, in life, in relationships. You'll learn skills (like time management and boundary-setting) that you can apply to anything you do.
So don't worry about the challenges your business is going to bring. You don't have to solve all future possibilities right now.
Just solve the problem in front of you. Deal with the issues your business is having right now. (Too few sales? Fix your marketing! Never get enough done? Fix your time management!)
Don't be afraid of growing. Don't hold yourself back.
*If you can't seem to stop worrying about future challenges, look at what you're afraid of and acknowledge it. Don't run from the fears, look at them and work through them.
I'm not a therapist, but here's how I work with fears in my life:
List them.
Look at each one and ask: where did it come from?
Forgive this situation and send it (or the past you that experienced it) lots of love.
Look for ways to make yourself feel safe (without crushing your ambition).
This is an ongoing process, but the more you make it part of the work of growing your business, the less the fears will be able to sneakily sideline you.