"Is it absolutely necessary to blog, or can I find my Right People without one? I have never been a blog reader myself; I've found most of my favorite shops via Twitter, and the idea of blogging kind of gives me the screaming heebie-jeebies"
"But I don't like blogging! Do I have to blog? If I don't, how will I get the word out?"
A few months ago, two Starship captains posted the above questions.
So we started to have the conversation: To Blog, Or Not to Blog?
As I was thinking it through, I emailed Diane, she of all Blogging Knowledge (seriously, that woman knows how to make an addictable blog!) and  we started talking about it. Is there some way we can help people answer this question? For their own business and their own strengths?
We started compiling all our thoughts on it; the stuff she's learned through helping people tune-up their crafty blogs, what I've learned exploring crafters' businesses.
And what we came to realize is that To Blog Or Not To Blog is not the question. 
The question is: How do you make  a blog (or ANY marketing) work for you, your goals and your people? 
Where's the balance between what you  want to say and what your people want to read?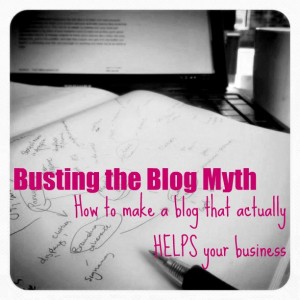 As we answered this question, we found we shared a little system. A system that anyone can apply to any business, to make their blog (or their emails, or their twitter stream) balanced and in congruence with the rest of their business.
We'll be sharing this system (along with lots of worksheets to make sure you apply it to you) in our new class. You can read more and register here.
PS. Don't miss Diane's experience (and myth-busting) as a Lucky Blogger.