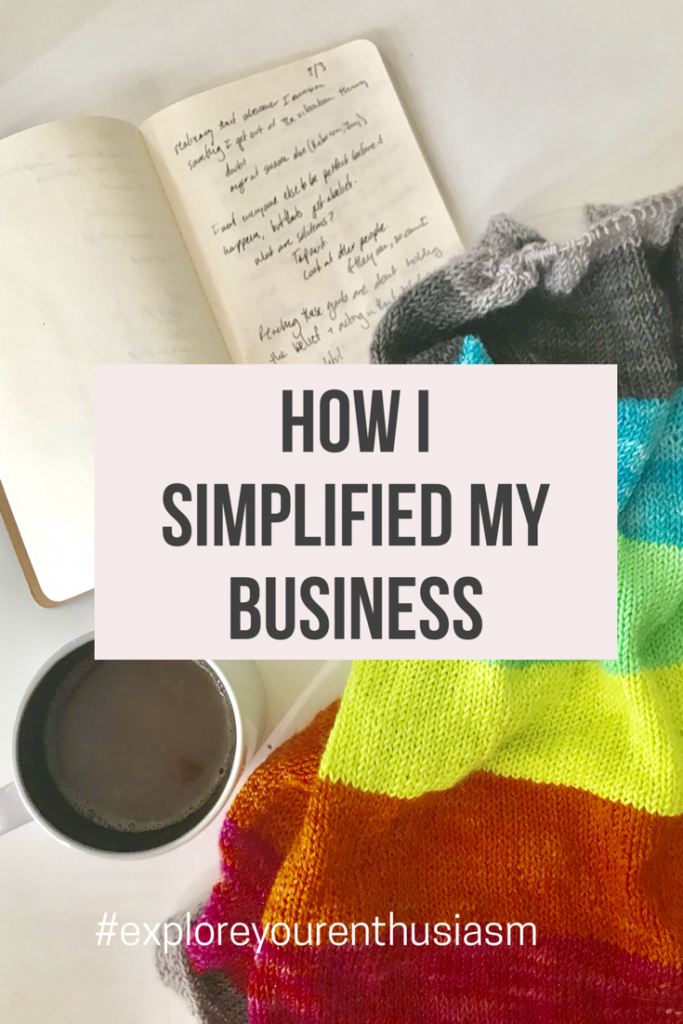 Podcast: Play in new window | Download
I dramatically simplified my business this summer. Today I'm going to share what I did and more importantly, how you can simplify your business in just a few questions (but a lot of heavy thinking).
As you know if you've been listening for awhile, we're getting ready to become foster parents and one way we're preparing is by getting very clear about what our priorities are.
Now, before you start worrying, my business is a big priority. Not only because it pays 100% of our bills, but because I LOVE IT. I love the podcast, I love helping you guys, and I love what I do.
But, over the 8 years since I started creating my courses and books, my site has just kept expanding and expanding and I have kept added new stuff (something every 6 months or so!) without editing anything down and looking at it all in one go. So if you've been business in a while, your business might need a spring (or autumn) cleaning as well! I'll share what I simplified my business into and will suggest some questions that can help you simplify if you need to.
My mission: Help women make empowering decisions in their income, their enthusiasm, and their emotional help.
First, I identified my favorite bits + my long term goals:
My mission means I really just want to do two things:
Helping people build businesses (Starship and mentoring through my doTERRA business)
Helping people take care of themselves via emotional wellness.
I most like to:
Write
Talk
Create community and culture that encourages support and friendliness.
Second, I got  clear on what are the BEST ways I can do those things:
(I did this with the help of Joeli, of JoeliCreates.com, who does 1:1 sessions if you need some clarity.)
Podcasts allow me to communicate important, helpful stuff clearly
Instagram gives me interaction and connection and allows me to provide daily bits of encouragement.
My classes are MOST helpful when they build on each other, when you're focusing on what matters, as opposed to one-by-one, so I put them together in the Starship Program.
Community is my favorite place to be and let's me go deeper with clients. I have the Starship Community to help makers and artists and students in the Program, and the Enthusiasm Builders community to help people who have wellness based businesses with doTERRA.
I'm still working on the best way I can help people take care of themselves, via essential oils (ie, in-person classes, webinars, FB groups, etc). I'm measuring the impact, both in the moment and ongoing. So far in-person classes and video consultations are the best, but I'm still experimenting around this.
Third, I stripped all my offerings down to the work that does the two things I want to be doing (helping women build businesses, and take care of their emotional wellness):
The podcasts encourage people, for free. Explore Your Enthusiasm helps you in your business, Take Care of Yourself does it in your self-care. So I do them and then have a system for sharing them (on iTunes, YouTube, Facebook, Instagram)
You can get my classes and my help via group coaching inside the Starship (not open now), and that's it – you can't buy my classes separately anymore (because I'm stripping down to what's most effective)
I don't sell books from my website anymore. My books are the easiest way to get started working on your goals or your marketing, but ME shipping them is the least effective way to get them to you. Amazon is super efficient.
Only 1:1 consultations (which are free!) to help you make a daily plan for self-care and emotional wellness, using essential oils.
Workshops and group coaching for people building a doterra business.
The even more boiled down version is this: I just do a few things now: Podcast, IG, consult with people about self-care and help people build businesses via group coaching – either in SS or for their doterra business.
Questions to ask yourself to simplify, re-calculate your path, or just get some clarity:
What is your mission? (Who are you here to help? How do you do that?) (Learn more about your Mission here)
What do you long term want to be doing?
What actions do you most like?
What are the specific ways you do that?
What are the most EFFECTIVE ways you do that?
What can you let go of to focus more that?
Is this guiding you towards where you want to go?
I hope these questions help you simplify your business and I hope you enjoy all that I've got here at TaraSwiger.com.
How to listen
You can subscribe to it on iTunes (If you do, leave a review!)
You can listen to it using the player above or download it.
Subscribe or listen via Stitcher (or subscribe in whatever you use for podcasts – just search "Explore Your Enthusiasm" and it should pop up!).