I follow my enthusiasm by reading…a lot. And once a month, I share (some of) the books I read last month and the books I intend to read this month. You can join the informal book club by sharing your own list in the comments and find all the posts here.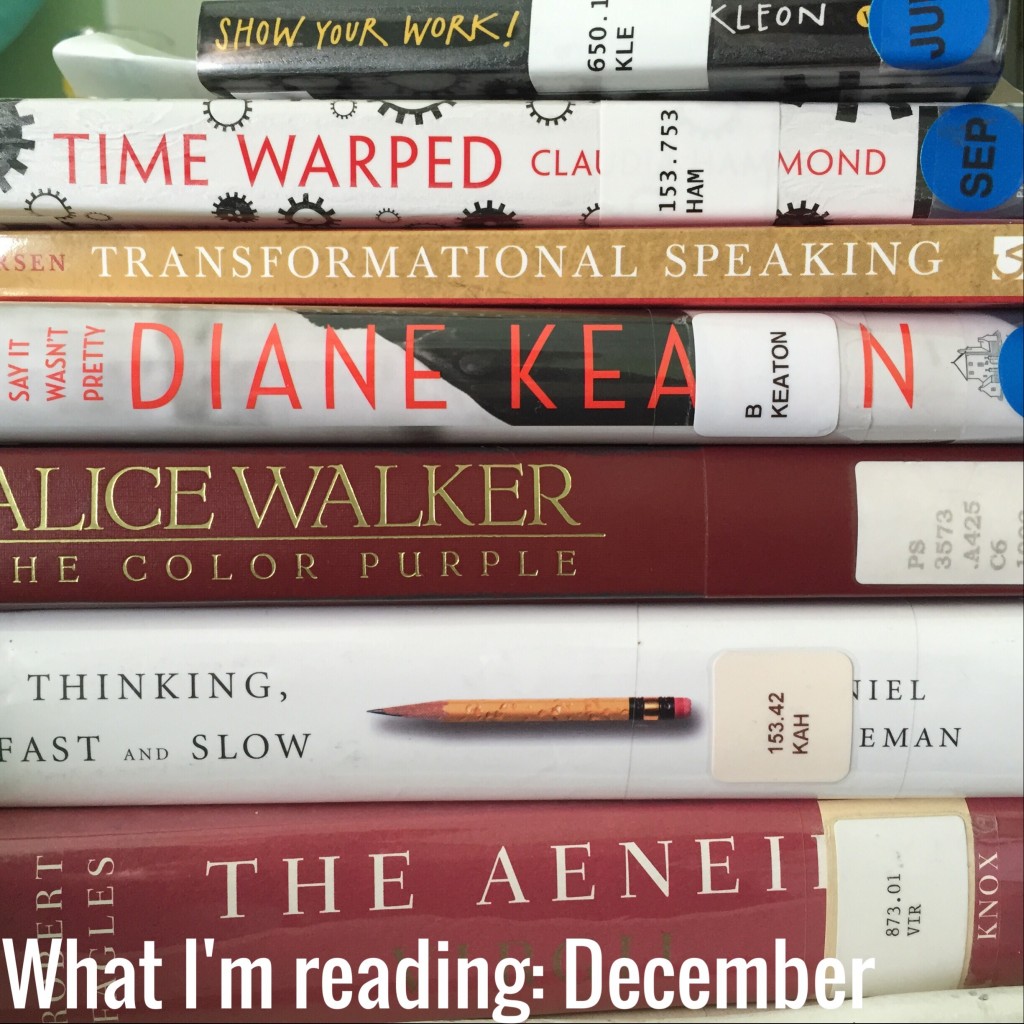 What I read
Inferno, by Dante Alighieri, translated by Mary Jo Bang  – part of my Great Books Project, more info below.
Grave Mercy, by Robin LeFevers – Ninja. Nun. Assassins. Historical fiction. That's all you really need to know – it was fun and I read it in a weekend. (Looks like it's free with Kindle Unlimited!)
Let's Just Say It Wasn't Pretty, by Diane Keaton – Sigh. I had hoped I would love this book as much as I love the actress, but it this collection of essays about her own relationship with her looks didn't reveal anything beyond a lifetime obsession with being "pretty". Pretty disappointing.
Between Inferno and pretty Diane, my reading mojo was sucked dry. I'm halfway through 5 books, but I didn't get completely through any of them, so they're the first few listed below.
What I'm reading
The Great Books Project
After months of waffling, the Great Books Project is underway. I'm tracking it via GoodReads (my entire list is here) and holding discussions on the Facebook page, with conversations about our lists, our progress, and regular quotes from the books I love. I'll be sharing a little update here each month, and you're welcome to join in on your own project, either in the comments, or over on the FB page (the joy of FB is that we can all reply to each other).
This month I read Inferno, by Dante Alighieri, translated by Mary Jo Bang  and although I like the translation better than others I found, this is a grim read. I mean, we know that right? And yet, so many people had told me, "Oh! You're going to love it!" that I…thought I'd like it. But I didn't. Oh sure, it's  intense…but I'd rather not spend my reading time in hell, thankyouverymuch. (I am super curious to learn more about how many of modern Christianity's images of hell came from this bit of Italian poetry.) On the docket for this month: finishing the Aeneid and reading The Color Purple. See, Great Books aren't all ancient! (In fact, after I read Confessions, all books will be post-1500! Practically modern!)
What are you reading?