Mondays = Fundays, the day I recap my success (and failures) with my #funeveryday project.
Here's the how it works:
I try one fun thing everyday (and so do you).
I tweet it (and so do you) with the tag #funeveryday.
Each Monday (no! FUNday!), I round 'em up: What did I try? What did YOU try? What will I do next week?
The fun that was funny
(that's a Dr. Suess thing we say to refer to real, actual fun):
Dollywood!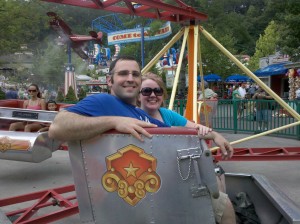 On Tuesday I went with my family to best amusement park ever!
You know how sometimes, the excitement leading up to the day is better than the day?
Not true here! The whole day was fabulous: the family got along, the rids were fun, the lines were short, the pizza (at Mellow Mushroom) afterwards was gluten-free.
Celebrating my own Independence (from The Man) Day
The free Q+A was a lot of fun and I got some great questions.
I (finally) wrote about the joy of quitting. And that helped me remember to quit a few other things I'm not loving.
Live Music!
Completely unexpectedly, on a day that had gone ridiculously wrong (internet connection went down right before the Yarn Camp chat, etc), I stumbled into some live music. I was waiting for Jay to get off work (at Scratch) when a group of kids started playing.
Fun for the Future
The Big Crafty
This Sunday I'm peddling handmade yarn at the biggest craft show in the area! Super excited to meet local yarn-lovers and to be a part of the fabulous Asheville arts scene.  Come see me at The Big Crafty!
Something else?
I'm drawing a blank here…I need some fun-spiration!
How are you going to have a little fun everyday this week?