Note: you can get both of the classes below (yes, even the private class) for $45 if you sign up for the CraftyBiz Kitchen. There are only a few spots left in it, because the people who are in there? They aren't leaving.
Yay! It's my most favorite time of the month, the time when all my planning and plotting and backstage scheming finally comes to fruition. I can finally tell you:
Classes!
As much as I like telling you all about the classes (and watching the coolest people sign up for them!), my favorite part is really the holding the class.
I don't know what I did with my life before I discovered teaching classes.
It is seriously the most fun ever.
Which is weird, because when I was a French major, I absolutely died anytime I had to get in front of  a class.
Upset stomach, puking, blushing, mind going completely blank, choosing to take a failing grade instead of giving the presentation (when I was paying for school by keeping a 3.8 GPA!).
That was a sign that I shouldn't teach that subject, not that I shouldn't be teaching.
It only took me, oh, 5 years to figure out.
The good news: I have yet to puke in a CraftyBiz class.
(Just kidding! I don't even feel like puking!)
But enough about puking, let's talk classes!
Bonus! Nay, fancy-pants private bonus!
Tomorrow at 3p I'm teaching a private class. A class just for the CraftyBiz Kitchen lovelies.
I'm going to teach the sure-fire way to feel awesome about telling people about your thing.
Not ok, not meh, but really fabulous.
And this isn't a cheerleading "You're awesome!" thing, this is a "Do these 3 steps and you will be delighted to market your thing" thing.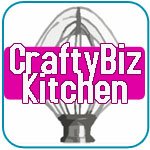 This class would normally be $30.
But for my CraftyBiz Kitcheners, it's free.
And it's just for them. Which means lots more time to ask questions and get just-right-for-you answers.
Why am I telling you about this class that you can't take?
Well, you can take it. For free,  if you sign up for the CraftyBiz Kitchen by tomorrow. You'll get this Bonus class + next week's class with the awesome Catherine Caine + extras. Read more about it here.
Why would ANYone buy my art?
Every time I talk to an artist (or crafter, or writer) about what describing the benefits in her sales copy, I get the question: But what ARE the benefits of art?
That's like asking, "Why would any one buy this?"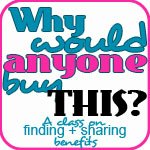 I was chatting about this with one of my students, when she said that Catherine Caine had really helped her answer this question and define her benefits and communicate that on her site.
So, I  just had to have Catherine come explain (in her charming Australian accent) this whole idea of finding and communicating the benefits of your work.
This class is going to rock. I just barely mentioned it on Twitter and got a handful of sign-ups, so I think it's going to be packed with awesome artists, crafters and the stray humorist.
You can read more about the class and sign up here.
And that's it for this month's classes!
Are you signed up for any of the classes (or the Kitchen?) tell us about it in the comments.