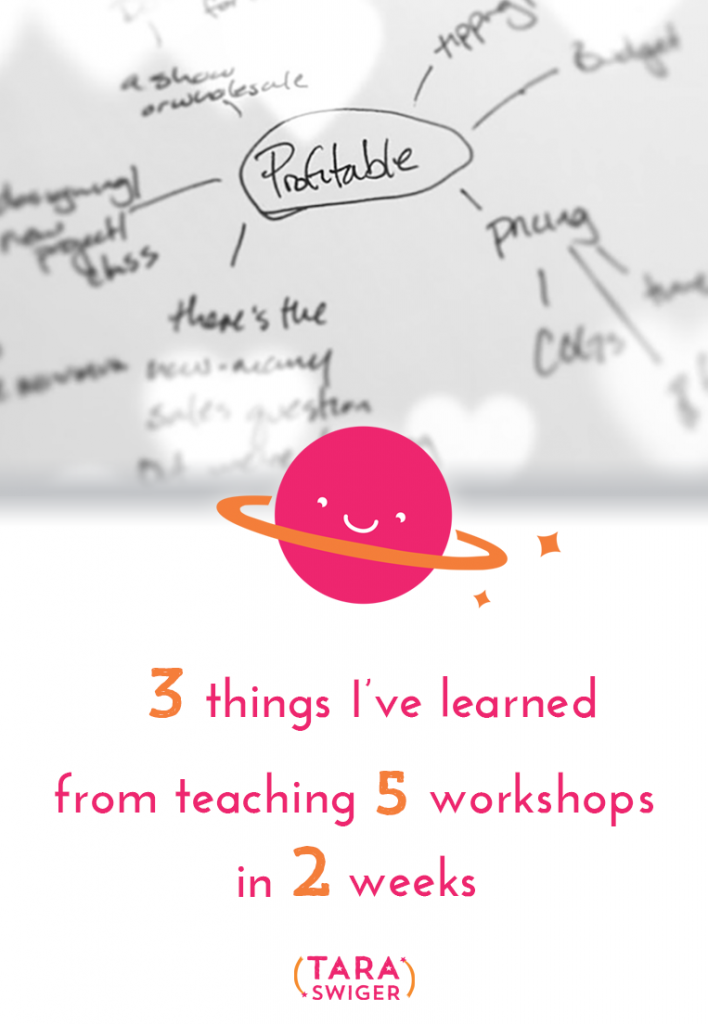 Over the last 2 weeks, I have taught 5 live workshops to over 75 students in two different states.3 workshops were in partnership with Handmade In America, at North Carolina community colleges. The other two were in partnership with friends + students in Boston, MA.
It wasn't planned, it just happened through a fluke of scheduling, but this packed schedule was the best thing for me. You see, just a few months ago, I was nervous about teaching live, to an audience that didn't already know me. But this total immersion in live teaching, new students, and  unknown venues has cured me of any stage fright I ever had. (Have I told you that the entire reason I didn't go to grad school and become a French Professor as planned was because I couldn't stand up in front of the class without puking? Yeah, it's ironic.)
Along with becoming a braver, more adventurous teacher, I've learned three big lessons that I don't want to forget.
It's not about me, Part 1.

I've created a lot of content in the last 3 years of writing about business and I've systematized how I think about businesses. (I have a system for turning your ideas into action, a system for creating a sane holiday, a system for improving your profitability, a system for your overall marketing).

But the most valuable thing I can offer is the experience of everyone else. You see, I'm in this unique (and delightful) position of having talked to, worked with, or worked in hundreds of small businesses. My own experience running a handmade business pales in comparison with all I've learned from working with a copywriter, a retailer, a tech start-up in addition to what I've learned in hundreds of solo-sessions with smart and successful artists, authors and makers, mixed with the deep conversations I've had over coffee with friends and strangers about what works for them. This massive database in my head (and my connection-spotting superpowers) allow me to answer student questions with real-life examples of what's worked for someone in a similar situation. (From knitting-book launches, to magazine submissions, to press releases, to finding more profit, to changing your business model drastically – my students, clients and friends have done it all.) It's not about me, it's about what works for individual situations. The longer I do this, the more individual examples of success I amass + the quicker I can give you examples of what worked for someone else (and brainstorm ways to morph it into something specific that will work for you.)

 It's not about me, Part 2.

Two years ago someone told me that their favorite part of my classes were the massive amounts of worksheets that I make you ask you to fill out. Hearing that shifted everything – it completely changed the way I was writing the book (it's more of a work-book than a reading-book). When I teach a live class, I'm actually doing very little teaching. Instead, I'm presented some ideas and then forcing asking you to work with them by applying it to your own business. Instead of using live events as an opportunity to spread my own ideas, I think of workshops as giving you the time and space to work though an aspect of your business. Because let's face it, most of us do not put into practice what we learn. We just file it away for "when I'm not busy" and then never get to it.

It's not enough for me to talk at you about business (or life) principles, I want you to start putting it into practice and shape it to fit your situation, right now. So I regularly stop and say, ok, fill out your own answer to that question on page 5. And this is by far the biggest aspect I get feedback on. People love the worksheets. And they love that I gave them two hours to think deeply about their business.

Everyone has the same questions.

You really, truly are not alone. The  HIA workshops have included a huge range of students – from party planners, to new bakery owners, to massage therapists to personal stylists.

And everyone of them has the same questions:
What do I do next? (This is usually answered by breaking down your big goals into actionable steps)
How do I find more customers? (The answer is usually somewhere in the message-creating process – either by clarifying who you you serve or what the benefits are.)
Am I doing the right thing? Should I even be trying this? How do I know if it's going to work? Is it my fault it's not growing faster?
After every new adventure, I like to take a few moments to reflect back on what I've learned (I remind Starship Captains to do this every month!).
What about you? What have you learned from your last adventure?

Want to attend one of my live workshops? 
I'm now planning my 2014 tour. Find out how you can help here. (First stop: TNNA in San Diego in January!)