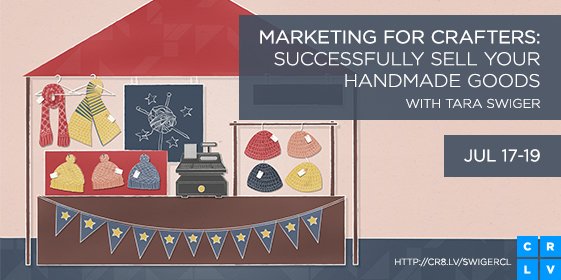 Eep! It's nearly here and I'm so excited I can hardly stand it!
This week I'm teaching a FREE three-day class on all aspects of marketing your handmade business. From your Right People, to clarifying your message, to crafting a Customer Path that effectively connects with your people, to deciding what (of the hundreds) of tools to use, to crafting a plan you'll actually stick with…we're going to cover it all, in detail. And best yet: We're going to apply it to your business, exactly where you are right now.
Awesome, right?
In the last few weeks I've gotten a few questions more than once, so in case you have them too, I wanted to share them with you. Feel free to ask your questions in the comments, and I'll get to them as fast as I can (while flying across the country!)
How does this work?
Go here and click "RSVP". You'll get both the syllabus and the workbook right away, so you'll be ready to start class Thursday morning. At 9am PST (Noon EST) on Thursday, July 17th, class will begin! You'll get a reminder email to log on and when you do you'll see me teaching, in real time! There's a chat room for you to ask your questions (the hosts will be lobbing your questions at me on the regular) and a hashtag (#swigerlive) so you can connect with your fellow students. Each morning you'll get a reminder email so you don't miss anything!
What's the schedule?
July 17, 2014
Goal for today: You will end class with the language you can use to talk directly to your customer (and you'll know exactly who that customer is)
9:00am – What Marketing is (and isn't)
10:30 – 10:45 – break
10:45 – 12:00 – Crafting Your Message: Spot Your Sparkle
12:00 – 12:45 – lunch
12:45 – 2:15 – Your Right People (who they are, where to find them)
2:15 – 2:30 – break
2:30 – 4:00 –  Translate your message into your Right People's language.
July 18, 2014
Goal for the day: You will understand how customers find you, fall in love with you, and buy from you – so that you can take focused, results-driven action.
9:00 – 10:30 – How to build (and improve) your Home Base
10:30 – 10:45 – break
10:45 – 12:00 –  Hi! How people find you.
12:00 – 12:45 – lunch
12:45-2:15 – Come Closer! Enticing a buyer into your world
2:15 – 2:30 – break
2:30 – 4:00 – Buy! That magic moment (and what comes next)
July 19th, 2014
Goal for the day: Create a concrete plan that aligns with your goals, and learn how to filter out everything that doesn't.
9:00-10:30 -The power of knowing what you want.
10:30 – 10:45 – break
10:45 – 12:00 – Choose your tools: from Instagram to craft shows
12:00 – 12:45 – lunch
12:45 – 2:15 – How to hold an experiment (and learn what really works for you)
2:15 – 2:30 – break
2:30 – 4:00 – Make your own map: Create a do-able plan to get things done.
Keep in mind the times are approximate. Each segment might go over or under a smidge.(You can download this with a description of each segment here)
What if I can't watch live?
Watching live is free, but you can purchase anytime access. You can get the whole class here for $59 (the price will go up after class, so jump on it!) or you can buy each day separately (Day 1, Day 2, Day 3). Each Day's page tells you what we'll cover on that day, so you can pick the one that's right for you.
Whether you can watch live or not, you may want to purchase the class to get some amazing bonuses: 
Anytime access to the videos (so you can refresh yourself!)
Free access to Craft an Effective Blog
Free access to Automagical Email Series
$100 off the Solo Mission
Should I  take this class if I bought the book?
YES. Although I'll hit on some book bits in Day 1 (specifically, Right People and Your Message), I've updated it all based on the last two years of working with designers, makers, and artists. I now know more about what really works in businesses just like yours, since I wrote the book over 2 years ago. Also: Day 1's first segment is entirely new material (not taught in any class), and Day 2 and Day 3 aren't in the book anywhere.
Should I take this class if I took the Customer Path class?
YES! We'll cover the Customer Path in Day 2, but we'll also hit on the big piece we couldn't get to: How to build an effective Home Base (so your Customer Path leads people to someplace great). Plus, Day 1 and Day 3 will be totally new to you.
I'm bummed I missed the Customer Path class, where can I get it?
Well, you're in luck! The Customer Path material is no longer available anywhere other than the Starship or in this class! (Day 2, Segment 2-4).
I don't have a business yet, I just have ideas.
Ready for some tough love? If you are still just "playing around" with "some ideas", but you really REALLY want a business (and not a hobby) – step away from the internet. Stop taking classes, stop reading books, and stop looking at what other people are doing. Go into your creation cave and create your best work. Make 5-10 of them (whether this is products, designs, artwork, whatever). Ask yourself if you enjoy this enough to make 50 more. Then, take some pictures and make it available for sale (either online or in a craft show).
THEN, you are ready to start thinking about marketing your work.
In other words, this class is going to be most useful to you if you know what you make and it's available for people to buy, somewhere. If you're not sure how to move from Idea to Business, check out Kari Chapin's class on getting started.
Got a question? Ask and I'll answer (in between traveling). Hope to see you in the class!