I am so honored to be today's guest on one of my most favorite podcasts, Creative Living with Jamie.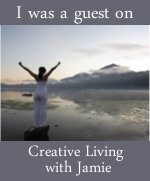 We talk about
quitting my dayjob (the steps I took to make that happen)
making everything an exercise in creativity
why I hang out in a Starship
It was SO fun to do the interview and I'm happy to share it with you!
You can  listen or subscribe to the podcast here.
(I recommend subscribing! I'm subscribed and I listen to it weekly while I wash the dishes…talk about making a boring job more creative!)
PS. Wanna interview me for your podcast, website or newsletter? Just shoot me a note with a link to your thing!