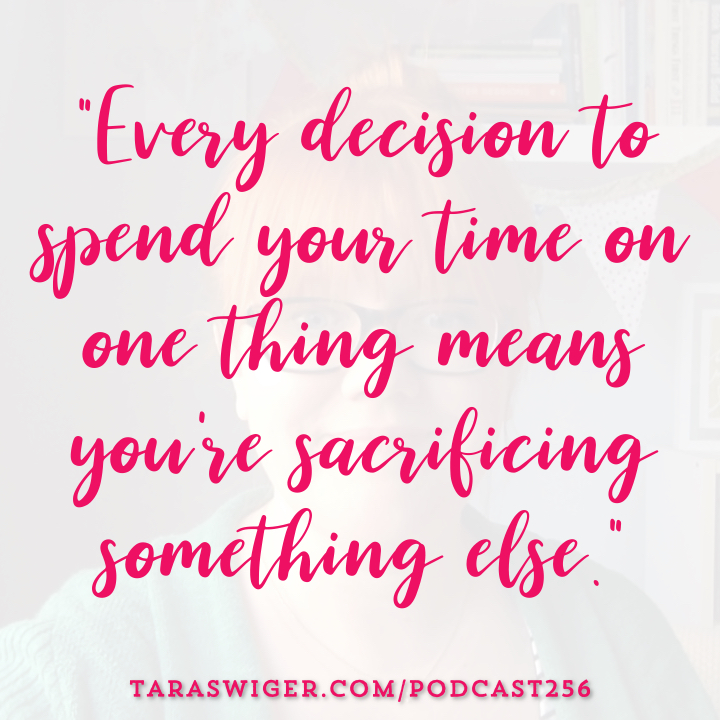 Podcast: Play in new window | Download
When I asked on Instagram what the most-pressing issue in your business was, I got one answer over and over and over: TIME. Time to do everything you want, time to grow your business, time for a business after the day job, time to post regularly, there's just not enough time.
This week we're going to talk about how to have enough time, no matter the season of life you're in.
Before we get into today's lesson, I want to tell you that I'm doing a free workshop answering your questions on how to use my favorite tool for motivation and productivity and feeling better: essential oils. You can sign up at TaraSwiger.com/eo.
If you are like most of my Instagram friends, you constantly feel there's never enough time. Just not enough! Between life, and family and maybe a day job, and growing a business, let alone adding the things you want to do – like exercise and reading and going out with friends – there's just never enough time!
And girl, I feel you. When we had the 2 year old and she was home with me 24/7 for a month with doctor appointments and social worker appointments, or after that, when we had to go to 3 visitations a week and getting her to school 3 days a week, it felt like I never had enough time. Especially to rest, take care of myself AND to get work done.
So, unlike naive Tara of the past, I'm not going to tell you it's just about prioritizing and finding the time for the things you really want to. I'm going to tell you that it's hard and that there's no easy answer.
I mean, I feel like I could end the podcast here. It's hard and there's no easy answer.
But… there are ways to work with the time that you have, to be MORE effective with the time you have. And there is a way to reframe the issue, that makes it all a little less hopeless. So let's dive in, knowing that there's no easy answer.
Start with honesty
The first thing we gotta do is a little tough love: Are you really being honest about the situation, you priorities, and your capabilities?
For example, for the first month Honey was with us, my priority was settling her into our life, it wasn't really working on my business. So that priority got my time and energy. And if I'm being honest about my capabilities and the situation, the fact is the first MONTH of being someone's mom is not really the time to try to be productive at work. In the US the average maternity leave is 6 weeks, but in Europe it's 6 months to 2 years. So I truly don't have the capability to figure out how to be effective with my time during my first months of motherhood, but it's not because I suck, it's because that's just how it works, for many women – we need the time to adjust.
Will I need the same amount of time to adjust to our next placement? I have no idea. Become someone's mother and getting them settled in your house, is the same no matter how many kids you've had, but maybe I'll be better at it because I'm more experienced? I have no idea! What I do know is that I need to give myself grace for not being immediately effective, and not instantaneously working out the perfect schedule that balances motherhood and work.
Your situation is different, but you also need to look at it honestly – what is TRULY your priority right now? If you have a sick partner or parent or you are struggling to heal, it's likely that your business isn't a priority. And that is OK. Go back and listen to episode 245 about Seasons in Your Business. It's ok to be in a season where you just can't spend as much time as you like on your business.
If you're feeling frustrated that you don't have the time to work on your business because you need and want to prioritize something else right now, I want to encourage you that you don't need more time, you need a mindset shift. You need to realize that you are CHOOSING something else right now and that it is the RIGHT thing for you. You are not being tossed about by the winds of fate, you are choosing. Just recognizing your own choice can be empowering, and can make you feel more capable of spending the time you do have more effectively.
Now, you might be wanting to argue and say – no, I didn't choose this situation! I didn't choose this! No, you might not have chosen the situation, but you are choosing to spend your time on it. You could choose NOT to spend time with a loved one that needs you. You could choose to cut people out of your lives, instead of allowing them to take up your precious life. But instead you're choosing love and kindness or care.
Or maybe you feel stuck in a situation you don't want to choose. Perhaps it a day job you hate, or your stuck doing things that someone else asked you to do, but you do not want to prioritize them. You have two options:
You can choose to the see the reasons why this is the right decision for right now (ex. you need the day job money to fund the startup for your business. Elizabeth Gilbert calls this being your own patron. I did this for years as I started up and I highly recommend it. Having another income takes the stress of your business)
You can say no and stop doing the things. If you truly don't want to be doing them, stop doing them. Sure, this might be a complicated process to extract yourself from, but you absolutely can.
You see, when we say we don't have enough time, I think what we really mean is "I don't like my choices and the necessary sacrifices".
I get that, but…we have to live in reality.
Because of the space/time continuum you simply can't do everything all at once. So every decision to spend time on one thing means your sacrificing something else. That is just a fact. The sooner you come to embrace this and accept it and make decisions accordingly, the better you're going to feel. Will you be happy all the time with the available choices? No! But studies show that just by recognizing that you DO have choices, you'll be more empowered and will make better decisions.
That's the framework you need, the lens you need to be wearing when you look at your situation.
I want you to look at your situation again. Ask yourself the tough question:
What is my real, desired priority in this season?
What is my capability?
What choices am I actually making in each day?
This shows you your real-time priority – the things you actually do prioritize.
How do you spend your day? Is it on what matters to you?
Maybe you need to stop doing some things, maybe you need to quit some commitments.
And maybe you need to accept that right now, in this point in your life, you only have 2 hours a week to work on your business. Or you have 30 minute on your lunch break each day. That's not a bad thing. There isn't a "perfect" answer here.
If you feel like that's not enough, then you need to stop comparing yourself to what other people are doing. Stop looking at the girl who has 10 hours a day to style her instagram. Spend your time doing you work, not comparing it to other people.
So the first step is honesty, the second step is a reality-check (where are you actually spending your time) and the third step is acceptance and effectiveness.
You see, you can't focus on being more effective if you don't first accept your real life situation. If you keep making plans and lists for a 8 hr workday and you have a 1 hour workday while the kids nap, you're always going to end up disappointed and you'll feel behind and like you're never doing enough.
So accept the real workday you have and then work to be effective within that.
Use the time you have effectively
Now, I could talk for hours on how to be effective with your time, and guess what? I have already done that! I put my best tips for effectiveness, with a big workbook to apply to your own workday,  with 6 hours of professionally produced class on CreativeLIVE exactly on this topic! Go to TaraSwiger.com/time to take that class. It'll help you apply it to your own workday, to become more effective and productive with whatever size workday you have.
And if you're issue is balancing the time you have? We'll talk about that in next week's episode.
How to listen
You can subscribe to it on iTunes (If you do, leave a review!)
You can listen to it using the player above or download it.
Subscribe or listen via Stitcher (or subscribe in whatever you use for podcasts – just search "Explore Your Enthusiasm" and it should pop up!).