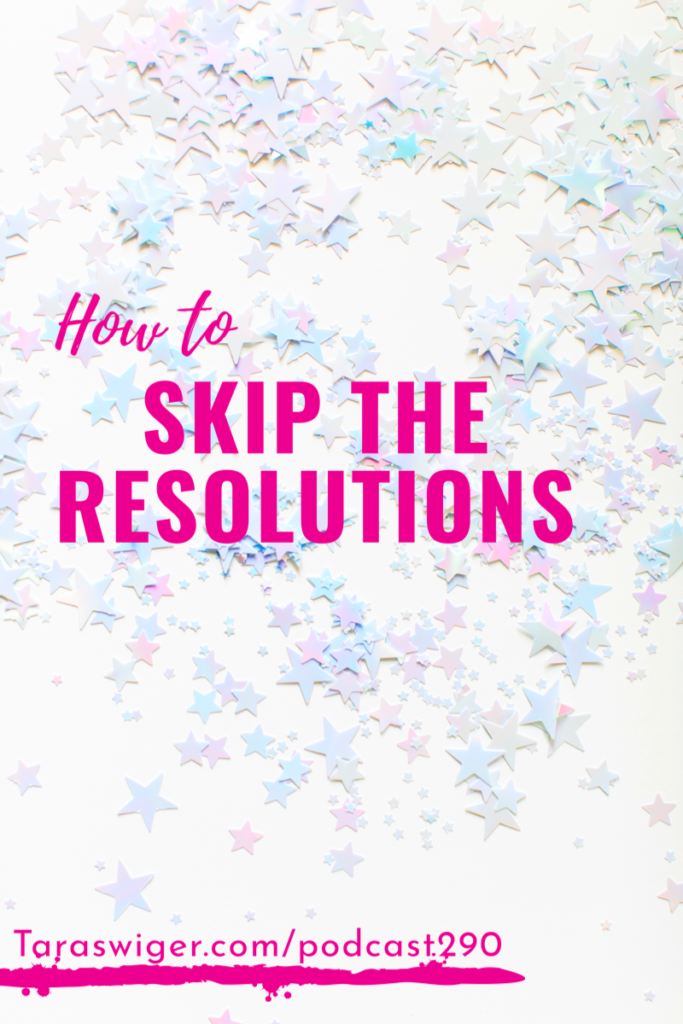 Podcast: Play in new window | Download
Are you setting New Year's Resolutions?
Have you in year's past?
How's that worked for you?
What if we stop with the resolutions and instead we actually transform our lives in 2020?
You find ALL of my resources for creating a great year at taraswiger.com/2020goals
So the problem with resolutions, I'm sure you already know, is that they don't work.
Think about it- have you ever met someone who said "I made a resolution and reached it!" No, because the way we set resolutions, the words we use aren't reachable.
In a 2018 survey, one-third (31%) of Americans who made New Year's Resolutions last year say they didn't stick to any of their resolutions. A plurality (38%) say they stuck to "some" of their resolutions.
Even the language used in the survey was "stuck to" resolutions. How do you know if you stuck to something or not?
Let's look at the most-popular resolution : "exercise more," with 59%, "eat healthier" (54%), "save money" (51%),  "lose weight" (48%), "reduce stress".
These are impossible to succeed at because they're vague and confusing. Without a starting place (how much are you exercising now?) and a measurable goal (what is "more"), you can't make it happen because you don't know what to do.
But the reason we set them each year? We WANT to make a change. The resolution starts to define that change.
At their best, a resolution provides an aim. A way to orient yourself. A destination.
So it's not the resolutions that don't work, it's the way we do it. We may think about it on January 1 and write it down and then… nothing.
Instead, if you really want something to change or transform, you need a few more steps to the process:
Define what you want.
Commit yourself to it
Create a do-able plan
Follow through.
Define what you want
Make it measurable.
Even choosing a word or how you want to feel is better than your typical resolution –  they are specific.
I want to read more vs I want to feel curious about the world. I could feel that way by going to museums, reading, watching documentaries, meeting new people.
As you define what you want this year, check that it's measurable. Be specific about how you want to feel. What else could make you feel that way?
Ex. Exercising more.
Maybe you want to feel strong.
What makes you feel strong?
For me, it's lifting weights, it's being emotionally steady mom, getting through hard times.
One of my fave mugs says "strong as a foster mother"…that's a way to feel strong.
Commit yourself to it
Here's the thing: you can't do anything unless you decide you are going to.
That may sound obvious, but be honest – how many times have you set a goal, but then not really believed it was possible and kinda backpedaled away from it?
I know, you don't want to fail.
But you won't succeed until you go all in.
I know, maybe you haven't done it before but you can do it this year.
You are farther along.
You know more.
You have tried and failed and survived more.
Go all in.
Create a do-able plan
So just the phrase "grow my business" is meaningless, but if you got specific in Step 1, maybe you decided you want to hit a specific sales goal… and you committed yourself to it, the next step is to get super-specific. What do you need to do? By when?
I've got a whole workbook for this, it's called Map Your Business. In it I walk you through getting clear on your big vision, setting a specific goal and then building a plan for it AND following up on how it's going.
You know what you need to do, so break it down into specific projects and tasks and then add them to your calendar. (Go back and listen to episode 287 and episode 288 if you need more on that!)
Follow Through
Ahhh, I know! This is the hardest part.
This involves having a time to work, having clear boundaries around it, then actually focusing on what you need to get done.
For a lot of us, this also requires some outside accountability. Someone else saying "hey, you were going to do that."
Needing outside accountability is NOT a bad thing. It doesn't mean you don't have discipline or whatever. It just means that you operate best when someone else is relying on you.
If you have a hard time following through, you are NOT alone! When we talked about this in my Facebook group, over 90% of your fellow makers and artists said they struggle with this!
You can get help, and learn my methodology for helping you follow through, in the free Masterclass. Just head to taraswiger.com/2020goals and get the worksheets and resources for creating your New Year, and I'll send you an invite to the Masterclass!
So how about you? What's your plan for the New Year?
Come tell me in our free Facebook group, FB.com/groups/taraswiger
Have an enthusiastic day and New Year!
How to listen
You can subscribe to it on iTunes (If you do, leave a review!)
You can listen to it using the player above or download it.
Subscribe or listen via Stitcher (or subscribe in whatever you use for podcasts – just search "Explore Your Enthusiasm" and it should pop up!).