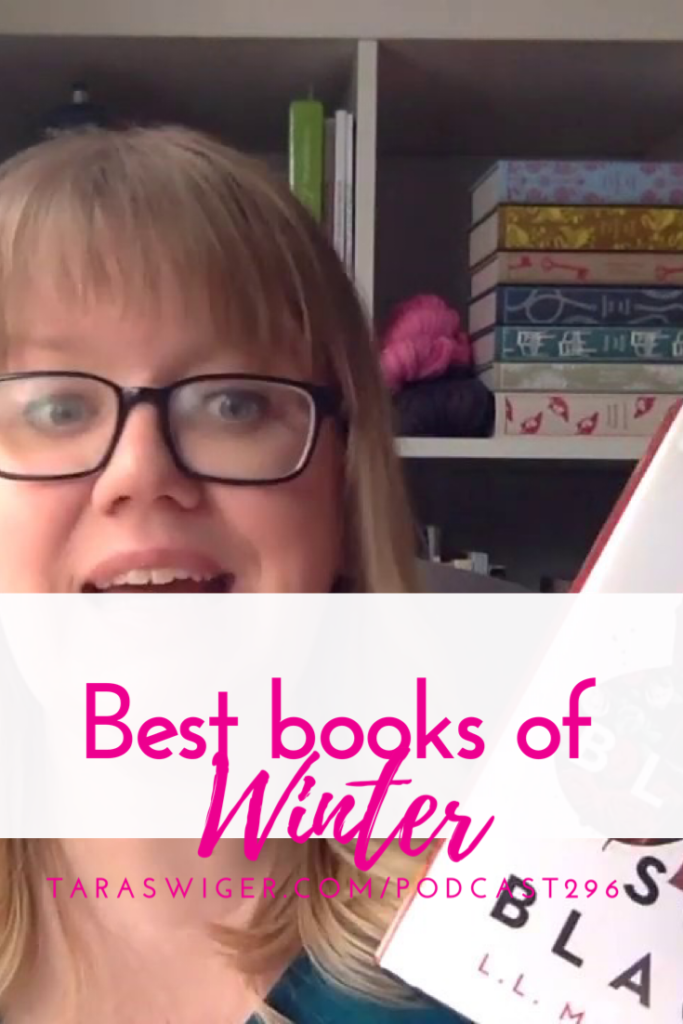 Podcast: Play in new window | Download
What is the best book you've read lately? In today's episode, I'm sharing my favorite books of this winter – from December – February.
Every quarter I round-up my most-favorite books and share them here. If you are subscribed to my YouTube channel, you may recognize some of these books, as they were part of my Best Books of 2019. If you like learning about great books and you are NOT subscribed over on YouTube, you are missing out! I share reading vlogs, monthly round-ups, and all kinds of fun bookish stuff in my Monday videos at TaraSwiger.com/YouTube. You can scroll down and see my whole Reading playlist or click on Videos to see my most recent videos.
Stats
I have read 16 books so far, and I will likely finish another 3 before the end of the month. 4 mysteries, 2 giant YA space operas over 600 pages, 3 personal memoir essay-ish things.
All three of the memoirs were great, so I'm going to just quickly tell you, you should read them:
Enough, by Shauna Ahern, who you may know as Gluten-Free Girl. I read her blog years ago, and so I picked this up when I saw it on the New Book shelf at the library. It is totally different and so good. Shauna tells the story of how she began to feel as if she is enough, after a lifetime of living by the girl code (criticizing your body, trying to be smaller), a traumatic childhood and trying to make money on the internet. I think anyone who is a woman or works online should read it.
How We Fight for our Lives by Saeed Jones, is the memoir of a young black gay man growing up in Texas. There is violence, there is sexual content, and there is a really beautiful story of finding himself and figuring out his relationship with his mother.
Thick and Other Essays, by Tressie McMillan Cottom, is a series of essays about her experiences being a black woman academic living in the world. It's about thickness, of body and of thought, and explores beauty and twitter and class mobility. Read it if you like Roxanne Gay or Lindy West's Shrill.
Now, the fiction books:
Such a Fun Age by Kelly Reid might be my favorite book of the year, ALREADY. A young black woman is babysitting for a white family and has a very racially charged experience in a grocery store. The story unfolds from that tense beginning, but the book itself manages to be fun and compelling and build a momentum that had me up until 3am finishing it. It's really about white privilege and how "good" white people try to do the right thing while completely ignoring the black person's agency and selfhood. This book is complex and real and although it sounds like it could be heavy, it's actually just great fun.
Illuminae, by Amy Kaufman is so weird I can't believe it's so good. It's a kind of YA space opera with horror. I only think it's YA because the protagonist is a teenage girl, who is saving absolutely everyone. But it's a little dark and splattery for like, 12 year old Tara. It is really about survival and sacrifice and telling your own story. I've read the second book in the trilogy, Gemina, and I liked it almost as much. I've got the last book, Obsidio, on my shelf.
The Poet X by Elizabeth Acevedo has been on my shelf forever, but I had been avoiding it because it's written in prose. It took me a minute to sink into it, but when I did, man! It beautifully tells the story from the perspective of a young Dominican girl living in Harlem who is figuring out adolescence and her conservative family, while starting to write slam poetry. It is just the most gorgeous and most true book I've read about what it means to be a girl when you start to get unwanted male attention… but it's not even really about that.
Ok, so a few more books I read and loved but am not going to go into detail about:
These were a few really good reading months! I think I got to some deeper books, like the memoirs, because we didn't have kids for a few of the months (in case you don't understand how we only sometimes have kids – we're foster parents).
When you purchase the book using my links, I earn a tiny percentage, which frankly, goes to buying diapers. I get most of my books at my local library, so check yours out because libraries are amazing. Lots  of my faves came from the Book of the Month Club (referral link).
In a few weeks I have my 300th episode – to learn how you can participate in my celebration, be sure you've joined the Facebook group – facebook.com/groups/taraswiger
Thanks for listening and have a book-filled enthusiastic week!
How to listen
You can subscribe to it on iTunes (If you do, leave a review!)
You can listen to it using the player above or download it.
Subscribe or listen via Stitcher (or subscribe in whatever you use for podcasts – just search "Explore Your Enthusiasm" and it should pop up!).